Stranahan Beats Dillard For Fourth Straight Victory
Photo Gallery
The Stranahan Dragons have already won as many games as they did all of last season. Friday's 10-2 home win over the Dillard Panthers was Stranahan's fourth straight win, as a young group of Dragons grow together under third-year manager Frank Vargas.
While the game was not without any hiccups, overall Coach Vargas was pleased with the performance. Stranahan collected eight hits, while Chris Vaillant and Andy Vargas combined on the mound to keep the Panthers' offense at bay. The players are working hard and the development is showing on the field.
"We have a bunch of new guys, and this was also the first time that we were able to have a JV team," Vargas said. "Some of these guys are doing double reps, which is what it takes. That's how you build a program. We'll see; we still have quite a few games on the season."
Stranahan (5-2) took control with its first swings in the bottom of the first inning to put up five runs and erase a 1-0 deficit, after Angel Reyes scored on a passed ball in the top of the first for the Panthers (1-6). Tristan Jaramillo singled to left and Janahys Camero walked, and both runners scored on a throwing error. Andy Vargas singled to left, while Santiago Mosquera walked and Marcus Lynn reached on an error. All three players also scored to make it a 5-1 ball game.
The Panthers certainly poised a challenge for the Dragons to stay in the game. Dillard collected seven hits and put runners on base in nearly every inning. Senior shortstop Walden Carter led the way from the top of the order by reaching base all four trips to the plate, with an RBI single that scored Brandon Smith in the fifth inning, while also reaching on a fielder's choice and drawing a pair of walks. Right fielder David Watkins also had a nice afternoon from the nine-hole, going 2-for-3 with a pair of singles.
"We had a lot of walks in the first inning and that kind of hurt us, but besides that our pitcher started throwing strikes and we started making the plays behind him," Dillard Assistant Coach Fitzroy Williams said. "Basically, that is what we have been struggling with the whole year so far is our pitchers throwing strikes. This team has a lot of freshmen and a lot of seniors and they just work hard everyday, and it's paying off."
Most guys on the team only started playing baseball in high school, so the learning curve has been a challenge. But signs of the development were evident in the communication on the field, the focus on each pitch and each play, and the execution of routine fundamentals.
"It is all about trust," Williams said. "The thing is that they love the game, so they stick with it. They love it. This is a tight-knit group and they love playing baseball with each other. We have fun, win or lose."
With Dillard fighting and hanging in the ball game, the Dragons buckled down and responded. Camero walked and scored in the second, and Andy Vargas singled and scored on an RBI single from Mosquera to add to the lead in the fourth.
After the Panthers inched closer on Carter's RBI in the fifth, the middle of the order put things away with a three-run sixth inning. Camero started things off by scorching a shot deep to center field and then racing around the bases for a triple, and Andy Vargas followed by crushing a liner to center for an RBI double. Jacob Chamblin then got in on the action by stroking a blast to left field for a triple, and Mosquera lined a hard shot to right field for a sac-fly RBI that drove in Chamblin.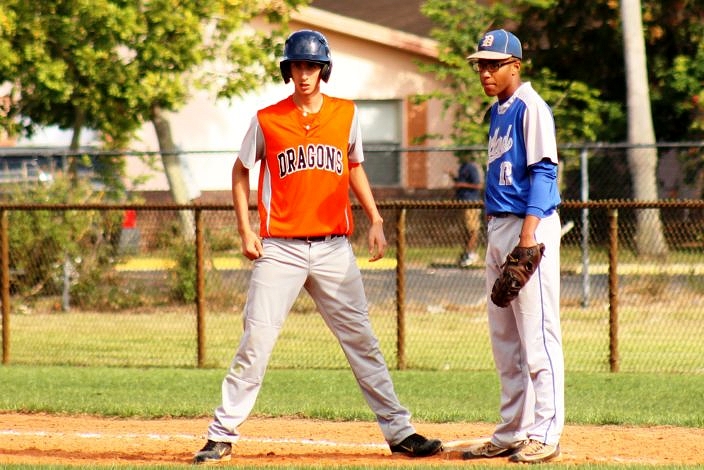 Panthers starter Marquise Lee bounced back to induce a pair of flyouts that ended the sixth and his day, as the senior right-hander went the distance on the mound. Lee allowed eight hits and seven walks and he recorded five strikeouts.
Andy Vargas had a big day overall to help his club. Besides going 3-for-4 at the plate and also swiping three bases, the left-hander came on in relief of the starter Vaillant in the third inning. The southpaw went the final five innings to earn the victory. He scattered six hits and two walks and struck out five.
"I always try to play my best. I come out and try to do everything I can to help the team win," Andy Vargas said. "So if that's stealing bases, getting hits or pitching and throwing strikes, I'll do whatever I can. There was speculation between me and Chris starting today, but I had my mind set that I was going to pitch today. So I came out with a good mentality thinking I was going to throw strikes and get the job done."
There is still a long way to go on the season, but right now things are moving in the right direction for the Dragons. There is stability within the program and now also a JV team that is developing guys at a younger age. The team is building an identity together.
"This is the first full year that we are together, and you can see some of the progress that these guys have done," Coach Vargas said. "They are having consistency and the sky is the limit for these guys. They just need to see that we're here for them and they are answering back."