Pompano Beach Out-Slugs Pine Crest, 10-7
Tuesday afternoon's district battle between Pompano Beach and Pine Crest exemplified everything that makes 5A-14 so exciting and unpredictable. Like most teams in this the district, both sides feature an arsenal of dangerous hitting, pitching and athleticism. It took nearly three full hours of intense game play before a victor was decided, as Pompano held off host Pine Crest for a 10-7 victory.
Tornadoes reliever Mike Schuler got a called third strike to strand two runners and end the contest in the bottom of the seventh. Jacob Singer was hit by a pitch and Jordan Schulefand reached on an error that brought the tying run to the plate, before Schuler buckled down to record consecutive strikeouts that ended the contest.
"This is a huge win for us, because we just clinched the first seed in our district," senior Austin Carney said. "We get the bye in the district playoffs now. This was the biggest game of the season for us so far, and really was a statement game since we beat them last time and came back and beat them again."
Offense stole the show all day long, and Austin Carney led all batters with a monster day at the plate. Carney went 3-for-3 with two doubles, three RBIs and he also was hit by a pitch to reach base all four trips to the plate. The last time the two teams played recently Pompano hitters fell behind early and had to battle back while seeing more off-speed pitches, so the Tornadoes (12-2) were determined to have better at bats on Tuesday.
"I had changed my approach and I felt a lot better this time than the last time," Carney said. "It makes me feel great, because I was really getting down on myself. I thought my swing was messed up and my mechanics were all off and I had to go back to work and figure out what was going wrong. I just kept my head in it and focused on the approach."
That focus was evident right away, as Pompano got the scoring started in the top of the first and then fought to keep pace ahead of the Panthers (9-6) the rest of the way. Both sides scored in most innings and each club finished with 10 hits.
While that kept the excitement level high for the fans, it kept both coaching staffs working relentlessly to make adjustments along the way. Both managers were busy from start to finish as they moved the chess pieces around the board against a worth opponent. The pieces always seemed to land in the right places, and it came down to which side made more plays.
"We didn't execute when we needed to and we left a lot of guys on base," Pine Crest manager Mike Green said. "They put the ball in play, they made lots of play and they got key hits, and we didn't. We made some mistakes and against good teams you cannot make those kinds of mistakes. But I'm real proud of my boys; they never gave up and they fought. We were in it and we will look forward to the next time."
Any future meeting this season would come in the playoffs, with the season on the line. Pompano has locked up the top seed in 5A-14 with an 8-1 current record, while the Panthers are holding the second seed with a 6-3 district mark. Each has one more district contest remaining on the schedule.
"Now we only need to win one game to move on to regional play," Pompano manager Joe Giummule said. "We can prepare our rotation for down the stretch and go into Spring Break knowing we're the number one seed, and get some other guys some opportunities. We are not concerned with our record so much as we are taking care of business in our district."
Both sides certainly left plenty to remember against for a potential rubber match in the playoffs. The ball jumped off the bat and found gaps all afternoon, with eight different hitters connecting for extra bases.
The pivotal moment in the action came in the top of the sixth inning, after Pine Crest's Jacob Singer had an RBI double and Matt Fine an RBI single that swung the momentum and pulled the Panthers within 6-4 in the fifth. Schuler lined a single over the leaping shortstop, Jeremy Davis was hit by a pitch and a balk moved both runners into scoring position. Carney delivered again for his third RBI of the day, lining a single to left field. Chase Costello followed with an RBI groundout that doubled Pompano's lead back to 8-4.
Pine Crest was never out of the action, but also spent the entire game playing from behind.
"Any time you can take a lead it is in your best interest; we don't want to play possum and come from behind," Giummule said. "I'd rather it not be as close as this, and it would be nice to win games in five innings. But Pine Crest is a team that doesn't lose at home, and we're fortunate to come out with a win. I don't know if anybody deserved to lose today; it was really punch-for-punch. It was just a great high school baseball game."
The Pine Crest offense kept the Panthers in the game all the way. Schulefand connected for a solo home run deep to center field in the bottom of the first, setting the tone for a big day out of the heart of the order. Catcher Michael Rothenberg twice connected for deep outfield blasts that went for a pair of doubles, the second coming as part of a three-run sixth inning that pulled the Panthers to within one run.
Singer got it going by lining a single to right field leading off the sixth, after also delivering an RBI double in his previous at bat. Rothenberg doubled and Jared De Faria followed with his second RBI double of the contest, this one a liner into center. Fine had an RBI groundout and Ryan Keenan followed with an RBI single through the right side. Andrew Bell then doubled on a screamer just inside the line past third base, before Pompano escaped the threat with a flyout to right.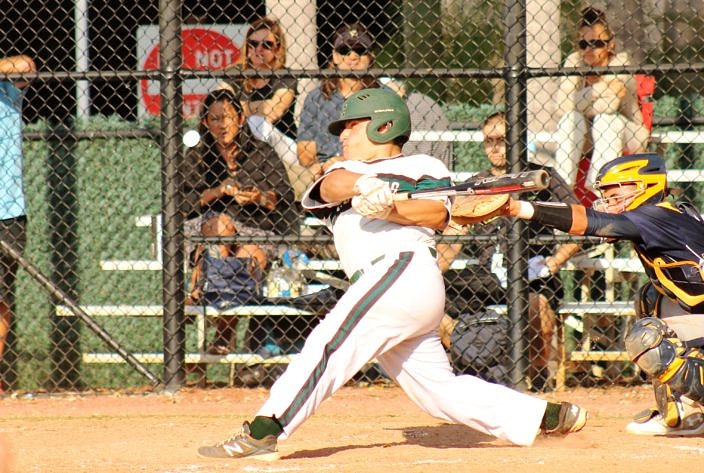 Shuler delivered two more valuable insurance runs in the seventh with a shot deep to left field for a two-RBI double. He also doubled and scored on an RBI double from Carney in the fourth, going 3-for-5 on the day. Jake Nord drove in a pair, Matt Stephenson had an RBI double and a run and Trevor Kniskern reached base three times and scored twice.
Kniskern also delivered an incredible play to record the first out in the bottom of the seventh, which may have saved the game after Pine Crest followed by putting two base runners on. Kniskern charged a slow roller on the infield grass to bare-hand the ball and make an amazing throw across the diamond in time to get the runner.