South Miami Upsets Coral Springs Charter In Shootout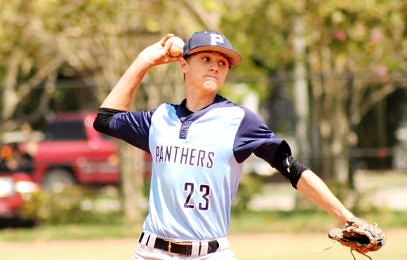 There is something about the HSBN March Madness Shootout that seems to bring out the best in the South Miami Cobras. Saturday afternoon the club earned its fourth win over the past two seasons in the tournament, this time avenging their only Shootout loss during that stretch by defeating Coral Springs Charter 7-2 in the opening game of the 2017 Black Bracket.
The Cobras (6-10-1) will face Hallandale in a quarterfinal match up, after the Chargers upset Dr. Krop on Saturday on the other side of the bracket.
South Miami got the scoring going in the top of the third inning. Kristian Delgado singled and then came in thanks to an RBI double off the bat of Andre Mourelle. The Panthers (6-8) ended that threat by snaring a liner and stepping on second for a double play.
An inning later the Cobras were back at it. Jered Rodriguez singled, advanced thanks to a sacrifice bunt from John Garcia and came in on an RBI single from Hezaed Rodriguez. Mourelle reached on an error and scored in the fifth and Hezaed Rodriguez then crossed the plate on an RBI single from Amel Hermida in the sixth inning.
Meanwhile, Cobras starter Michael Cabo cruised into the seventh to earn the victory. The right-hander struck out four and left with a seven-run lead after his guys added three more runs in the top of the seventh.
Coral Springs Charter refused to give up, battling to the final outs to threaten in the bottom of the seventh. John Rivera reached base and scored on an RBI single past third base from Shane Magrann, Mike Perugini walked and Joey Hendrix singled to right field to load the bases. Matt Kavanaugh then dropped down a perfect suicide bunt that went for an RBI single when the defense was left with no play.
Reliever Kristian Delgado dug in after that to record the final outs and end the contest.