Cardinal Gibbons Upsets Coral Springs Charter In 5A-14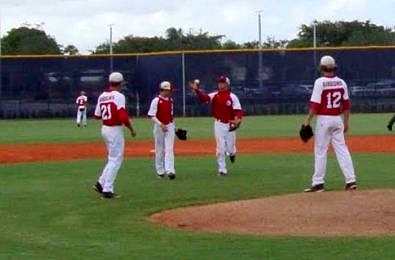 Be Great or Be Forgotten. Those words were written on the right cleat of Jarrett Hall during Cardinal Gibbons' 5A-14 quarterfinal against Coral Springs Charter.
Chiefs starting pitcher Fisher Cole took the meaning to heart.
"I'm trying to make a run in this tournament," said Cole, a senior right-hander. "I didn't want this to be the seniors last game. I don't want to be forgotten. I'm glad I'm not going home."
Cole and the Chiefs lived to fight another day following their 3-1 win over the Panthers Monday at North Broward Prep. The senior right-hander pitched a complete game, allowing an earned run on six hits, while striking out eight and walking three for the victory.
Cardinal Gibbons advances to the district semifinals, where it will take on Somerset Academy at 4 p.m. Wednesday at North Broward Prep.
"I did what I had to do," Cole said. "The curveball was working good; I was hitting my spot with that. The big play for me was the first out in the last inning."
In the final inning, Cole retired the side in order to send the Chiefs (9-17) on to the next round.
"Our record isn't a reflection of how we've been playing the last three weeks," Cardinal Gibbons manager Jason Hamilton said. "We've been playing our best baseball of the year during this stretch. Today, Fish was too much."
Joe Cerquozzi rewarded Cole with an RBI single that plated Trevor Kole in the top of the seventh for the game's final margin.
"We were trying to get the next man up all game. At that point, it happened to be me," said Cerquozzi, who went 2-for-3 with a run scored. "My approach stays the same. I stayed back side on the ball and delivered."
Nico Rendina's sacrifice fly scored Ty Crittenberger to give the Chiefs a 1-0 lead in the top of the first. Two innings later, Cerquozzi came around to score on a ball put in play by Hall to make it 2-0. Dayron Rodriguez's RBI single into right-center field scored Joe Hendrix for the lone Panthers run in the bottom of the sixth.
Coral Springs Charter junior right-hander TJ Lopez battled throughout his seven innings of work, giving up two earned runs on eight hits, striking out six, walking two and hitting a batter.
"That first inning I struggled," Lopez said. "I had to come back hot. My fastball was working outside and my off-speed pitches were fooling them on 0-2, 1-2, where I could put them away. It was a great back and forth game."
Lopez almost helped out his own cause in the sixth. Following Rodriguez, Lopez sent a fly ball into left that was misplayed, which sent the tying run to the plate. The Chiefs defense kept the score 2-1, thanks to a terrific 7-6-2 putout to end the inning.
"It was a good baseball game," said Coral Springs Charter manager Tom Magrann. "TJ pitched a good game, we just didn't hit. That's baseball. Kudos to them. They got a couple of hits when they needed to and that was the game."