Coral Springs Defeats Taravella To Advance To 9A-11 Final
One run is hard enough to come by against Max Lazar. Spotting the Coral Springs ace four runs before he takes the mound can seem impossible. Matt LeConte's three-run homer in the top of the first capped a four-run inning for Coral Springs in its 9-1 road win over Taravella in a 9A-11 semifinal on Wednesday.
"It was one of the best hits of my career," said LeConte, who now has five homers on the season. "It set up the team perfectly. When Max pitches, he keeps us in the game."
Lazar slammed the door shut this time around for the third-seeded Colts (18-6), which take on top-seeded Douglas in the final at 4 P.M. Thursday at Douglas.
Coral Springs' ace pitched a complete game, allowing an earned run on four hits, striking out nine and walking none. In the fifth and sixth innings, Lazar struck out the side in order.
"My team put a four-spot on the board and I wasn't going to let that go to waste," Lazar said. "Having a lead enabled me to just attack guys. I hit my spots with the fastball down and away and I got in a groove."
What made the Colts first inning even more improbable was that it came against Jack Sinclair. Nate Housen, Sinclair's backstop, was surprised his ace struggled from the start.
"He did his normal routine. He hit his spots in the bullpen," Housen said. "I think he came out trying to throw too hard and he lost control and command with the fastball. He was missing his spots a little."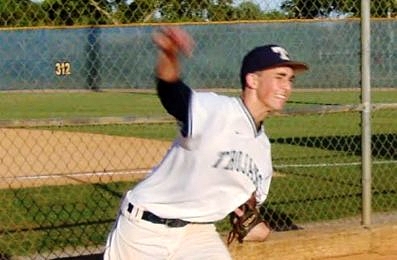 John Lombardi's RBI single in the first gave the Colts a 1-0 lead. Lazar's backstop drove in three and scored three.
"We came out aggressive. Our coaches prepared us perfectly," Lombardi said. "We've seen Sinclair enough. We stayed to our approach, not trying to do too much. Just put the ball in the gaps and find the right holes."
Wednesday night marked the third time the Colts have seen Sinclair this season. The previous two meetings resulted in wins for the Trojans (17-9).
Lazar said Coral Springs' game plan was to come out swinging because his ball club wasn't as aggressive in the two losses.
"You have to execute your pitches," Taravella manager Alan Clark said. "Max did. Jack didn't. It's just one of those games. When they got their pitch, they didn't miss it."
Housen didn't miss his pitch in the fourth. His RBI single plated Sinclair with the lone Trojans run.
"I'm shocked," Housen admitted. "We usually can rely on Jack's pinpoint accuracy."
Instead, it was Lazar that was sharp.
"Max took the ball and attacked hitters, spotted them up. His location was impeccable," Colts manager Mike Federman said. "The intent with each pitch was spot on. The kids rose to the occasion."