Nova Blanks McArthur 6-0 To Advance To 8A-15 Finals
Photo Gallery
Throughout this week leading up to their district semifinal against McArthur, the Nova Titans watched as teams were challenged and sometimes even upset in playoff games around the county. With the season on the line anything is possible, and the Titans were mindful not to forget that.
Behind a strong performance on the mound from left-hander Trace Moore, solid defense and several perfectly-executed bunts Nova shut out McArthur 6-0 on Wednesday night to keep its season alive. The Titans (20-3) will now host Cooper City in Thursday's 8A-14 championship game, after the Cowboys held off Hollywood Hills in Wednesday's other semifinal. Both teams have also earned a spot in the regional playoffs that begin next week.
"This game is the toughest game to win," Nova manager Pat McQuaid said. "This is a tough game because everybody has a pretty good #1 pitcher, and this is that time of year where the pitchers are a little bit better and teams play better defense. It was only 1-0 and we made a good strikeout-throw-out with their best hitter up when they had first-and-second and only one out. That could have been a big inning for them. Then we came back and scored four."
That unorthodox double play came in the top of the fourth inning, and it kept the momentum on the Titans' side of the field after Alejandro Gonzalez and Yordys Valdes had both singled to right field to get things going for the Mustangs (7-15). Nova then increased its slim lead with four runs in the bottom of the fourth to pull away to victory.
As McQuaid and the Titans had known, McArthur did come to the field with a pretty good #1 pitcher in senior ace Andres Dilone. The right-hander had his fastball working and was effective at keeping his team in the game, but was undone by several defensive miscues. A throwing error in the first allowed Matthew Patella to reach base and then later score on an RBI single from Gabe Paulsen for the only run Nova ultimately needed. Dilone allowed two earned runs and struck out three before exiting the mound in the fourth.
Titans catcher Miguel Gonzalez had a nice day at the plate to lead the offense, going 3-for-3 on the night. Daniel Hubert walked, Trace Moore singled to center and gave way to courtesy-runner Derek Bonner and Taylor Mateo dropped down a sacrifice bunt to give Gonzalez two runners in scoring position when he came to the plate for his second at-bat in the bottom of the fourth. Gonzalez sent a flare past third base to drive in both runners to make it 3-0 and give his pitcher more breathing room.
"This is the most important game of the year, really. You win this game and now you have a chance to win a state championship," Gonzalez said. "Once we get through this game we have the district championship and that's really important to us, but even if we don't take care of business in that we know we still have a chance to win a state championship. That's our main goal coming into the year."
Courtesy-runner Asdin Santiago scored on an error and Patella plated another with a perfect suicide-squeeze bunt to make it 5-0. Dylan Khan stroked a double to left field and crossed home on an error an inning later to close out the scoring.
Moore continued his solid season with perhaps his best outing of 2017, limiting McArthur to three hits while striking out seven. He did not issue any walks, only once even reaching a three-ball count at any point in the action.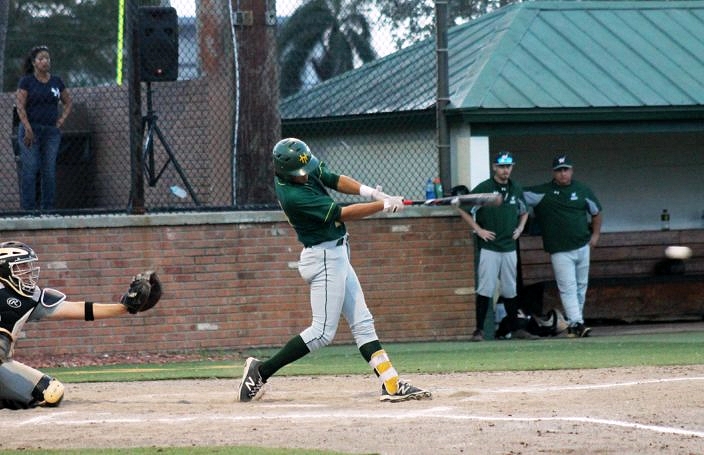 "Trace is a great pitcher and I love working with him," Gonzalez said. "He has gotten so much better throughout the year and he puts in a lot of work. I am just happy to see him doing so well."
The Titans are hopeful of making a run for the program's third state title, but first will focus on defending their district crown against Cooper City.
"You want the kids to play their best at the end of the year," McQuaid said. "I think we need to hit the ball a little bit better than we did tonight, because we are going to see good pitching all down the line. When you go to Miami you are going to see good arms. But for this group we are pretty young still and to win 20 games is a great accomplishment when you only play 22 games. Our hallmark all year has been good defense, and we played good defense tonight. We put three bunts down and that was the difference in the ball game."
The defense turned two double plays on Wednesday, while not committing any errors.