Chaminade Caps Strong Start With Game of Week Win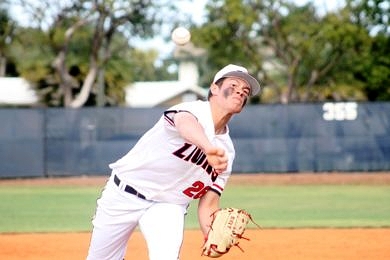 Game of the Week Photo Gallery
Coming into the season, Chaminade-Madonna Manager Jorge Miranda figured that it would take some time for his young pitching staff to come around. On Thursday afternoon, the Lions staff threw their second straight gem, resulting in a 2-0 victory over Pembroke Pines Charter in the HSBN Broward Game of the Week
"It is funny how baseball works sometimes," said Miranda. "I came into the year thinking that we would swing it well and play good defense, but that the pitching would take some time to catch up. But this week the pitchers have stepped up."
On the mound on Thursday for the Lions was sophomore Wyatt Holiday. Mixing his fastball, change-up, and curve ball, Holiday kept the Jaguar hitters off balance in his 4.2 innings of work. Holiday allowed only one hit, while striking out three.
"I wanted to come in and just pound the strike zone," said Holiday. "I didn't feel like my curve ball was as sharp as I would have liked it to be. But I was able to locate my fastball and my change-up was pretty good."
The mix of pitches saw Pines Charter batters hit a few balls hard, but they were unable to come up with the big hit when they had runners on base. In the fourth inning, the Jaguars had their biggest threat, putting runners on second and third with one out.
With one out, Nicholas Martinez was hit by a pitch, and Eric Hernandez doubled, setting up the pivotal moment in the game. Brandon Andal hit a flair to left, which shortstop Nico Boza snagged, and doubled the runner off second to end the inning.
"That was obviously a big play in the game," said Miranda. "Our defense played well today, and that double play got Wyatt out of one of his only jams of the day."
Chaminade was having similar problems at the plate with Pines Charter pitching. Angel Padron started the game, and went 2.1 innings. Padron made only one mistake on the day, to Nelson Graveran. The Lions second baseman launched a two-run home run to left field, accounting for the only runs of the game.
"I was just looking to go up and work the count like coach wants us to," said Graveran. "I knew at some point in the at-bat I would get a pitch to hit, and luckily enough, I was able to hit it square and it went out."
Miranda was impressed with his second baseman taking advantage of an opportunity.
"Nelson is one of the hardest workers on the team," said Miranda. "In the weight room, he works hard. So we rolled the dice with him today, and he came up big in that at-bat. That is what it is like to get an opportunity and run with it."
After the home run, the Lions pitching did the rest. Myles Brown threw 1.1 innings of shutout ball, before turning it over to Marcus Franco to close out the game in his one inning of work.
"We ask a lot of our pitchers," said Miranda. "Most of our guys we are relying on also play other positions. So when we have to shuffle guys around, we have to still stay strong defensively. Today it worked out."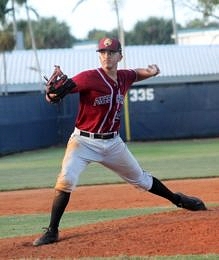 It also worked out Tuesday, when the Lions defeated Monarch in the season opener 6-1. Chaminade has now outscored their opponents 8-1 in their first two games.
"I am happy with the way we played this week," said Miranda. "Hopefully we can continue to play that way and improve, because once we get into district play things are going to get tougher. Hopefully we will be ready."
For Pines Charter, their first week comes to a close with a disappointing loss, but not one that discouraged Manager Carlos Iglesias.
"I told them that they hit some balls hard, and had good at-bats," said Iglesias. "Today the balls didn't drop, but all we can do is continue to work and put them in positions to succeed. We did a lot of things right today, and we will continue to work to get better so at the end we are where we need to be."