Highlands Christian Slugs Way To 10-7 Win Over Westminster
The Highlands Christian Knights are a family unit functioning through the game of baseball. Same as most coaches hope for, the teams that play for each other and love one another typically find success. This element is unmistakable within the Highlands dugout, and it is translating to great success on the field as well as between each other.
Highlands stretched its current win streak to four games following a nice road victory on Tuesday night, as they held on for a 10-7 win over Westminster Academy in a thrilling, offensive showdown. Having also won a big road game at Trinity Christian-Lake Worth last week, confidence is high among the players.
The Knights (4-1) opened the game with five runs in the top of the first, and the fireworks lasted right down to the final swings in the bottom of the seventh. The two clubs combined for 22 hits to go with the 17 total runs, the final out coming with two runners on base and the tying run at the plate.
Any time a team is on a hot streak things are usually going well. Yet in the case of the Knights, the way the team is working together and supporting one another is the reason why things are going well rather than a mere byproduct of it.
"We talk every day about loving your teammates more than you love yourself, and tonight they showed that," Highlands manager Bruce Charlebois said. "Today they really showed excellent team offense. We still have a lot of work to do on reaction to failure and body language, but we're a God-fearing program and we want to lift everything that we do up to the Lord. We love our club and they love each other."
Some day each of these young baseball players will be men left to face the world. The game of baseball is an excellent tool through which coaches use to help mold these children into the adults they will become. Any parent of a child playing in Tuesday's game can rest comfortable knowing what excellent leadership they have in both respective managers, Charlebois at Highlands and Nick James Westminster Academy. Throughout the wild and unpredictable course of Tuesday's seven innings, each side faced adversity and challenges with calm positivity that set the right tone.
"We're going to stick to our guns," Charlebois said. "We had a week where we had to discipline quite a bit and we didn't spare the rod in areas where they started to lay down a little bit. They started to get a little comfortable after the Trinity win and they came to practice the next day without purpose and we attacked it right away, but with love."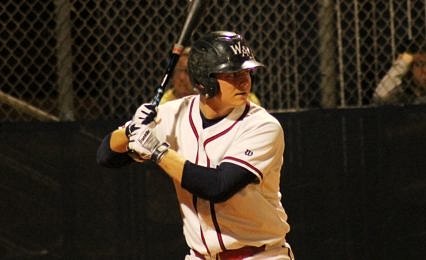 Tuesday's action certainly provided plenty of experience to learn from, both good and bad. Just days removed from a zany 20-11 contest against Calvary Christian in front of a packed house of fans, the Lions (2-4) again provided plenty of excitement for the home fans as they battled back from the early deficit with the deserved confidence of a team that knows it has the offense to hang in there with anybody.
Westminster kept swinging to stay in the game, piling up 13 hits in all. Alec Villanueva got one right back in the first when he singled to center and later scored on a balk, and Dylan Cappadonna collected the first of his three hits on the night when he singled in the second and then scored on a throwing error.
"Nick James always puts up a very good team, and I have the utmost respect for what he does," Charlebois said. "They are probably the best one-through-six lineup that we've seen, and even in the seven hole on they swing the bats well. We were blessed that they hit the ball at some people today and some breaks went our way."
Westminster rallied late to battle back, scoring five runs in the final two innings. Kyle Tako doubled to left and scored on an RBI single from Devin Roche, Logan Riedel supplied a sac-fly RBI in the sixth and an RBI single in the seventh and courtesy-runner Austin Matsoff scored twice.
Meanwhile, Highlands employed a unique pitching strategy for the game, using seven different hurlers for only an inning each. It was a move they used in a recent road victory over two-time defending class 2A state champion Trinity Christian, and they Knights have embraced it much the same as how they approach everything. They even have a name for it, as they have taken to calling it the Sick Rotation.
"We're just a young club, we like to have fun and we have a lot of energy," senior starter Chad Allen said. "Everyone has each other's back and it was just a strong feeling on the mound tonight with everyone pumping me up together. It was just a great feeling. It is different using so many pitchers, but it works and we're just going to keep riding it."
Allen got things started on the mound and at the plate, singling up the middle on the first pitch of the game before later coming around to score the first of five runs in the opening frame. Allen reached base four times, going 3-for-5 with two runs and providing another big hit when he drove in a pair on an RBI single to right field in the third. The vocal leader serves almost like the big brother on the team, and he is the type of leader that any ball club would be thrilled to have leading them.
The rest of the Knights had no problem following their big brother's example. Gyasi Troeman kept things going in the first with an excellent bunt single, before igniting a double steal that brought Allen safely home. Joe Anello walked and Daryl Carney also had a bunt single that loaded the bases. Isaac Dominguez laced an RBI single, Garrich Phelipa followed with a two-RBI double into the right-center field gap and Cameron Brooks finished off the big inning with an RBI ground out.
The Knights added three important runs late that made up the difference. Kolton Wik and Allen both singled to left starting off the sixth, and Troeman walked to load the bases. A wild pitch plated Wik, Nick Anello lined an RBI single past the shortstop and Joe Anello followed with a sac-fly RBI that put the Knights up 10-2 heading into the bottom of the sixth.
Meanwhile, the pitching rotation ultimately led to Nick Anello coming on to close in a pressure situation with the bases loaded in the bottom of the sixth. The freshman right-hander recorded a big strikeout to quell that threat, then battled through a challenging seventh inning to finally finish things off. Seven different arms each played their part and it truly was a team effort.
"I don't know how often we're going to do it, but we'll do it when my instincts take me there because we do have a small club and it does help us to keep everybody involved," Charlebois said.