LaSalle Hands Sagemont First Loss Of The Season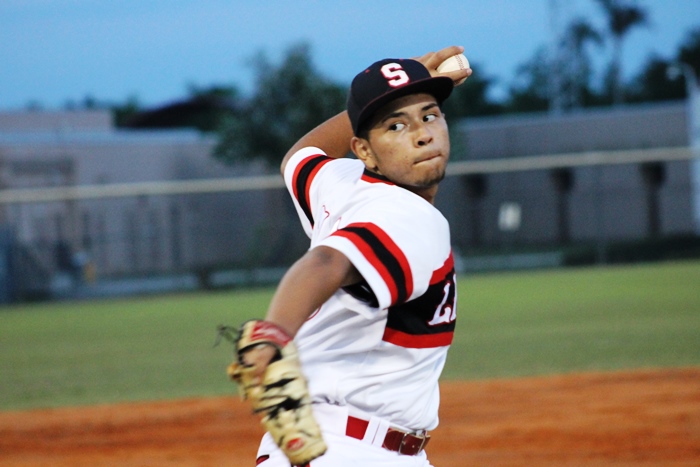 On Tuesday night, LaSalle suffered a heart-wrenching walk-off loss to district foe Monsignor Pace. By Wednesday afternoon, the Royal Lions had to put that loss behind them as they traveled to face an undefeated Sagemont team, in what was the home opener for the Lions.
LaSalle showed early and often that they harbored frustration from the night before, along with their 0-4 start, as the offense finally woke up in a big way, securing a 12-7 win for the Royal Lions first win of the year.
"There was frustration because we hadn't won a game," said Manager Nate Gomez. "But I wasn't really concerned because those games were close, and the guys were playing with effort. When you play with the effort these guys did today, you're going to be successful."
That success started early as LaSalle scored four times in the opening two innings. The 4-0 lead against an undefeated Sagemont team stunned many in attendance.
"We don't play many night home games," said Lions Manager Armando Sierra. "I just think the guys weren't prepared mentally for this type of game. That is a good team over there, regardless of their record coming in. We knew they had a good team, as I saw them play last night against Pace. They were ready from the start and we weren't."
Sagemont, however, did not go away. The Lions scored two runs in the second, highlighted by a two-run single off the bat of Alex Gonzalez.
Isiah Cordero came into start the third for the Lions, and he silenced the LaSalle batters, holding the score at 4-2. Sagemont clawed a run back in their half of the third, and suddenly the Lions had cut the lead to one.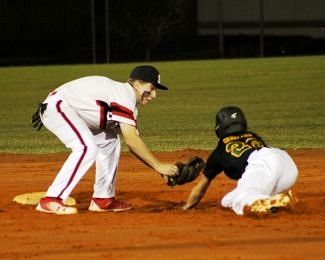 After the Royal Lions added on a run in the fourth, Sagemont took their first lead of the game, scoring three runs. Armando Sierra had a run-scoring double in the inning. Eric Vedera's bases load walk, followed by a Keshav Babu single, gave the Lions a 6-5 lead.
"I like the way our guys battled when they got down early," said Sierra. "For us to come back from 4-0 showed me something."
The lead, however, would be short-lived. In the sixth inning, and with Cordero cruising, Sierra decided to go to reliever Adrian Parker.
LaSalle batters responded immediately. Lead-off hitter Yiovanni Matias, who was on base all five times he came to the plate, walked. Andy Quintana, who also reached base five times, executed a bunt single, putting runners on first and third. Roy Waterman followed with a single, tying the game.
Justin Quintana, who had earlier doubled in the three run first inning, then gave the Royal Lions the lead with a base hit. When Hansel Monleon doubled in two runs, LaSalle suddenly built a 9-6 lead.
Sierra knew had he kept Cordero in, the outcome may have been different.
"We had a very strict plan for our pitchers the first two weeks of the season," said the Lions Manager. "Isiah was cruising, but we didn't want him throwing more than 60 pitches tonight. Later in the season, we would have left him in, but it's too early for that now."
LaSalle batters, meanwhile, continued their offensive attack, scoring three more times and putting the game out of reach.
Matias and Andy Quintana combined to go 4-for-6, with three walks, and seven of the Royal Lions 12 runs. The one and two hitters reached base ten times in the game.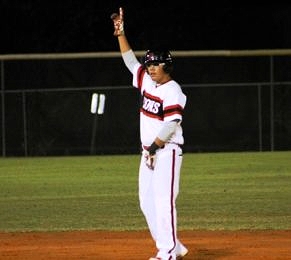 "It is our job to get on base and use our speed to disrupt the other team's pitcher," said Matias. "We were still upset about last night's loss, and we came in here with something to prove today."
As for picking up their first win, Quintana believed it was just a matter of time.
"We played some close games, so our confidence wasn't shaken with our record," said the junior. "Today Yio and I were able to do our job and get on base, and let the guys behind us drive us in."
For Gomez, the win was one of what he hopes will be many to come.
"It is good to get that first win," said Gomez. "I knew tonight was going to be a good night offensively because these guys had the right approaches at the plate. The win should give us some confidence, but it's still a long season. I am proud of the way my guys fought and played today."