Cardinal Gibbons Arrives With Win Over Pompano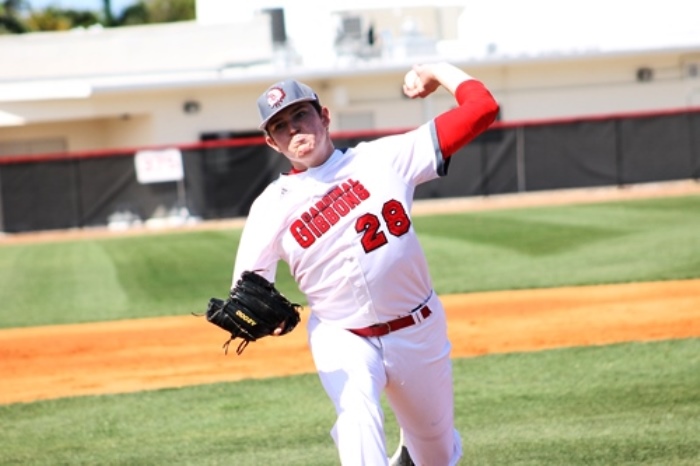 Photo Gallery
Thursday's game marked a lot of firsts for Cardinal Gibbons. It was the first time in the past seven tries that Gibbons has defeated district rival Pompano. It was the first time that Gibbons has been solely in first place in the 5A-14 this season. And it was the first time that former Golden Tornado Kyle Petri has pitched against his former team since transferring from Pompano to Gibbons this past off season.
The big left-hander used his personal motivation to turn in a workmanlike performance, going five innings, allowing only three earned runs, and striking out nine, leaving the game with his team leading 5-4. It was a lead the Chiefs would hold on to after Timmy Manning closed out the final two innings.
"If anything, we were worried that maybe Kyle would be too amped up for this game," said Gibbons Manager Jason Hamilton. "We spoke to him all week about being able to tone down the emotions of the game, and to focus on pitching how he has all year, which has been exceptional here at home."
While some in attendance may have been surprised by Petri's performance, his battery mate, Kevin Hirsch, was not.
"He did the same thing today he has been doing for us all season," said Hirsch. "He commanded the strike zone, and he put us in a position to win."
Hirsch, himself, would also play a key role in the victory Thursday. In the first inning of what many believed would be a pitcher's duel, he set the tone for the game. Facing Chiefs nemesis, Pompano ace Trevor Kniskern, Hirsch came to the plate with runners on second and third and one out.
Earlier in the inning, Trevor Kole led off the game by reaching on an error. Ty Crittenberger walked, and after a strikeout the pair pulled off a double steal. That set up Hirsch's at-bat, and on a 1-1 pitch, he lined a single to center, giving Gibbons a 2-0 lead.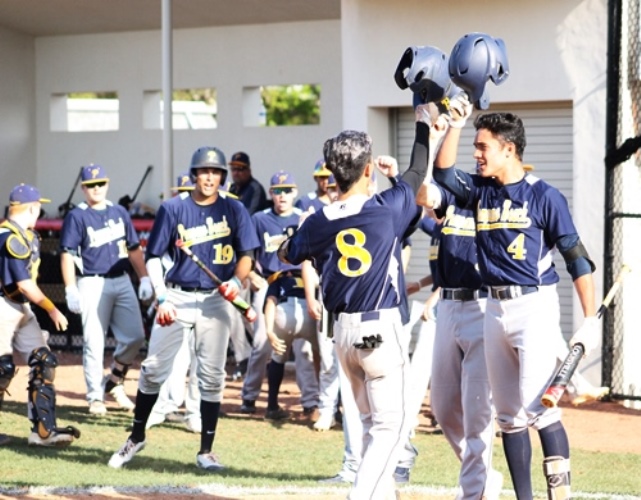 After Pompano got a run back in the second, another Chiefs veteran, senior Ty Crittenberger, delivered what would be the game-winning blow, a three-run home run, putting Gibbons up 5-1 at the time.
"That's what supposed to happen in big games," said Hamilton. "Your best players are supposed to win you big games, and both Kevin and Ty had huge at bats today to help us win this game."
The home run from Crittenberger sent the home crowd into an uproar thinking about a possibility the team hadn't seen since February of 2016, a win over their district rival.
The past few seasons, Gibbons has been closing the gap on Pompano, playing several low scoring, one run affairs. In the game earlier this season, Hamilton and Gibbons players felt like they gave a chance away, failing to capitalize on several offensive opportunities before falling again to the Golden Tornadoes, 2-1.
But in this one, it was the Chiefs who came up big, and Pompano who failed to capitalize on chances to tie the game. The Tornadoes had runners on third in each of the last two innings against Manning, but were unable to come up with the hit to tie the game.
"I wouldn't say we didn't capitalize," said Pompano Manager Joe Giummule. "Because we fought back from 5-1 on a day when Trevor didn't have his best stuff. But one more big hit would have made that a very interesting finish."
Kniskern, who has pitched some of the Tornadoes most memorable games in school history the past few years, was unable to hold down the Chiefs Thursday.
"We know Trevor well, we've faced him a lot the past few years," said Hirsch. "Today, we were just determined. In order to have a rivalry, both teams have to win, and today we were set on showing we were the better team."
Even with the loss, Giummule is not concerned about his ace.
"Trevor has carried us on his arm for three years," said Giummule. "You can't have your best stuff every time out. Sometimes, they are going to hit you hard. I have seen Hall of Famers like Tom Glavine get hit hard. It happens. Trevor will be fine, and he will have more of his dominant performances this season."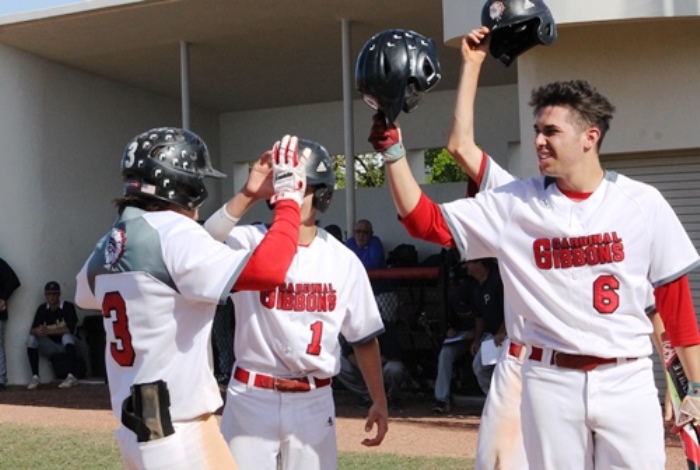 The win for Gibbons could not have come at a better time. The Chiefs now hold the top spot in a district that rewards the top two teams with coveted playoff byes. Gibbons has two district games left next week against Coral Springs Charter and North Broward Prep. If they win one of those games, they will clinch the bye. Win both, and they will head into the playoffs as the district's top seed.
"We know what is in front of us," said Petri. "When I came over here, the goal was to win the district title, and we have put ourselves in the position to try and do that."
As for a possible letdown after such a big win, Hamilton is not anticipating one from his squad.
"At this point, we don't have to worry about that," he said. "We have strong senior leadership on this team, guys that have been through the fire. It's their team, and they aren't going to let complacency set in. They have their goals and they will be focused."