Sagemont Wins Rubber Match With Carroll For 3A-15 Title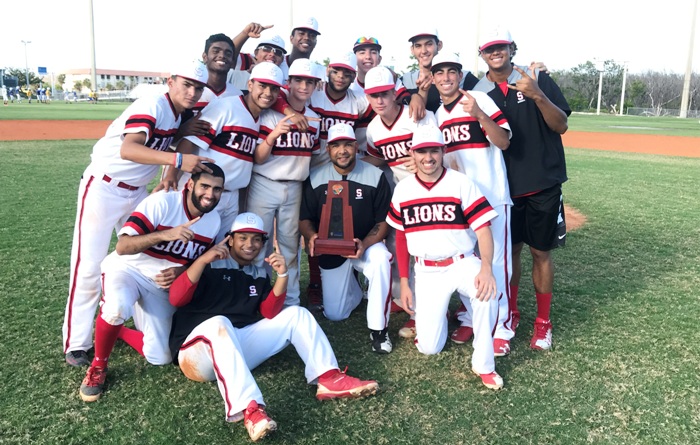 Sagemont and Archbishop Carroll are no strangers. The two schools have spent the past two years exchanging 3A-15 titles. In 2016, it was the Lions that took home the championship, and in 2017, the Bulldogs won the title on their way to a state final four appearance.
Ironically, Thursday night the two teams returned to the scene of the 2016 district title game, Marathon High School, which Sagemont won under then-manager Ricky Gutierrez.
The Lions used similar magic yesterday, scoring two runs in the bottom of the seventh to walk off the Bulldogs 3-2, and take the district title back to Weston.
"In that last inning down 2-1, I reminded the guys that this is why we played the schedule we did," said Sagemont Manager Armando Sierra. "To get us ready for this moment. Now we have to go out there and finish the game. And they did when Danny (Moreno) singled off the pitcher's glove and the winning run scored."
Sagemont stacked their schedule with teams such as Archbishop McCarthy, Miami Beach, Mater Academy, and Doral to prepare for what could be a state title run.
Sierra also had a little extra juice in this one, as his son, Armando, started the district title game on the mound. The younger Sierra threw a complete game, being efficient, pitching to contact, and walking nobody during the outing.
"I told the guys from the start we are going to win games with pitching and defense," said Manager Sierra. "Today was a perfect example. Armando throws 74 pitches with no walks, and we play error-free defense. That is how you win these tight playoff games."
The game wasn't always in favor of the Lions. After taking a 1-0 lead in the fourth, Sagemont watched as the Bulldogs answered with two of their own in the fifth. Zach Sanchez doubled, moved to third on a Kristopher Soto sacrifice bunt, and then scored on an Alex Perez base hit. After a flyout, Chris Pelicanos singled, and when Gabe Figueroa hit a base hit, the Bulldogs had their first lead of the game.
That lead held until the seventh, when Dylan Fineberg reached on an error leading off the inning. Sierra moved Fineberg to second, and Alex Gonzalez walked. After a ground-out, the Lions were down to their last out.
Jonathan Vega tied the game with an infield single, and when Moreno singled off the pitcher's glove, Sagemont had completed the comeback, and won their second district title in the past three seasons.
The win allows Sagemont to host a regional semifinal Wednesday against Berean Christian. Archbishop Carroll will go on the road to Palm Beach, where they will face 3A-7 champion John Carroll.