St. Thomas Aquinas State Champions Once Again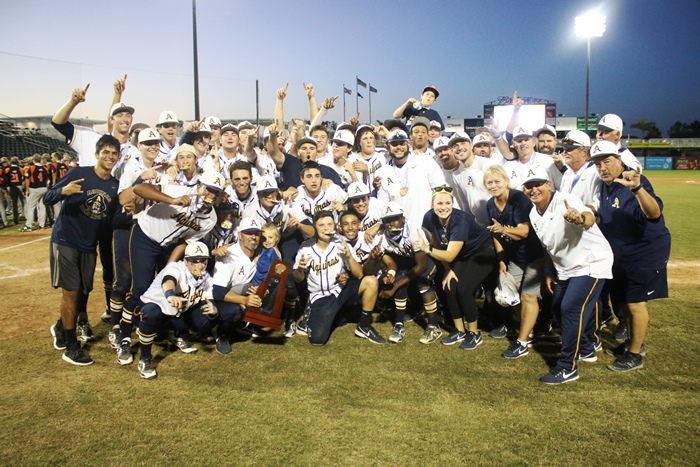 The St. Thomas Aquinas players had no other choice, if they were ever going to get the chance to dogpile. Amidst concerns that a player might get accidentally injured, Raiders manager Troy Cameron made a deal with his team this season. The understanding was that the only way they would be allowed to dogpile this year was if it was following a state championship victory.
Saturday evening that long-awaited celebration pile took place, at Hammond Stadium in Fort Myers.
With as much fireworks as an Independence Day celebration, St. Thomas Aquinas pounded its way to victory in the 8A title game against the Sarasota Sailors. Clinging to a one-run lead in the sixth, the offense broke things open one last time to put their biggest game of the season headed in the right direction for good. Behind a monster hit from Caleb Roberts deep to right field with the bases loaded in the sixth that plated all three, the Raiders provided the final breathing room they needed for an eventual 8-4 final score. Six outs later they were celebrating together on the field, state championships once again.
"We've had an amazing run," Raiders manager Troy Cameron said. "We've played some amazing teams this year, with Sarasota being one of them, obviously. We just have a great group of seniors who led this team, and a bunch of young guys contributed. It couldn't have worked out better and this group definitely deserved this."
It is the program's third state title, having also won it all in 1995 and again in 2003.
Offense has been a major driving force for the St. Thomas Aquinas Raiders this entire season. In a tight ball game late into the action, the Raiders did what they did all along to get to Saturday's state championship. Batters worked counts, lined up good pitches and trusted their hands to do the rest. Speedy players focused on getting on base and power hitters worked to drive them in.
"I think I have the easiest job on the team, because of the guys that I have behind me," leadoff hitter Matt Archer said. "I just know I have to get on base and these guys will do the rest. They did that all year, and especially today."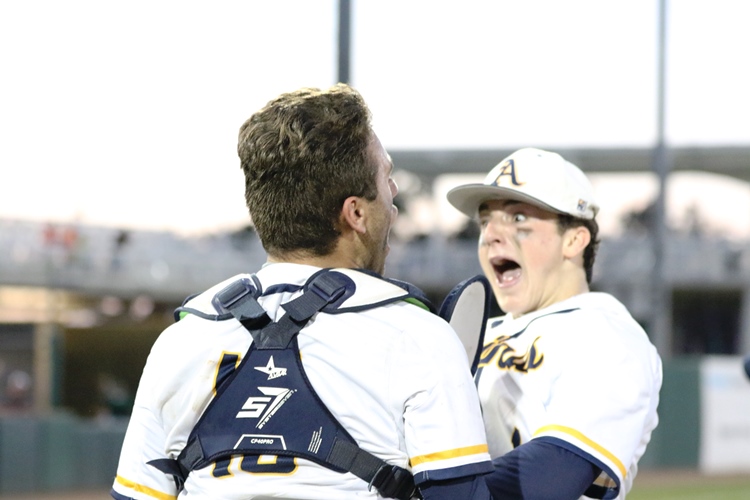 The Raiders got it going right away in the first inning to take immediate control. Archer provided the first spark with a double to left, and then scored when Andres Antonini smacked a double to center. Caleb Roberts then lined the ball past third base and legged out an RBI double to make it a 2-0 advantage that gave starter Nate Thomas an immediate cushion.
"I just knew I had to come out and just pound the zone," Thomas said. "I always know my defense is behind me to make plays. So I just came in and pounded the zone."
Sarasota responded with a run in the bottom of the second to cut the deficit in half. Evan Gibbs legged out an infield single, Jack Duffy was hit by a pitch and Andre James moved the runners up by giving himself up with a sacrifice bunt back to Thomas. Owen Ayers was then also hit by a pitch that loaded up the bases, and a wild pitch allowed Gibbs to come home for Sarasota's first run of the night.
Nate Thomas and then, later, reliever Isaiah Hood both made things tough on the Sarasota hitters. But the top of the order seemed to find the most success, and they worked to set the example to the rest of the lineup.
"Their first guy was no different than anything we've seen, with a fastball he tried to work in and out," leadoff hitter Nick Winkelmeyer said. "So I tried to relay that to the other guys. The second guy had an arm angle that we hadn't seen yet; it was like a whip that would come back behind him. Once you found out the whip, you just had to sit back."
A pair of runs in the top of the third further extended the Raiders' lead. Archer again got things going when he legged out a high infield chopper for a base hit. Antonini then shot a double into left field, and Fergus followed with another double to left that plated both runners. Roberts nearly connected for another big hit, but Dorso made a great diving catch in center to rob him of a base hit.
Another inning brought another run for the Raiders. Riley Rosario reached on an error, Wade Iben singled to center to move Iben into scoring position and Antonini supplied an RBI single to right to make it a 5-1 ball game.
"I was just trying to put the ball in play and get on base," Antonini said. "I know I have guys behind me, so that was my job was just to get on base."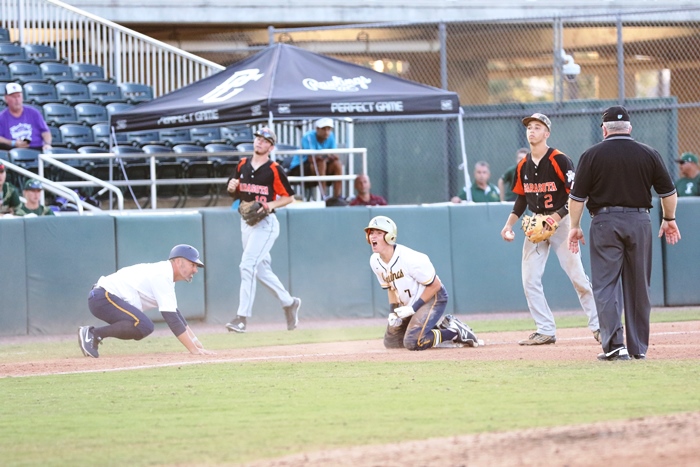 With the amount of heart and grit that the Sailors displayed all throughout their playoff run this year, there was no chance they were going down quietly. Sarasota rallied for three runs in the bottom of the fifth to pull within a run and keep their title hopes well alive.
Just as they had done all along, the top of the Sarasota lineup set the table to get things going. Winkelmeyer walked and Ben McCabe was hit by a pitch for a pair of base runners. A throwing error allowed Winkelmeyer to score, and Sarasota capitalized on two more errors that resulted in two more runs on the board.
"We knew we were playing a tough team, and St. Thomas Aquinas is an excellent ball club," Sarasota manager Clyde Metcalf said. "Their top five hitters are probably as good as any I've seen in my 35 years of coaching, to be quite frank. I thought we made some good pitches early in the game, and as the game progressed. But that top five just seemed to find a way to hit them hard. They really did a good job. They out-hit us today, but they gave us opportunities through walks and hit batsmen and we were just not able to come up with a clutch hit today."
The pressure now on with things tightened up, the Raiders provided the final big swings that assured them of victory. Gabriel Terry singled to center to start the top of the sixth, but was then erased on a fielder's choice that landed Iben on first base. Archer sacrificed himself to advance the runners, Antonini was intentionally walked and Cade Fergus also worked a walk that loaded up the bases for Roberts in the clean-up slot. The senior did what he has done all year for his club, delivering in the clutch with a shot crushed deep to right field to clear the bases with a three-RBI triple that notched the final runs of the game.
"In the field, I wasn't at my best, so I knew that I had to pick them up by swinging the bat," Roberts said. "I came up with the bases loaded and we had a one-run lead, but obviously it is better to be up by those four runs. I got a good pitch and I put a good swing on it."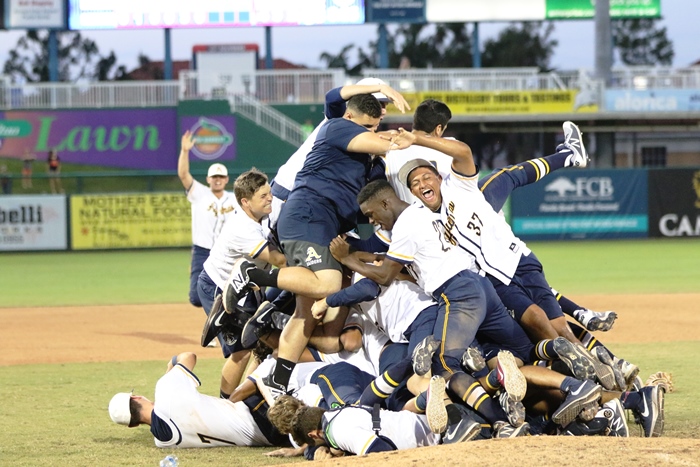 Part of what makes the Raiders' accomplishment so special this year comes in the way the baseball gods rewarded them for their selflessness in being ambassadors of the game and young men of great character. Over recent years the program has dealt with personal loss and difficult trials in life, and always their fellow teammates and coaches were there for one another.
That family love grew to encompass peers and classmates, and even rivals. The team voluntarily assisted in clean-up work at rival Nova High this fall, after Hurricane Irma caused massive damage to the baseball facility. The program reached out with support after the tragedy at Douglas in February, while also paying tribute and lending support to a Cypress Bay club they faced in their first game of the season that was still coping with that recent tragic passing of its manager, Paul Liotti.
"We just have an unbelievable group," Cameron said. "We kept 29 guys on the team, and that is the highest number we've ever had, and against my better judgment. It's tough when you have 29 guys on the team and you are trying to keep everybody happy and trying to get everybody playing time. You're trying to keep the atmosphere in the dugout productive, and they just did an unbelievable job all year. It all started with a lot of the things that we did off the field. No matter what I asked them to do, they did it. They did an amazing job, and they also helped me personally."
Sports success is measured in wins and losses, as well as championships. As successful as the Raiders were on the baseball field this season, their greatest wins still may have come in the ways they positively contributed to their community. Through that it brought the team closer together and led to a more united group heading into battle this season. Together, it seemed nothing could stop them.
"This is my fourth year here, and out of all the teams that I've been on we've gotten along the best," Roberts said. "We were hard-working and we'll do anything for each other, like brothers. I'll always remember them."