Douglas Stays Top Dog In 9A-11, Defeats Taravella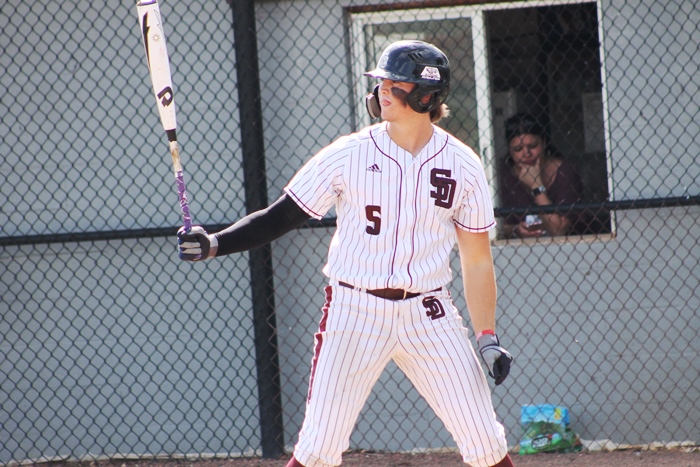 The Taravella Trojans had a new manager in Joe Giummule coming into this season, and were riding a wave of momentum after a 17-10 campaign last year. They were a popular pick to be the team that dethrones Douglas, who has won six straight district titles.
Only problem on Tuesday was, the Eagles were still the Eagles. And no hype, or new manager was going to change the fact that Douglas is loaded again, and still the team to beat in 9A-11.
After falling behind 2-0 early on, Douglas stormed back, scoring the next five runs, and then cruising to a 5-3 victory at home. The win moves Douglas to 7-2, with a perfect 3-0 district record.
"We wanted to make sure everyone knew we were still the team to beat," said Eagles starting pitcher Luke Schiltz. "There was no way we wanted them coming in here and beating us on our field."
Early on, it looked as though Taravella may do just that. With Schiltz cruising through the first inning, the Trojans jumped on the board in the second. Ryan Alba was hit by a pitch to lead off the inning, and after a strikeout, Tony Sanders walked. A groundout put runners on first and third, and a Roberto Tonche single game Taravella a 1-0 lead.
They added a run in the third on a Seth Braziel base hit. Braziel was a bright spot for the Trojans offense, going 2-for-3, with a run and two RBIs.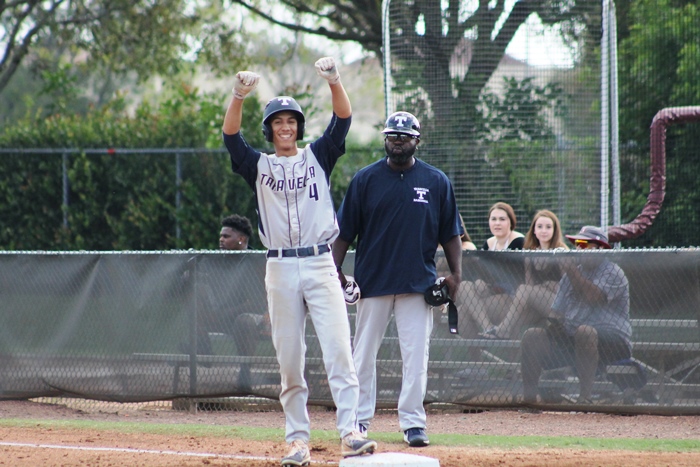 Despite the early deficit, the Eagles did not panic. After all, they had just come out of a tournament up north where they came back from a 4-0 deficit against defending state champion Venice.
"I knew these guys weren't going to panic," said Manager Todd Fitz-Gerald. "We are a evteran team, and we were just in this spot last week. So i knew the offense would eventually come around."
And come around they did. With Cosi Scinta shutting down the high powered Eagles offense in the first two innings, Douglas bats came alive in the third. Consecutive walks to Carter Brady and Jhan Ledezma set the table for the top of the Eagles order.
After a strikeout, Andrew Jenner singled home Brady. Hunter Fitz-Gerald followed with a two-RBI single of his own, and suddenly the Eagles had a 3-2 lead.
"When you are playing a team like that, you can't walk the eight and nine hitters in the lineup," said Giummule. "That will bite you every time."
Douglas added a run in the fourthy, and then Fitz-Gerald launched a solo home run in the fifth, to extend the lead to 5-2. The younger Fitz-Gerald, finished the day 2-for-4, with three RBis. The performance was not lost on the elder Fitz-Gerald.
"It's just great to see," said Fitz-Gerald of his son, and the teams three-hole hitter. "He has worked so hard, as all of these guys have. To see him have the early season success he is having is hard to put into words."
As for the younger Fitz, he knew it was a matter of time before the Eagles got to Scinta.
"First time through he did a good job keeping us off balance," said Fitz-Gerald. "Second time through, we made some adjustments. We have a great group of guys, we consider ourselves a family, so even being down early, we knew we could come back and win."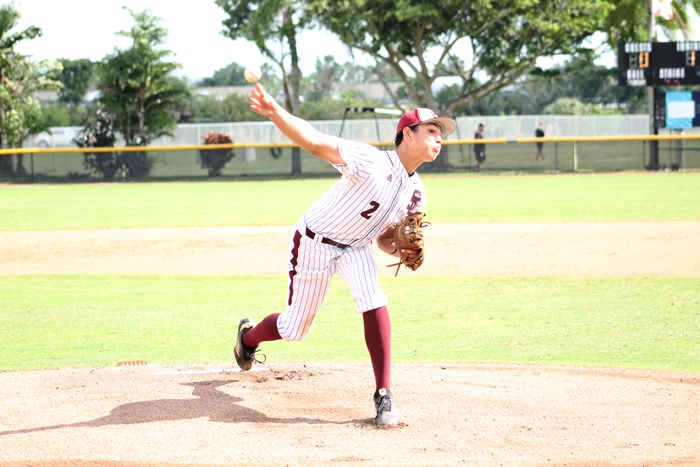 With Giummule taking over the Trojans at a school that is less than ten minutes from his house, and Fitz-Gerald already having Douglas established the Eagles as a national power, this figures to be the first of many battles between the two programs moving forward. And even though the rivalry is deep, at least as far as the coaches go, the respect is mutual.
"This win was great, but in the long run, its just another win," said Fitz-Gerald. "Joey does a great job of having his teams ready, and they will be ready when we have to go to their place. District titles aren't won in March. We will see them again and hopefully we continue to get better before we do."
For Giummule, he also understood what he was up against when he took the Taravella job.
"This is what you come to a school like Taravella for, for the rivalry with Douglas," said Giummule. "My guys were a very good team before I got here, they won 17 games last year, so they know how to win. Douglas is always going to be well-coached. Today, we made a few mistakes, but both teams know the games that count will come at the end."
One immediate game that will count for Douglas, is tomorrow, when they not only face a district opponent in Monarch, but Fitz-Gerald is going for the 400th win of his coaching career.