Flanagan Bats Rally Late For Walk-Off Win Over Cypress Bay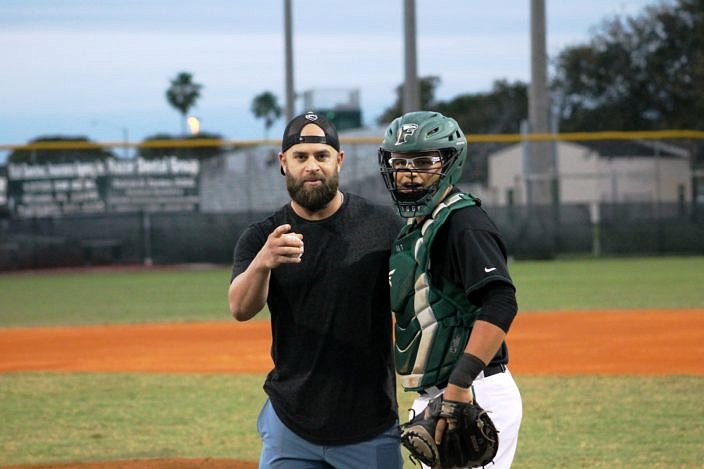 With the 2019 season in full swing, two 9A-12 district rivals fought til the very end and did not disappoint in the first HSBN Broward Game of the Week broadcast on HSBN Live! this season.
Watch The Replay Of The Broadcast
Led by a solid pitching performance from Derek Cabrera and a walk-off double by Miguel Useche, Flanagan secured their first district win of the year 3-2 over Cypress Bay.
"When they step foot on this field they know that it is going to be a battle and they got to put their best foot forward."Falcons Manager Noel Figueroa said.
Before the game even started the drama was high at Falcons Field. Former Flanagan and Major League Baseball star Mike Napoli was on hand to throw out the first pitch.
From there, Cypress Bay was in control most of the game backed by Tyler Nejaime strong outing. Nejaime posted six innings, giving up only one earned run, while allowing four hits. The offense came early in the second inning for the Lightning with a two-run triple by Joseph Figueroa, plating the only two runs of the evening for the Lightning.
In the seventh, Flanagan used a patient approach to start the inning. Eventually Miguel Useche came to the plate with two outs and the tying and winning runs on base. Useche came through with a walk-off double, sending the Falcons dugout and fans in attendance into a frenzy.
Useche was also named the HSBN Game of the Week Player of the Game.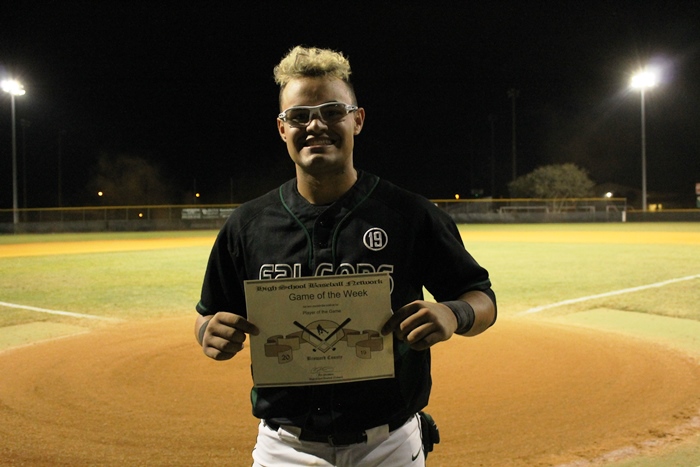 "This team is resilient, we always keep fighting, we grind it's going to be tough to beat us playing the whole game." Useche said. "We've done this three out of four games it shows what kind of team we are."
On the mound for Flanagan, Cabrera went the distance, with six strikeouts. He allowed only two earned runs to keep the Falcons in the game until the offense could heat up.
The win was a big one for Flanagan. The team, which is being guided by Figueroa, in his first year managing the squad after a long tenure with Ray Evans at the helm, was considered to be vulnerable coming into the season. By defeating Cypress Bay and gaining an early season lead in the district, the Falcons have shown that they may still be the team to beat.
If Flanagan can get by West Broward, another team expected to compete for the top spot, later this week, they will claim one of the biggest weeks of the young season.
Cypress Bay, which has had two impressive performances from Nejamie on the early season, will look to rebound when they go on the road to face Western. The Lightning are in the middle of a stretch where they play their first eight games on the road.