Chaminade-Madonna Stuns St. Thomas Aquinas
JM Fay Launches a two-run homer for the Lions.
St. Thomas Manager Troy Cameron and Chaminade-Madonna Manager Danny Scott are two longtime friends, and when Scott took over at Chaminade this past Fall, one of the first things the friends did was schedule a match-up between the two teams.
That match-up finally occurred on Tuesday night at St. Thomas in the HSBN Broward Game of the Week, and Cameron may be having second thoughts on scheduling the game after the Lions stunned the Raiders 5-3, in a possible season-changing game for Chaminade.
"We have been preaching to the guys to practice patience and buy into what we were trying to do, and tonight they did an outstanding job against one of the top teams in the state," said Scott.
The game, which was telecast on HSBN Live!, became a showcase for emerging Lions ace Miguel Rosado. For the majority of the night, Rosado kept the potent Raiders lineup off balance, striking out 10 in his 6.1 innings of work. Rosado did not give up a run until the seventh inning, and only allowed four hits all night.
"I was just trying to mix my pitches up, and early on I saw I was able to control my off-speed pitches, so I was just throwing to spots and kept mixing it up all game," said the Lions junior.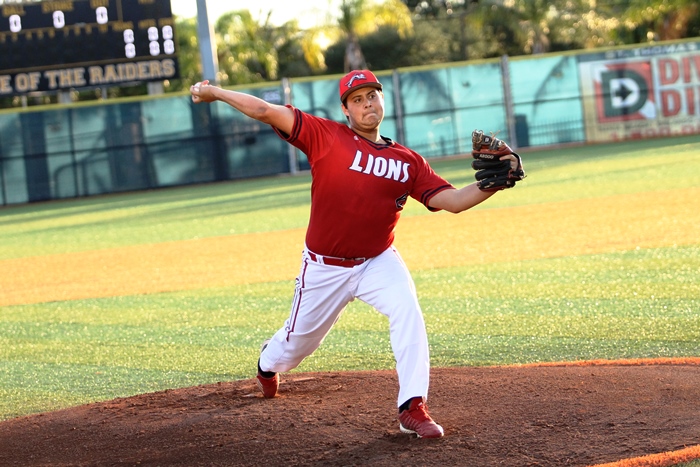 While the Raiders offense could not get going, the Lions put a run on the board in the second off St. Thomas starter Isaiah Hood on a sacrifice fly by Alex Reinaldo.
It was in the fifth, however, that the Lions got the insurance that gave them the confidence that they could pull the upset. With Alfredo Hurtado at second, JM Fay, who has become known as "Big Game Fay" amongst friends and family, launched a two-run home run to center, giving Chaminade a 3-0 lead.
"I was looking for a pitch I could drive to drive the run in, and I got a pitch I could handle and put a good swing on it," said Fay. "It was a time in the game we needed insurance runs, and I was glad I could come through for the team."
From there, it was more of Rosado, mixing change-ups and curve balls to keep the Raiders off balance. That continued into the seventh.
After the Lions tacked on an additional two insurance runs, and took a 5-0 lead into the home half of the seventh, the Raiders offense finally awoke.
Max Goldfine was hit by a pitch, and then consecutive walks to Matt Archer and Gabe Terry loaded the bases with one out. A fielder's choice brought in the Raiders first run of the night. Then, a Connor O'Hara single scored Archer and Sean Sullivan. Suddenly, St. Thomas had the tying run on first. Still, Scott was comfortable his team was in a good position.
"They battled back there at the end, as you would expect them to," said Scott. "But you have to keep playing, and I had faith that my guy would do the job."
That guy was relief pitcher Dominic Rodriguez, who, after getting into a jam, struck out Alex Romance to secure the 5-3 win.
"This was a big win for us," said Fay. "We have had some close games this year, and it was nice to get over the hump and close out a game against a good team."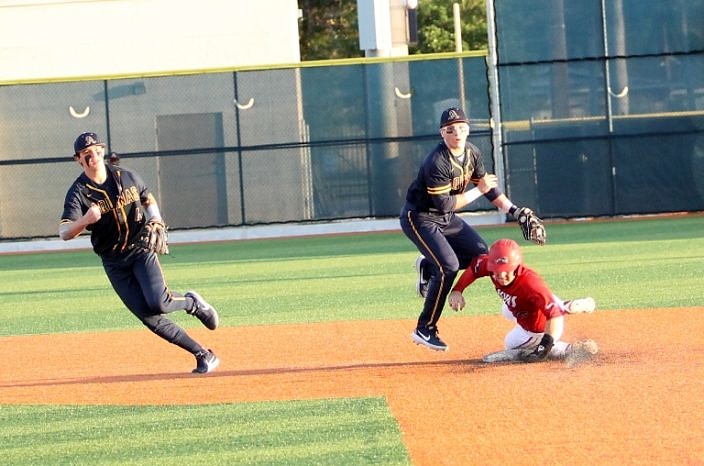 On the other side, the game continued a trend for the Raiders. All three of their losses this season have come against teams with sub-.500 records.
"Maybe there is a lesson to be learned from this game," said Cameron. "All year our guys think they can just turn it off and on, and now this is the third time we have been beat by a team with a losing record. I give them credit, they played great, and were the better team tonight."
Asked whether a loss this late in the season could help a team that has won 17 of 18 games coming into Tuesday, Cameron was definitive in his answer.
"It is something that is a bit worrisome. When you get to the playoffs, games like this can end your season. So hopefully we start to realize that every time you step on the field, you have to be ready to play."
It is possible the Raiders were looking past the Lions to their next game, which will be against longtime rival Nova, on Thursday night.
Chaminade, who broke a five-game losing streak, will try to finish off a perfect week when they face South Broward at home on Thursday.