Sagemont Defeated In 3A State Semifinal Game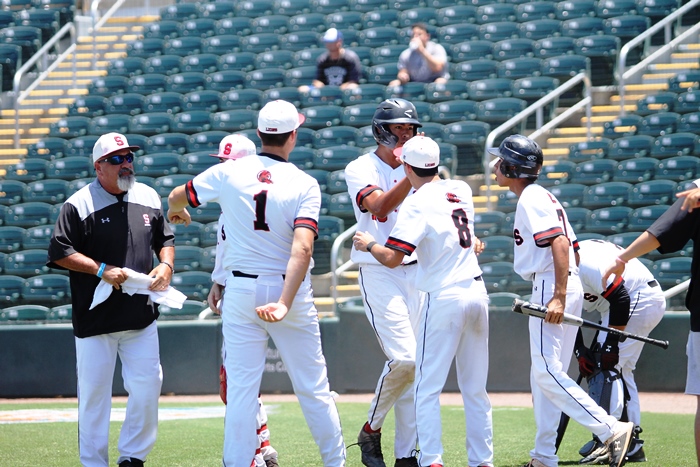 Lakeland Christian and Sagemont came into their 3A state semifinal on Friday afternoon knowing they were similar teams, with similar paths to success. It was the Vikings, however, that played their game, and came away with a 5-1 win over the Lions.
"We wanted to come out and apply some pressure early, and we were able to do that," said Lakeland Manager Blane Fox. "We have a saying, as Joe goes, we go, and that was how it went today."
The "Joe" Fox was referring to was lead-off hitter Jovanni Canegitta, who tortured the Lions all afternoon long. In the first inning, Canegitta led off the game with a double to deep center. Later in the inning, Jake Fox, who had reached on a fielder's choice, stole third and scored the first run of the game on an error.
Canegitta's double also proved to be a big development in another way. Lions center-fielder Danny Moreno, the team's top hitter, had to come out of the game after the first batter when he aggrevated an existing hamstring injury going after Canegitta's double.
"It sucks," said Moreno, when asked about the disappointment of having to leave a state semifinal game.
Sagemont Manager Armando Sierra echoed that sentiment.
"Danny has been a leader and one of our top players all year," said Sierra. "We were able to get through districts and regionals somehow without him, but losing him on that first game definitely deflated us today."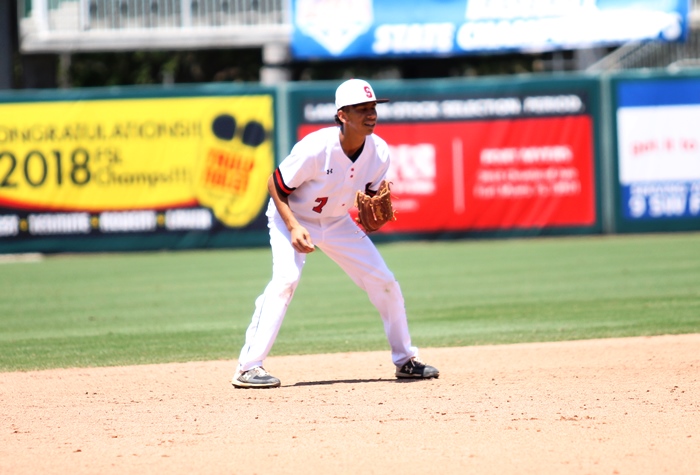 The Lions, who had been the aggressors all season long, found themselves playing from behind all day in this one. The Vikings were running every time they got on base, and were executing with sacrifice bunts and well timed base hits.
"The execution was there today," said Fox. "We saw early in some of the body language that they were playing a little on their heels. So we tried to take advantage of that."
Sagemont actually made it a game in the second when Dylan Fineberg singled in Louis Zayas, cutting the score to 2-1.
Lakeland responded in the third when Cole Kramer drove in Jake Fox, extending the lead to 3-1. The score stayed that way into the fifth, as Lions starter Armando Sierra and Vikings starter Kramer both settled in.
In the fifth, Canegitta was at it again, hitting an inside the park home run to center. Then, in the seventh, Canegitta scored after reaching on a single, and executing a perfectly timed double steal on a first and third play.
"There was nothing we could do today to get him out," said Sierra. "We used the change-up, and he smacked it. Then we came back with a curve ball next at-bat, and he handled that as well. No matter what we threw he was right on it. He was impressive, and you have to tip your hat to them for how they played today."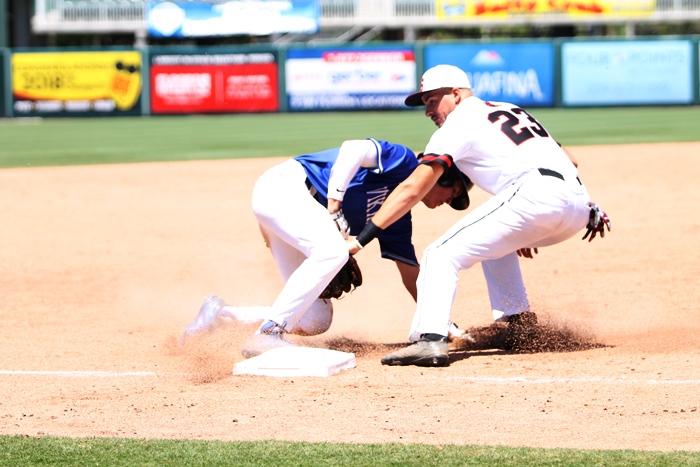 Kramer finished the day throwing six innings, striking out seven while walking one. Cade Kontny did what he has done all year, coming in and closing the game with a perfect inning of relief.
"We came here to win a state title, and now we are one game away," said Canegitta. "If we play like we played today, then we will accomplish that goal."
For Sagemont, it was an end to the first state run in school history.
"We didn't get the result we wanted today, but that doesn't take away anything from what these guys accomplished this season. It was the first time the school has ever gone to states, and although we didn't play our best game, the experience will still be great when these guys look back on it in a few years."