Troy Cameron Accepts Job With FSU, Passes Torch To Wardlow
Troy Cameron saw himself coaching at St. Thomas Aquinas for many years to come. The Raiders alum returned as the manager seven years ago, bringing his Aquinas career full circle in winning a state title as a player and then again as the coach, when the Raiders earned the 2018 FHSAA Class 8A state championship. In that time the program also developed a family culture unlike any other, and it is that bond that makes it bearable as Cameron surprised even himself in recently accepting a coaching job on the Florida State University softball team.
"I didn't think I would ever leave St. Thomas," Cameron admitted. "The opportunity that was presented was one that I never thought would be offered to me. Now that it has been, getting a chance to go coach at Florida State, it is a school that I had committed to play at when I was in high school, and a school that I've rooted for my whole life. That all played a part ultimately in the decision of uprooting my family and moving to Tallahassee and coaching up there. There were not many scenarios that I could play out in my head that could take me away from St. Thomas, and this was one of the very few. I just never thought I would get this opportunity."
Cameron's baseball career came full circle with the Raiders. As a player he helped lead the program to its first state championship in 1995, and he was then drafted and played in the minor leagues until 2005. After returning as a coach to start the 2013 season, he then led the team to its third state crown in 2018. As this next chapter begins, it also presents a chance to come full circle to something that has always been a part of his life.
As he prepares to move his home and family north upstate, Cameron admits he has been going through the roller coaster of emotions in saying goodbye to a program he loves so much. He is excited at what lies ahead, but is sad to be leaving everything that he has here with the Raiders.
"We just had camp this past week and we had a bunch of previous players and the current players all out there helping at camp. That was good, but at the same time, it is a reminder of what it is that I am leaving," Cameron said. "It was going to take something really special, something almost impossible for me to leave St. Thomas. The stars aligned and this is an impossible opportunity that I did not think would exist."
The shocking news brought with it also the positive opportunity for former assistant Joey Wardlow, who takes over as the new manager after four years on the coaching staff. Cameron stated that Wardlow is the perfect guy and, while certainly he will bring his own approach to his position, the many traditions and legacies the Raiders have helped build should only continue. The players are comfortable with Wardlow and excited for the opportunities ahead under his leadership.
"When I told the kids what was going on, they were upset, and so was I. Then I told them Joey Wardlow was taking over and it was such a huge sight of relief," Cameron said. "You could see it with all of them where they were just so happy that he was going to be their coach. They all know him, they all respect him and he's done a great job of coaching them up to this point. Now he gets the chance to take over, and it's a familiar face and it's a familiar voice and they're excited. We have a really good team coming back and I can't wait to follow them."
Since he will be out of the area, Cameron admits that now he will just spend more time on HSBN sites to follow the Raiders every season. While at the helm at St. Thomas, Cameron and the program have always been tremendous supporters for HSBN. St. Thomas even participated in the first-ever HSBN Game of the Week, which benefits charity and has been a huge success since it first began seven seasons ago.
"You guys at HSBN do an amazing job of covering high school baseball," Cameron said. "I remember when I started coaching and you guys were already into it for a couple of years, and I always said to you guys that we want to be a part of everything that you do. You guys do such a great job of covering high school baseball and I hope I stayed true to my word. I'm very grateful for everything that you have done for us at St. Thomas."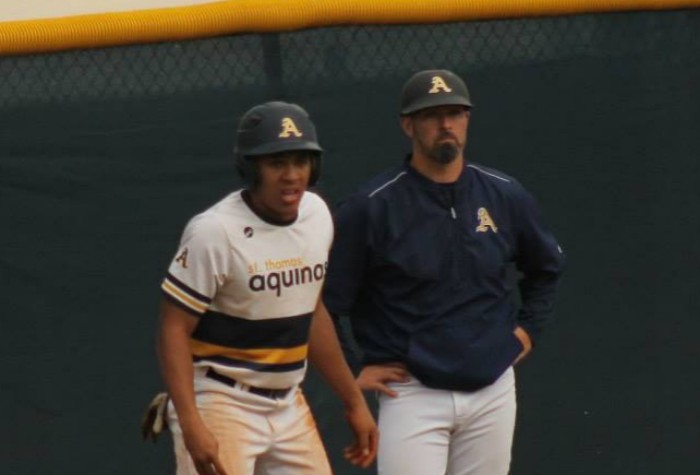 Over the years together HSBN was welcomed into the St. Thomas family, and I was afforded the chance to be more than just an outsider there to cover the game. I've witnessed first-hand the bond that developed all throughout the program, and how that unity gave them strength through many turbulent times that had nothing to do with baseball and everything to do with the tragedies of real life. Through those hard losses and tough lessons I have watched Cameron and his coaching staff be leaders, while creating leaders out of young men.
On the field there were so many big moments as well, none larger than the rivalry with the Nova Titans. Yet through the fiercest rivalry in Broward County came also some of the most unforgettable lessons. Mere months after Nova defeated the Raiders and ended their season while stopping them from reaching the state tournament in 2017, Cameron and his team arrived at Nova High to assist in clean up efforts after Hurricane Irma destroyed sections of Pat McQuaid Field.
"It's certainly not me doing all of this," Cameron said. "We have amazing coaches and their families and the sacrifices that they make to invest in the program, which everybody did. We're all very proud of what we were able to do. The program has always been so rich in tradition, and it's special. It's probably part of the reason why I thought I would never leave there."
Also during Cameron's tenure was the 2015 regional semifinal, in which St. Thomas won after the game was reverted back an inning due to weather. The Raiders led 4-2 going into the top of the seventh, but Nova hit a three-run home run to go up 5-4 just moments before a pounding rain storm arrived. When the field was washed out, the result reverted back to the last full completed inning, which meant St. Thomas won by a 4-2 score.
Players from both teams conducted themselves admirably in a tense environment divided by fans of both sides. None of the Raiders celebrated the victory, and many were visibly emotional about how it had ended. The general sentiment was that they had three outs to score at least one run, and if they failed to do so they did not deserve to win. Cameron led them to respect the integrity of fair play, even with your season on the line against your biggest rival.
For anyone leaving any job, there is a certain level of satisfaction in knowing that the goals were met. St. Thomas reached the state Final Four twice under Cameron, with one title. Cameron reached the regional finals five times and was 14-1 against Nova, while going 151-37 overall. The team also unveiled a brand new turf field in 2018, culminating a long effort to modernize the field for Florida weather.
Despite so much success, it was no easy task to achieve that state title. It was a testament both to how difficult it is to win one and also to the fortitude of the Raiders to keep working until that goal was achieved when they dogpiled in 2018.
"Even though that was the destination and we won a state championship, it's everything that we've done over the last seven years here that led to that," Cameron said. "As nice as it was to win a state championship, I wouldn't trade the journey of getting there for that state championship for anything. There were so many things that happened, and it all plays a part in what our program means and what it is about. It's not baseball; baseball is just what we do."
Cameron noted how his journey these seven years had some sad things and some really high points, but it was all very special. He could not have asked for better support from his players, the parents, the administrators at the school or the fans.
"I'm very proud of what we've been able to do in the last seven years, very proud of this school in giving me all of the help to do what we were able to do," Cameron said. "When I started coaching at St. Thomas I had never coached anywhere else and I really didn't know what I was doing, and I still don't really know what I'm doing. I had a parent who is a really good friend of mine and he told me, 'Don't get fixated on the destination, because it's the journey you're going to enjoy more', and that couldn't have been more true."