MLB Veteran Alex Gonzalez Named New Manager At Sagemont
The Sagemont Lions find themselves in great hands in naming Alex Gonzalez as the team's new manager.
The 16-year Major League veteran replaces former manager Armando Sierra, whom Gonzalez served as an assistant coach under for the past three seasons, along with fellow assistants Kenny Vega and Blake Martinez. This is his first time as the manager of a high school baseball team.
Following an MLB career that included an unforgettable World Series title with the Florida Marlins in 2003, Gonzalez has been grooming his coaching skills to prepare for an opportunity such as this.
"I am grateful for the opportunity and the trust they have given to me to put the team in good hands," Coach Gonzalez said. "I try to teach them how to play at the next level. I have been around with Sagemont the past three or four years with Armando Sierra, and I have taken a lot of experience from him on how to manage. Now I'm going to try to teach these kids to keep doing what we've been doing."
What Sagemont has been doing these past few seasons is winning, as the program has enjoyed some of its most successful moments – including a berth in the 2019 State Tournament Final Four. The Lions went a combined 37-23-1 the last three years, including a 6-1-1 start to the 2020 season that ended prematurely due to the global pandemic.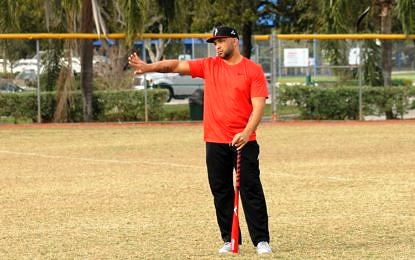 The impact that Coach Gonzalez had with the team was unmistakable. Having all that experience of playing the game at the highest level is invaluable, and the relationship between the coaching staff nurtured everyone to their strengths. Coach Sierra had a rare assistant with limitless experience to draw upon, and in turn the veteran skipper provided valuable mentoring from the coaching side of the game.
"For me and Armando, and Blake and Kenny, I think we did the best for the last few years with the school. We took it to a high level, and those little kids learned a lot on how to play at the next level," Gonzalez said. "I think that next year we have a young team, but what I have seen from those kids is that they like to learn and they like to play. It is best for me to try and teach them the same, and how to play at the next level. They say Armando did a great job the last few years with what was there, and we almost won at states. It was baseball and we had a young team. But Armando did a great job with what he got the team to."
Key to the program's success has been the quality of players that have traditionally passed through the ranks. A distinguishable characteristic of the team is how every player looks and does everything just like the rest of the guys on the team. Having attended many practices and covered many games over the years, this reporter has always noted how cohesive every player on the team is. High school baseball players are not robots, and it deserves attention that this program maintains such a strong standard.
"That is what you are looking for, and that is what I am trying to teach to those guys is for everybody to look the same," Gonzalez said. "We practice and try to get everybody to look the same and be on the same page. I always tell the kids that the way you are training and the way you practice is the way you will play the game. You train hard, because when the game is coming it is coming to you. I always say, 'Don't let the game come to you. You have to go to the game.' If you let the game come to you, you're going to put a lot of pressure on yourself. So that is what I try to teach these guys and that is what I like to do in practice."
The focus is to teach them how to play the game right. Having graduated many of the club's veteran hitters and the power they supplied, it is a much younger group that must now focus on fundamentals. For example, when a guy is on second base, these players must know how to get him over so they can then get him in.
"The thing that we have this year that is not like last year is that we are not a power-hitting team. So we need to do the little things to win games," Gonzalez said. "We have good pitching; it is right there. But we need to do the little things in baseball, especially on offense. We are not power hitters, so we need to do the little things and put the ball in play and have smart base running. We need to score some runs to support the pitchers. A few years ago we had a couple of guys who could hit the ball out of the ballpark, but this year we do not have that. So we need to play the real ball game; to move the runner and try to put the ball in play. They know how to play ball, but they need to do those little things that win ball games."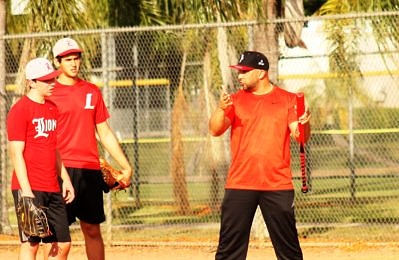 The players are excited to still see exactly what kind of team they have. With the season still several months away, there is much work yet to be done until then. But the pitching has done well in fall competition, and the pitchers are throwing lots of strikes. The defense has been playing great and the offense also looks pretty good.
"They like to learn and they like to play, and that is exactly what I am looking for as a coach," Gonzalez said.
Gonzalez was entrusted with much of the work that helped prepare him to take the helm. Among those tasks, he used to run most of the practices and put in all the signs.
"I learned a lot from Armando. Armando would take advice from me, and if I needed to understand something I could ask him some things," Gonzalez said. "I never played here in high school and the rules are a bit different, and they would tell me how the rules go now. Back in the old country, back in Venezuela and Dominica, if you take a kid out he does not play anymore. But here is different, and they have the opportunity to get in and get out. So I have to know the rules, and that is going to be a little bit harder for me just to know the rules. I have to take all the responsibility for that. For me, I have played in a lot of ball games and played a lot of baseball, so it is going to be harder to know those rules."
Every coach has a vision in place in how they want their team to play the game. Having an identity helps focus the approach and dictate more opportunities that favor to those strengths.
"I like to be aggressive, especially on the base running," Gonzalez said. "I like guys to hit and run, but you have to be a little bit smarter. Sometimes you are aggressive and you do not know what you are doing. So I have to put these guys in better line. With defense, you have to make the route to the play, and on balls that go to the outfield you have to hit the cutoff man. If you prep every day, then when the game is coming you can do what you do in practice."
As someone who knows just how much can happen, the goal is to expose these players to every single thing that can happen in the game. When those situations arrive during live play, Coach Gonzalez does not want to have his guys say that they have never practiced for that. When that situation comes, everybody will be ready for that. For him, it is equally important that he has prepared himself to coach in every situation.
"Every time I coach, I learn. It is a big difference to play and to coach," Gonzalez said. "You have to treat your players differently. You have to trust in them and those kids trust in you. Every time I go to coach, I try to learn from the other coaches, because they have more experience of coaching in high school. When Armando was here, I listened to him, and I did not want to say that because I played in the Big Leagues for 16 years I do not have to listen to him. He has more experience coaching than me."