Coral Glades Honors Jason Stein; Beats Pompano 8-0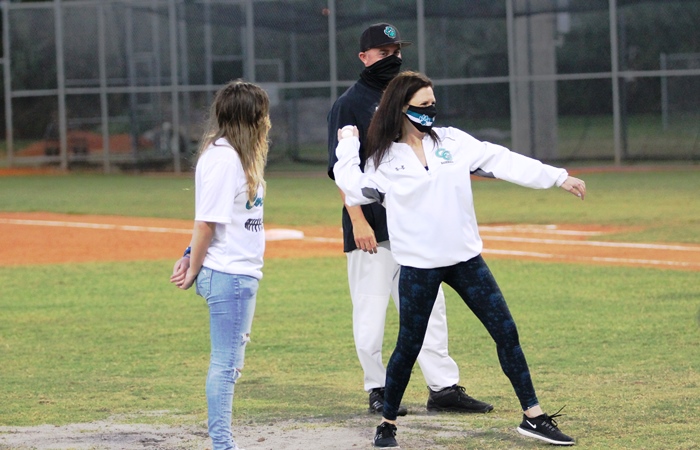 Photo Gallery
COVID-19 has caused a tough year for everyone worldwide, and Thursday night, as high school baseball came back after a year away, the feelings and emotions of the past year and the future were on full display.
The Coral Glades baseball program started the night by having Michelle Stein, wife of former Taravella Athletic Director and Manager Jason Stein, throw out the first pitch in their game against Pompano.
Stein lost his battle with COVID in August of last year, and the South Florida baseball community has been rocked ever since, with Stein being an integral part of that community for decades.
Michelle, and Assistant Principal at Coral Glades, as she has done several times since this tragedy, put on a brave face, and delivered an emotional first pitch.
Then, as if Jason was watching down over the Jaguars, Coral Glades delivered a performance that would have represented Stein, gritty, emotionally charged, and foot on the pedal enthusiasm, in an 8-0 win over Pompano.
"We wanted to do something to honor Jason," said Coral Glades Manager Joe Franco. "He has impacted so many players and students, and he had such a passion for not only the game, but for life itself. I knew him from coaching against him, and I got to know Michelle very well over the past five years. I am glad we were able to perform like this tonight in a way that he would have been proud."
The essence of Stein was his ability to pull enthusiasm and effort out of his teams. His players would have run through a wall for him. That is the way the Jaguars played Thursday, with a relentlessness that did not subside throughout the game.
In the first inning, Andre Juhasz set the tone of the night with a one-out Triple to center. he would then score on a wild pitch.
"I like going after the first pitch if it is near the zone, so I went up with the approach to attack," said Juhasz. "I got a pitch I could handle, and when I saw it go over the center-fielders head, I knew I could end up with a triple."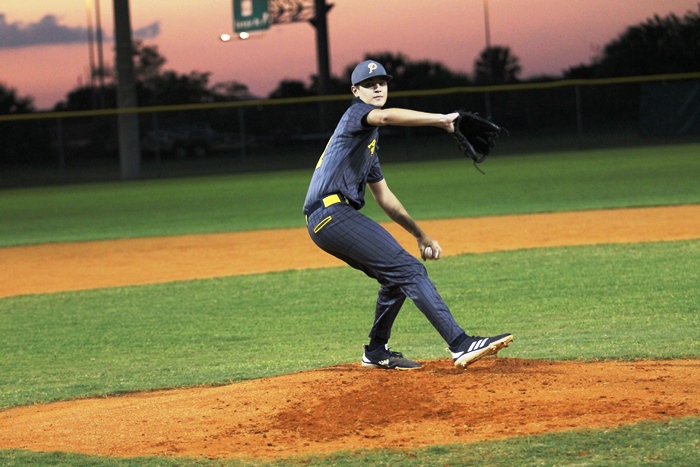 On the mound for the Jaguars was Emanuel Sohit, and he did his part to make this night special for Coral Glades. The junior was sharp early, not allowing a hit until the fifth inning. On the day, Sohit went five innings, striking out 12 and not walking a batter.
"This is what we expect from Manny," said Franco. "He is our horse. He is going to throw strikes, and when he has his stuff working like it was tonight, these are the type results we are going to get."
The Jaguars made sure that Sohit had enough runs to work with when they added to their 1-0 lead with four runs in the third. A lead-off double by Angelo Smith, was followed by a Juhasz walk, and a Nick Basson single.
Johnny Melnick walked, and then an error capped the scoring.
Single runs in the fourth, fifth, and sixth, ensured that Pompano would not come back in this one.
The game was highlighted by the Jaguars energy throughout, something that Juhasz related to the time off.
"We are just so happy to be back out playing again. It has been a long time since we have been on the field together representing Coral Glades, and it just makes us want to play hard and appreciate the game every time we step on the field."
Sohit agreed.
"We are having so much fun being back on the field. tonight, our offense was great and gave us runs early, and I was just focused on throwing fist pitch strikes and getting ahead. It was a fun night overall, and we hope to keep it going in our next game."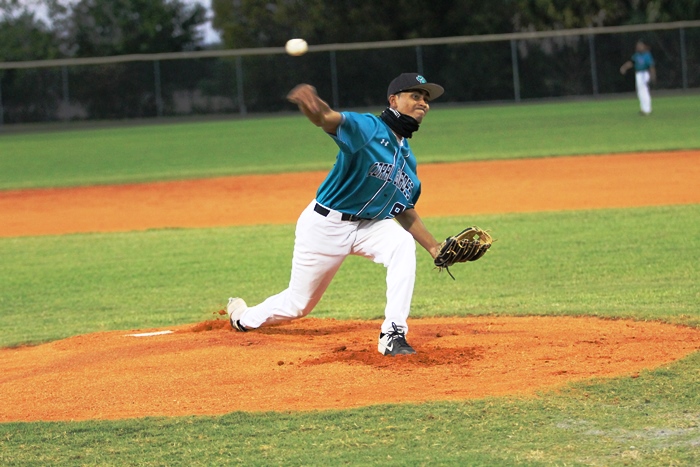 For Pompano, it has been a tough start to the season. The Golden Tornadoes were shut down for two weeks right as other teams began their throwing programs, and playing at a public park has led to Pompano not having a lot of on-field practice time.
"I don't want to make excuses," said Pompano Manager Jay Cohen. "We should be playing better baseball than we are. The loss of two weeks, and the fact that we have had only two real practice days on the field does make a difference, but these guys have played enough to execute some of the things we are struggling with."
Cohen believes there are better days ahead.
"We will get rolling. It has been an up and down start, and we just need to find some consistency. We have seniors that were around when this team went to states, and they aren't going to accept the results we have had so far."