Douglas Squeezes Out Victory Over Heritage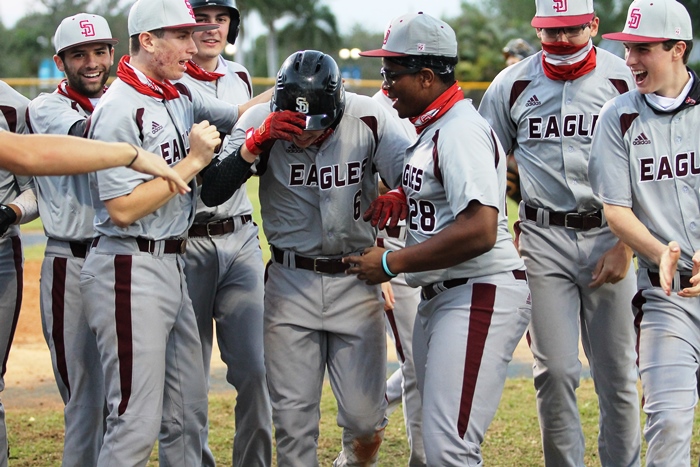 When the schedule came out for the 2021 season, there was little doubt which was the first game circled as must-see. On Wednesday night, Douglas and American Heritage squared off in what was sure to be one of the top games of the season, in the HSBN First Pitch Frenzy Elite Invitational.
The two teams did not disappoint, going toe to toe for seven innings, with the Eagles coming out on top 1-0, thanks to a Jake Clemente squeeze bunt in the bottom of the sixth.
Rewind to the beginning, with two of the top arms in South Florida squaring off. The Eagles Christian Rodriguez and Patriots Brandon Barriera each threw the first five innings without allowing a hit. It was a performance typical of what is expected from aces early in the season.
"The pitchers are obviously ahead of the pitchers at this point in the season," said Heritage Manager Bruce Aven. "Their guy threw the ball real well, and Brandon does what we have seen him do in the past. Both pitchers were in command for much of the game."
Eagles Manager Todd Fitz-Gerald agreed.
"Both pitchers did a great job today," said Fitz-Gerald. "That was the first time I have seen Barriera in person, and he was every bit as good as I had heard. On our side, Christian did a great job, throwing 78 pitches and pounding the strike zone."
The pitchers combined for 20 strikeouts, 11 from Rodriguez, and nine by Barriera. Each pitcher allowed only one walk.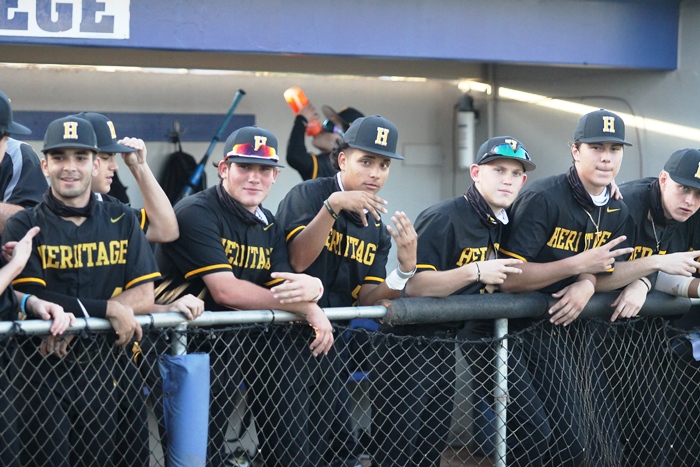 "I came into the day just wanting to get ahead and throw strikes, give my team a chance to win," said Rodriguez. "I knew it was going to be a low scoring game, so I had to do whatever I could to keep them from scoring long enough to get our offense going."
The offense never did get going, but in the sixth inning, the Eagles mounted a threat. Cameron Harris led off with a single. After a strikeout by reliever Anthony Nelson, Gavin Conticello singled, putting runners on first and third, and bringing Douglas' three-hole hitter, Clemente to the plate.
"Coach told me that if I got behind in the count, that we would be squeezing," said Clemente. "So when I got a strike on me, I knew what I had to do. It was a pitch I could handle, and I was able to put it down and get the run in."
The run proved to be the only one of the game, as Von Smeltzer closed out the top of the seventh by inducing a groundball double-play to end the game. The win was Douglas' second of the season, after beating Belen Jesuit on Monday.
"Those guys are well-coached over there (Heritage)," said Fitz-Gerald. "Today was really a game that could have gone either way. We were able to make one or two more plays than them, which was the difference in the game. I have nothing but respect for them, and it was a great way to start off the season."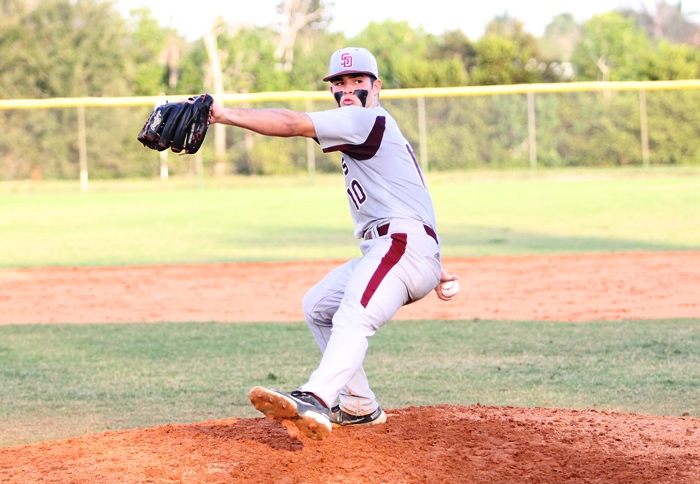 Heritage Manager Bruce Aven had a similar sentiment.
"The arms today dominated," said Aven. "The hitters are not up to speed yet, and it showed today. They (Douglas) are a great team, and they made a few more plays than we did. If we play this game in four or five weeks, both teams may swing it a little better, but today, it was all about the pitching."
The teams now turn attention towards the final game of the week, Heritage will face off with Heritage-Delray, while Douglas will take on St. Thomas on Thursday afternoon.
"This was a good measuring stick early on," said Fitz-Gerald. "We know they will be there at the end, and we expect we will get better and build towards our goals as well."
As for Aven, he is just looking to evaluate early this year.
"Usually we have a bunch of guys coming back, but right now, we are just trying to figure out who is going to be in the lineup every day, and at which positions. I think it may take six to 10 games for us to figure all that out, and then from there, we will roll with a group to develop some consistency."