Calvary Captures 3A-13 Title With Win Over CS Charter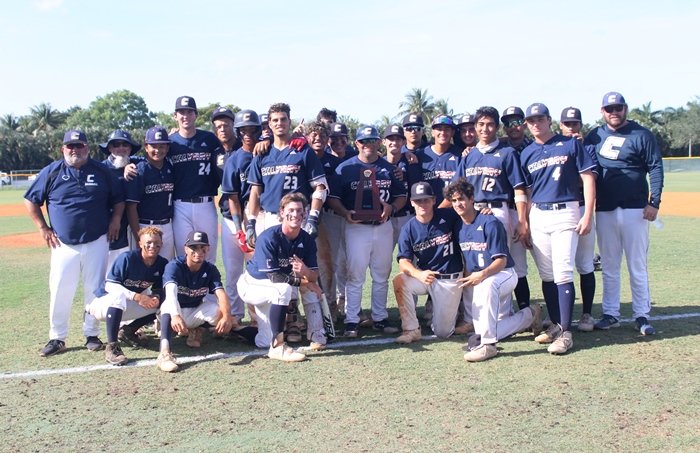 The 3A-13 championship game was set up on Thursday afternoon to be one that Calvary Christian could have overlooked. Coral Springs Charter came in with a 12-6 record, and junior Robert Boing on the mound. The Eagles countered with their co-ace, Andrew Painter.
For two innings, Boing went toe to toe with MLB prospect Painter. In the third, Calvary bats came alive, making the adjustments necessary, and cruised to a 10-0 district championship win.
"Anytime you get to this time of the year, adjustments at the plate are always going to be key," said Calvary Manager Gil Morales, who saw his team manage only a triple and a walk in the first two frames. "And I thought we did a good job today making adjustments the second time through the order."
The Eagles broke the tight game open with seven runs in the third inning. Brandon Delapenha got the scoring going with a two run double. Junior Erik Blair then provided the big blow, with a two run home run to right field. Calvary would tack on two more runs on RBI singles by Manny Ramirez and Jonathan Xuereb.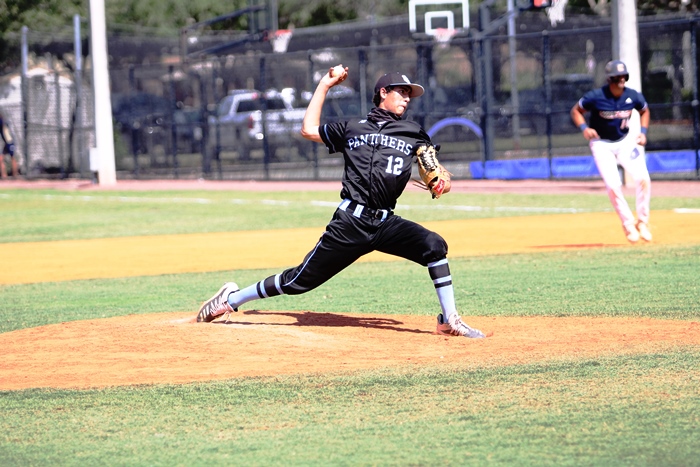 "It is fun when we get the offense rolling like that," said Delapenha. "We know we only need a couple runs with the pitching staff we have, but we also know we have the ability to score a lot when we get going."
On the mound, Painter had little trouble with the Panthers hitters, only allowing two hits in the complete game. He also struck out 13 on the afternoon.
"The approach is always the same no matter what game it is," said Painter. "We like to attack the strike zone, and go right after guys. Today was no different, and it is great when our offense puts up runs like they did today."
CS Charter knew they had their hands full, but Manager Charlie Fine was pleased with how his team battled.
"We are a young team," said Fine. "Those guys over there are loaded with D1 and future pro players. I was happy with how we competed, and at the end of the day, we have to go back to work tomorrow and start preparing for regionals next week."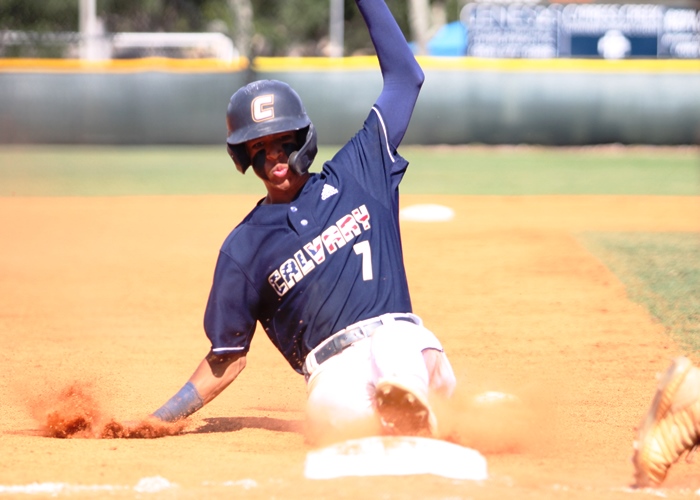 Calvary will host Hialeah Educational in a regional quarterfinal, while the Panthers will go on the road to face another perennial playoff power, Monsignor Pace.
"No matter what happens next week, we are going to give it our best shot," said Fine. "I have an amazing coaching staff that has gotten these kids prepared all year, and they will do everything they can to have them ready again next week. A lot of teams are not playing next week, so we will prepare and be ready to play when the time comes."
For Calvary, the district title is nice, but they are focused on a bigger prize.
"When the playoffs get here, you have to take things one game at a time," said Morales. "It is nice that we have a full week of practice to go over things and get ready for regionals. We will use that time to prepare, and will benefit from a whole week of practice and preparation."