Douglas Wins 7A-12 Title Over Monarch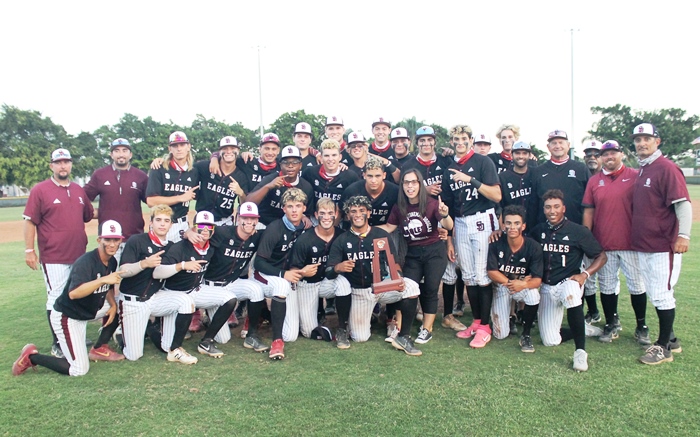 Social Media can be a funny thing these days. Take for instance Thursday's 7A-12 championship game between Monarch and Douglas.
The Eagles came into the game with a 22-2 record, but in speaking to Douglas players and coaches, it seems that social media got their attention this past week.
"We couldn't play them earlier in the year, and they had been talking a lot on social media about how we were scared to play them," said Jake Clemente. "So we wanted to come out and make sure they knew who we were, and that gave us some extra motivation today."
Whether or not the actual social media back and forth took place, one thing was clear. The Eagles played as if they had something to prove in an 11-1 district championship win.
"They had been talking all week," said Manager Todd Fitz-Gerald. "Our guys took that personal, and wanted to come out and dominate this game from the start. I think we did a good job of channeling the emotion into focus. I am really pleased with how we played today."
Right from the start the Douglas offense set the tone. A Gavin Conticello walk, and a Santiago Ordonez hit by pitch set the tone for a two-RBI Clemente double.
In the second, the Eagles added four more runs off Monarch starter Colby Schmitz. The big blow was a two-run triple from Ordonez. Through two innings, the #2 team in the HSBN Florida Power Rankings had built a 6-0 lead.
"It is always tough when you are facing a team of their caliber," said Monarch Manager Mike Schmitz. "Then when you have them score six runs in the first two innings, that is always going to be a tough road. We know we have to play our best baseball to beat them, and today we didn't do that."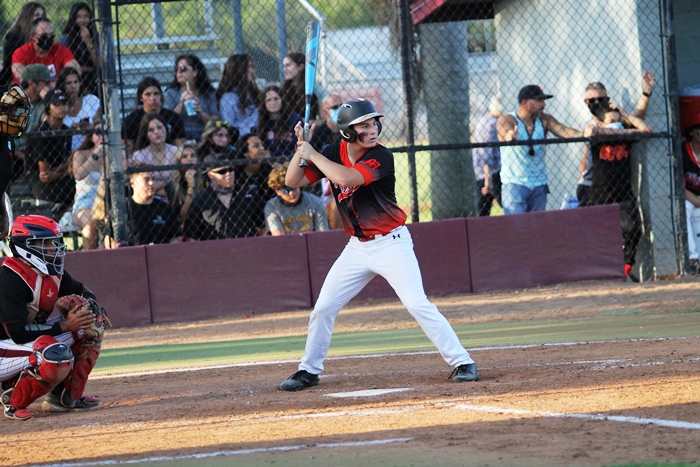 With a six run lead, Eagles starter Christian Rodriguez was in cruise control, allowing only four hits, while striking out eight in the five inning complete game.
"Christian didn't have his best stuff today," said Fitz-Gerald. "But he was able to stay around the plate, and was efficient with his pitches. I'm sure he will look at this game and see some improvements that he can make before next week, but overall it was a good performance by him."
The Knights came into the game off a semifinal victory over Boca, and although the score was not the result they wanted, the energy was there from both teams.
"It was a game that I think both teams were waiting for," said Rodriguez. "We know we wanted to play them and stop some of the talking they had been doing. We have a great group of guys. The chemistry is amazing with us, and we just take one game at a time to reach all of our goals."
At 23-2, the Eagles goals are not only winning the district title, but a state championship in Fort Myers in a few weeks.
"This team has been focused all year," said Fitz-Gerald. "They have had one goal since the start of the season, and that is tow in a ring at the end. We have some tough games coming up, starting with next week in regionals, but we like how we are playing right now, and feel we are good enough to beat anybody if we play our game."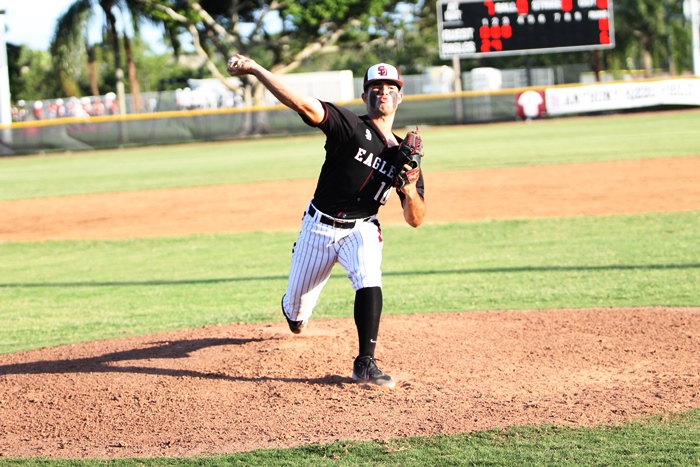 For Monarch, an otherwise strong season was overshadowed by the disappointment of Thursday's loss, but they too will be playing in regionals next week.
"We have been a little bit of Jekyll and Hyde this season from game to game," said Schmitz. "At times we have looked really good, and at other times we have struggled. But we are going to go back starting tomorrow and get these guys ready to play next week. Each game is a new day, so we will put this one behind us and prepare for regionals."
The Knights will head out on the road in their regional quarterfinal against 7A-11 Champion Park Vista. Douglas will host 7A-11 Runner-Up Santaluces next Friday.