Angels In The Outfield; Douglas Headed To States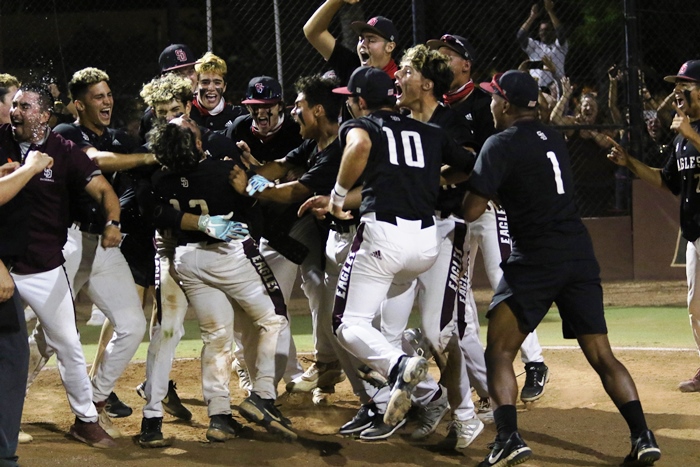 Photo Gallery
There are games that come along every once in a while that remind everyone that high school baseball can produce the type moments that travel baseball can never match.
The idea of laying your heart on the line for your school, and banding together, through blood, sweat, and tears, for a common goal of becoming a state champion, is something only high school baseball can provide.
For all seven innings on Saturday night, the Palm Beach Gardens Gators and Douglas Eagles exchanged big hits, clutch pitches, and most of all, the hearts of champions.
In the end only one team can win, and on this night, that team was the Eagles. Douglas used a three run seventh inning to overcome a 4-3 deficit, and when Santiago Ordonez hit a walk-off two-run home run, he not only sent the crowd of over 300 people into a frenzy, he also sent the Eagles back to the state final four for the first time since 2016.
"He told me right before that at-bat, 'Coach, I got this.,'" said an Douglas Manager Todd Fitz-Gerald.
Ordonez hit the first pitch he saw for the mammoth home run to left.
"My last at-bat, he got me out with three straight sliders," said Ordonez. "I went up knowing it was coming again, and I had it in my mind that he wasn't going to beat me with that pitch again. I just knew I had to find a way to get that run in from second."
The seventh inning for Douglas unfolded as something so outrageous that if it were a novel it would be considered fiction.
Trailing by one run, Fitz-Gerald sent freshman Rylan Lugo to the plate to start the inning. Lugo dropped a perfectly executed base hit bunt down the third base line on the first pitch.
"I do that all the time for my summer team," said Lugo. "I am the lead-off hitter for that team, and a big part of my game is bunting for hits. Coach told me to take a look and to bunt if the third baseman was back. I thought he was far enough back for me to do it, and I got a good pitch to bunt, so I did it."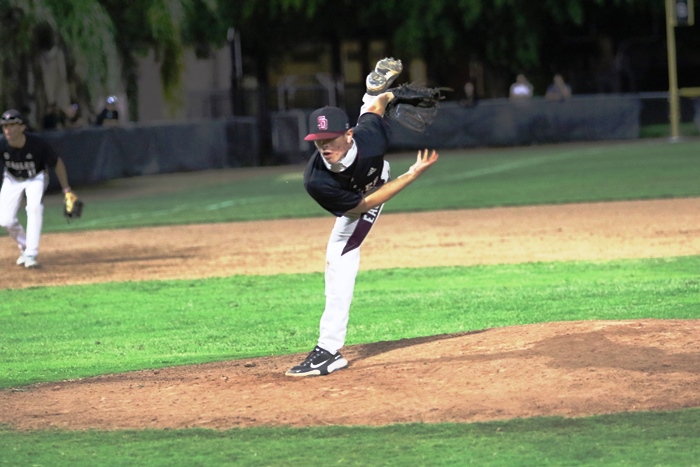 Next, another freshman, Devin Fitz-Gerald, perfectly placed a sacrifice bunt down the first base line, advancing Chris McKenna, who re-entered the game for Lugo, to second.
"Two freshman at the bottom of the order that came through in a huge situation," said Ordonez. "That is what this team is all about. It doesn't matter whether you are a senior, or a freshman. We can count on everyone to come through when their number is called. We are a tight group, and we have trust that everyone can get the job done."
Lead-off hitter Roman Anthony then flew out to left field for the second out.
Douglas, then received what only can be described as an intervention of some kind. The seniors, who are a part of the last graduation class from the horrific tragedy that cost 17 of their fellow Eagles their lives, saw something miraculous.
Gavin Conticello hit what looked like a fly ball to left-field that would have sent Gardens to states. With the ball coming down out of the night air, the Gators outfielder suddenly tripped, the ball falling to the ground, and tying the game at four.
For Fitz-Gerald, it was a moment that will not soon be forgotten. The Douglas Manager lost one of his best friends this past week suddenly, and there was no doubt what happened on that play.
"Danny passed this past week unexpectedly, and he was a true friend of mine," said Fitz-Gerald. "I talked to him before the game, and just said, be with us tonight. That, and everything the school and these kids have gone through. There is no doubt that we had people looking over us right there in that situation. It's pretty emotional."
To even get to the point of the seventh inning comeback was somewhat of a miracle for the Eagles.
Gardens, after falling behind 3-0 in the third inning, the Gators showed that they, too, were a team fully worthy of representing the region in the state final four. Jaydon Hilton chopped into the lead with a two-run home run in the fourth, and Gardens later tied the game in the inning.
After scoring in the fifth to take the lead, the Gators loaded the bases with nobody out in the seventh. Douglas junior Sammy Beir then got a strikeout, a fielder's choice second to home, and threw a 3-2 fastball for strike three to end the threat.
"I knew I wasn't throwing the ball that bad," said Beir. "I missed a spot and they got a base hit, then they had another good at-bat. But I knew I couldn't let them score another run. My team was counting on me. On that 3-2 pitch, I just reared back and threw it about as hard as I could."
The strikeout set the tone for the comeback.
"There probably is no comeback without Sammy doing what he did there in the seventh," said Fitz-Gerald. "He was hurt early, and there wasn't a lot of innings for him when he was working his way back. But as you see we have used him a lot here in the playoffs, and he just is a great competitor that deserved that moment."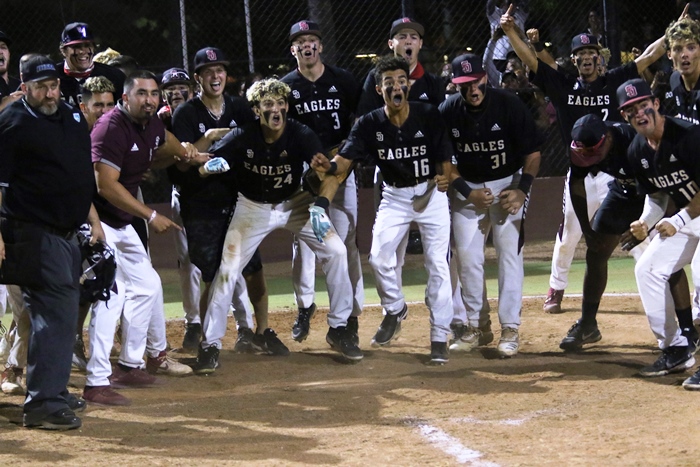 On the other side of the field, Gardens Manager Joe Russo had to figure out what to say to a team that was just as deserving of a championship run.
"There really is nothing I can say that makes this feel any better," said Russo. "I know a lot of coaches say this, but this really was a special group of guys. Players these days get a bad rap, but this team was unselfish, and did everything we asked of them all season. I can honestly say we did not have any drama all year, and that is rare. You just feel terrible, and it makes it even worse when you have a group of good kids like these guys are. It's heartbreaking."
Douglas will now move on to face Columbus in the 7A state semifinals next Friday at 1PM in Fort Myers. After a late comeback in the regional semifinals against Park Vista, and the miraculous comeback Friday, there is little doubt in Eagles' players minds where this season is going to end.
"We just have something really special going on," said Ordonez.
Beir added his own thoughts.
"We have a goal of a state championship, and we are going to win a state championship. We all believe in each other, and no matter who is called on, we are going to get this thing done."