Mosley Defeats Archbishop McCarthy In Title Game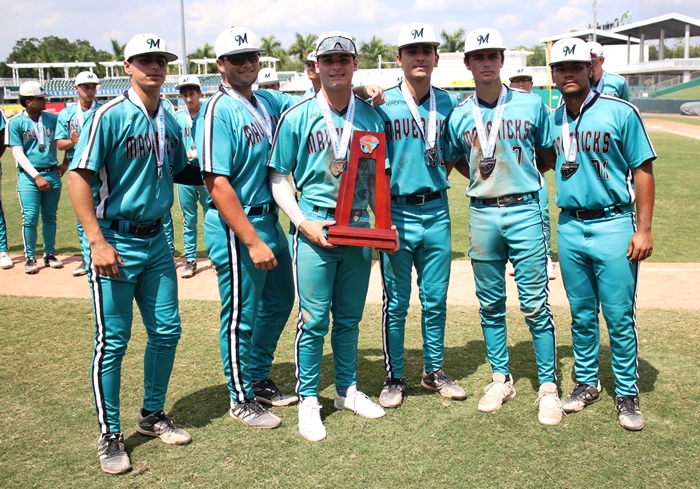 Photo Gallery
Ever since they were little kids, Mosley's Coleman and Hudson Rowan have dreamed about playing together to win the state championship. The two siblings used to imitate the dream in the backyard, with Hudson pitching and Coleman doing the catching.
Wednesday afternoon, that dream became a reality. Hudson Rowan started and his big brother was behind the dish to catch for him.
Both Rowans played huge roles in a spirited team effort, as the Dolphins stormed to a 9-2 victory over the Archbishop McCarthy Mavericks in the Class 5A state championship at Hammond Stadium in Fort Myers. It is the second state title in program history, and it also helps erase the memory of recent years past in which the Dolphins lost to this same Archbishop McCarthy program in previous title games.
"I'm proud of our kids," Archbishop McCarthy Manager Aaron Vorachek said. "We went through a lot of adversity. Even though we are runners up at states, they are winners in my mind. I hate for it to end this way, but somebody had to win it today and it wasn't us."
Hudson Rowan delivered on the biggest stage of his baseball career. Through the first six innings, the only base hit the Mavericks managed was a slow roller from Jack Cue along the third baseline that never left the infield, as the Mosley third baseman waited on the chance it might have rolled foul. Cue was immediately erased at second on a stolen base attempt. He did not allow any runs in five innings, with five walks and a strikeout.
The first inning did not start exactly how Mosley could have wanted, as the Mavericks loaded up the bases without the benefit of a hit. Antonio Jimenez and Stefano Molaro drew walks to start the bottom of the first, then advanced on a ground out to first base for the first out of the inning. But then Zaid Diaz also walked to load the bases and put McCarthy ninety feet away from taking the early lead.
Hudson Rowan buckled down to get a called third strike, and the next batter popped out to shortstop Ethan Campbell to end the threat unscathed.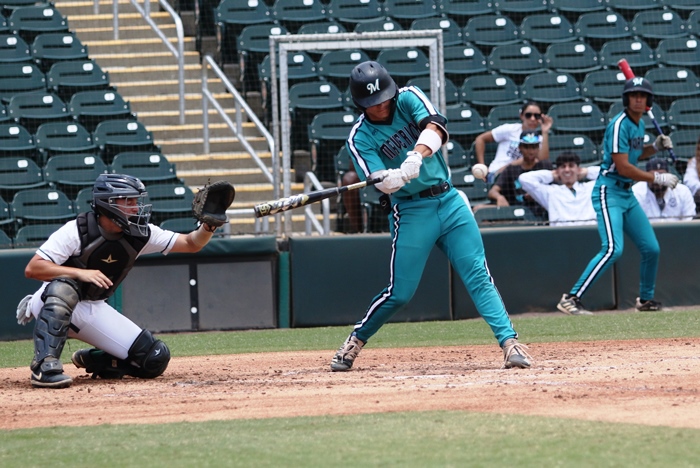 "You have to tip your cap to them – they figured it out," Coach Vorachek said. "The lefty came in and once he settled in, he did a nice job. Bottom line is we had to hit, too. We had runners in scoring position in the first inning and we didn't capitalize."
The first four runs came in the top of the fifth inning. The Dolphins loaded up the bases with one out, as Rock Holland led off with a base, Ethan Campbell dropped down a sacrifice bunt and reached on an error and Trent Nelson singled after Jacob Payne's fielder's choice erased the lead runner for the first out. Jaden Rudd came back around at the top of the order, and he stroked a bouncer past first base and into right field for a two-RBI double. Two batters later, David Hudson reached on an error that plated Nelson, and Rudd made it 4-0 when he crossed the plate after a wild pitch.
"Obviously, the fifth inning killed us," Coach Vorachek said. "We had the throwaway and the error at first on a ball that got past us. We hadn't done that in a long time. At the beginning of the year we might have done that. We hadn't made those mistakes late in the year. In the second half of the season, we were solid. So it is tough. We've done a good job of slowing everything down. It is just one of those things that happens. It happens in the Big Leagues."
Mosley tacked on five more runs in the top of the seventh. Payne was hit by a pitch, and then replaced on the bases by pinch-runner Nathan Kelley. Kelley broke on a 2-1 pitch and stole second base to get into scoring position, and catcher Coleman Rowan deposited an RBI single to left field. Courtesy-runner Riley Dismukes came in to run for Rowan, and David Hudson walked. Tyler Wave then lined a shot into the right-center field gap to drive in both base runners.
The Dolphins still were not finished. Cole Horton was hit by a pitch and Rock Holland followed with a liner into right field for an RBI single that drove in Wave. Campbell then walked, and Kelley worked a seven-pitch at bat to earn an RBI walk that completed the scoring.
"It's definitely easier to pitch with a lead," Hudson Rowan said. "A few batters came through and hit the ball really well for us. It's really easy for me to go out there when the guys do that for us."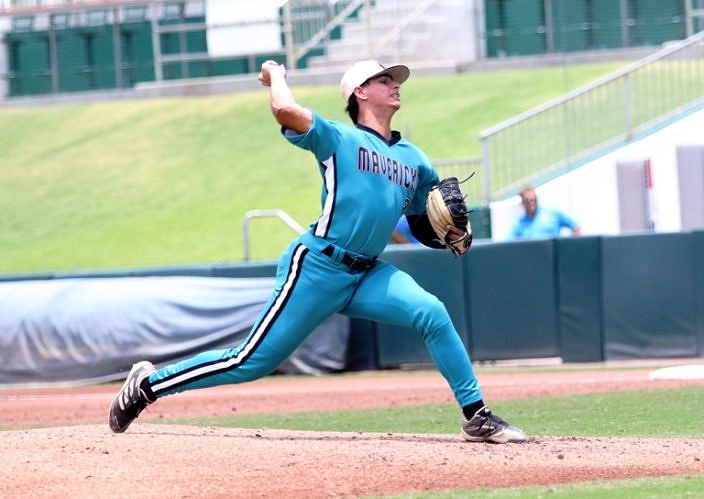 Blake Thomas closed out the final two innings on the mound for Mosley. He surrendered two unearned runs on two hits and a walk, and he struck out three.
Down to their final swings in the bottom of the seventh, the Mavericks kept fighting to the end. Jake Alfaro reached on an error and Adrian Vega followed with a base hit past third base. Mosley got the next two batters, but Antonio Jimenez then broke up the shutout with an RBI single to right field. Stefano Molaro walked to load the bases, and the Mavericks added another run when Andrew Ildefonso was hit by a pitch for an RBI the hard way.
"Getting the four-run inning was really big for us, but I know how tough that team is," Mosley Manager Jon Hudson said. "That is a tradition over there at Archbishop McCarthy that is unparalleled, and we knew they weren't just going to go away. They continued to fight and they showed it in that seventh inning. To pout up two runs there and make some noise after we just busted it open, that just shows what kind of team they are."
But a ground ball right to third base was easily converted for the final out, and the Dolphins finally earned their chance to celebrate the victory over Archbishop McCarthy.
"I hate it for the seniors, because this is it. But for these younger guys, they are going to be why we come back here," Coach Vorachek said. "We've got a good group of guys that are here right now and I know there are some good eighth-graders that are coming in that will be just as good as the young guys that we have in our program. I feel we will build a team that can make it here and hopefully win one of these. But if I had to do it all over again, these are the same guys that I want up. It's not easy to get, but McCarthy is back and I'm excited."