On Eagles Wings: Douglas Headed To 7A Title Game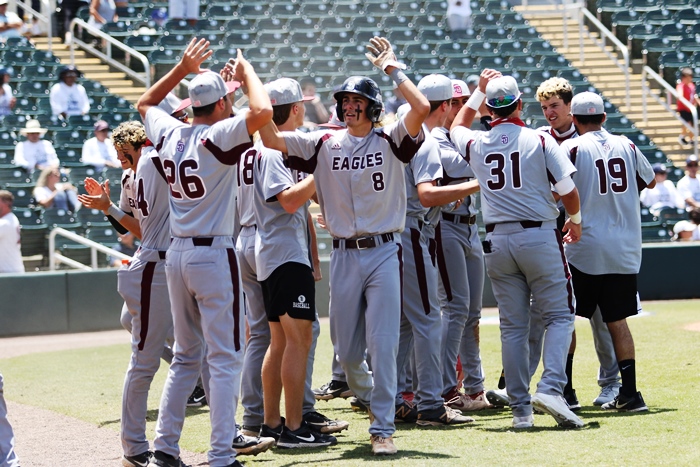 For anyone that has been around the 2021 version of the Douglas Eagles, it is easy to see why the team advanced to the 7A state semifinal game Friday afternoon. The Eagles have been unwavering in their focus throughout not only their playoff run, but the entirety of the season.
Up against another perennial state contender in Columbus, the Eagles showed once again why many feel they are a team of destiny.
After falling behind early, the Eagles rallied with two runs in the fourth inning, thanks to a two-out, two-strike, two-run opposite field double from lead-off hitter Roman Anthony, to defeat the Explorers 3-2. Douglas now moves on to the state championship game Saturday afternoon.
"These guys did what they have been doing all season long," said Eagles Manager Todd Fitz-Gerald. "Nothing fazes this team. They get down, and they just have a belief that they are going to get the job done. And they have, time after time throughout this playoff run."
Columbus became the third straight foe that fell victim to the Eagles comeback prowess.
After falling behind 1-0 in the second, the Explorers were able to get on the scoreboard in their half of the second against Douglas ace Christian Rodriguez.
Columbus starting pitcher Kyle Marti led off the inning with a single, and was followed by a Juan Acevedo base hit.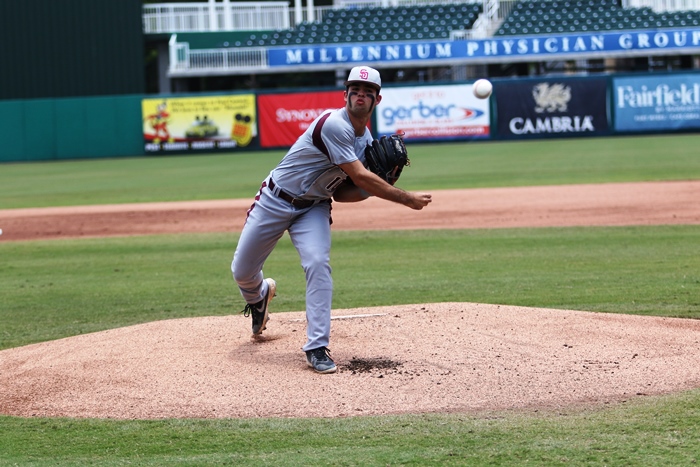 Acevedo stole second, and after a strikeout, Tony Casanova gave the Explorers the lead with a two-run single.
Both starting pitchers then threw scoreless innings in the third.
Cameron Harris walked to open up the top of the fourth, and when Grant McDonald was hit by a pitch, the Eagles were in business. After a failed sacrifice attempt and a strikeout, it appeared as though Columbus reliever Eddie Leon would escape the jam.
Anthony, however, had other ideas. The Eagles lead-off hitter hit a two-strike pitch into the lft-centerfield gap, clearing the bases and giving Douglas a 3-2 lead.
"We pride ourselves on making adjustments throughout the game," said Anthony. "In that spot, I knew I just had to put the ball in play somewhere, and hopefully something good would happen, and it did."
Friday the hero was Anthony, but the junior was quick to point out it could have been any of the eagles who came through in that spot.
"We have faced one and two run deficits this entire playoffs," he said. "We are all like brothers on this team, and we just try to keep the line moving to the next guy. There have been so many players that have come through in these situations for us this year. The whole team is capable of being that guy on any day. Today it was me. Tomorrow it will be somebody else. We all have trust in each other."
With the 3-2 lead, Rodriguez was able to work into the sixth before he reached his pitch count limit. The Eagles then went to a familiar face to close out the game, junior Sammy Beir. Much like the previous game against Palm Beach Gardens, Beir was able to close the door on the Explorers, and send the Eagles into the championship game.
"Sammy has been incredible for us down the stretch," said Fitz-Gerald. "He was injured early in the year, but as he has gotten healthy, he has really been everything we thought he was going to be."
For Columbus, the loss ends what was an enjoyable season for Manager Joe Weber.
"These guys have been together all year, and they really have worked hard," said Weber. "I can't be anything but proud of the way they represented themselves up here, and really all year long. It's baseball. And today the bounces didn't go our way, but the effort and the energy was there from these guys. It has really been a special season."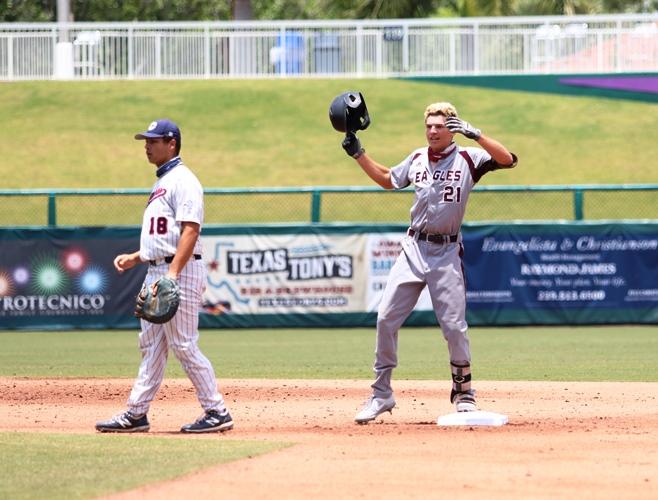 The Eagles, meanwhile, completed their third straight come-from-behind playoff victory.
"We have been through so much together," said Rodriguez. "We just have this feeling that we are going to win games, even when we are behind. We have one more game to go to reach our goal, and we are focused on finishing what we started this season."
Standing in the way of the eagles state title hopes is a familiar face to Fitz-Gerald and Broward baseball fans. Spruce Creek, Douglas' opponent in the title game is managed by Matt Cleveland, a product of Broward County. Cleveland previously managed Coral Springs Christian to a state Final Four appearance, and most recently guided Haggerty out of Orlando to the Final Four.
"Obviously there is a relationship there," said Fitz-Gerald. "Matt played for me, and he's from down in Broward, so it's two Broward guys going at it. It will be fun. I guess a little of that teacher-student thing going on. We have a lot of respect for Spruce Creek and what Matt has done up there. I anticipate whoever executes and doesn't make the mistakes will walk away as state champs tomorrow."