St. Thomas Wins 6A-14 Title In 9th Inning Walk-Off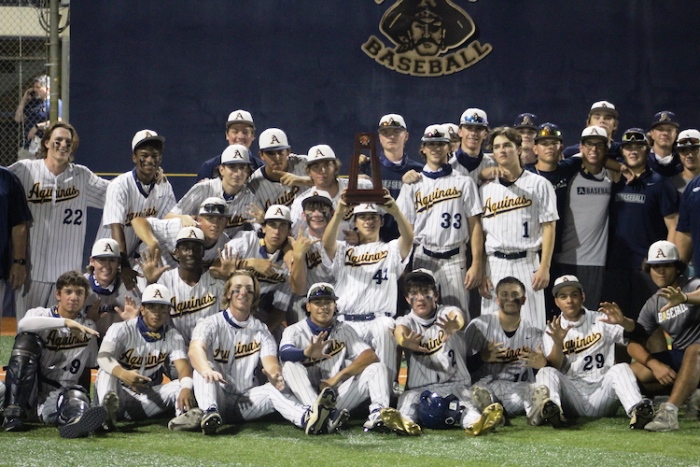 In a week of district playoff baseball that was already filled with plenty of drama, Cooper City and St. Thomas Aquinas closed things out in style on Saturday night when the two teams put on a magnificent showcase event in the 6A-14 championship game.
While some might find eight-and-half innings of scoreless baseball boring, it was nothing close to that as the Cowboys and the Raiders, led by brilliant pitching performances on both sides, put on quite a show for a big crowd at St. Thomas Aquinas High School.
It was the Raiders that finally came up with that one big hit when sophomore and University of Miami commit Daniel Cuvet, with Derek Rahim representing the winning run on second base and battling cramps, drilled a base hit down the right field line.
Rahim rounded third and scored without a play at home giving the Raiders a 1-0 victory over the Cowboys and the 6A-14 title.
Aquinas, ranked #4 in HSBN's Broward power rankings, moved its record to 19-3 and will host 6A-13 runner-up Martin County on Friday, May 7 at 7 p.m. Cooper City fell to 12-7-1 and will travel to Palm Beach to take on Dwyer on the same night and time.
"What an amazing high school baseball game tonight, I think everybody got their money's worth and then some," said St. Thomas manager Joey Wardlow. "Normally I'd say we didn't hit the ball well but you have to tip your cap to the other side on that. Their starter and even their reliever were fantastic. They threw strikes, hit corners, breaking balls, we didn't hit when we needed to hit because they did a great job."
The pitchers Wardlow spoke of were Cooper City starter Jacob Dorn who was nearly untouchable during his six and two-thirds innings of work, giving up just three hits before reaching his max pitch count. Then, after Dorn gave up two of those three hits and walked a batter to load the bases with two outs in the last of the seventh, in came sophomore Bradley Stewart who didn't act like a sophomore as he ran the count to 3-1 on Logan Piedra. With no room to spare, Stewart got the next two pitches over the plate and struck out Piedra to send the game to extras.
But St. Thomas starter Anthony Ciscar, just a freshman and his reliever Michael Bollinger, were equal to the task as they stymied the Cooper City bats all night long as well as the Cowboys managed just three hits. Ciscar went seven inning giving up three hits, walking just one and striking out eight.
"I felt like I was in control the whole game," said Ciscar. "I really tried to hit my spots and not leave anything out over the plate because they have some guys that can really hit the ball so I tried to be smart about and leave it somewhere they couldn't hit it."
It was "stone city" when Bollinger went out there to start the top of the eighth. Not only did he retire all six batters he faced but struck out the first five before inducing a groundout back to the mound by Frankie Vasquez to end the ninth.
"I was stoked and really felling it," said Bollinger. "I got an adrenaline rush in me going out on the field. Anthony pitched so well so it was my responsibility to come in and not let what he had done go to waist and do my job as well. Fortunately I was able to do that."
St. Thomas' final rally developed quickly when Rahim drew a one-out walk before Jimmy Thies was walked as well. Concerned over seeing Rahim cramping up, Wardlow called time to bring him some Gatorade as Cuvet came up. When the count reached 2-2, Cuvet got the pitch he was looking for and ripped it to right.
"Once I got the second strike, I was really just tying to shorten up and put a hard ball in play," said Cuvet. "I saw they were giving me the gap to right field down the line and I was able to smoke the ball that way and there it was. It was a frustrating night but their pitcher had a lot to do with it. He was just a great arm and pitched a heck of a game."
While disappointed with the final result, Cooper City manager Brian Clark had nothing but praise for not only his players but St. Thomas as well.
"I've put in 30 years as a coach, nine of them as a head coach and tonight might've been one of the most exciting games I've ever been involved in," said Clark. "I didn't get butterflies when I played but I had butterflies as a coach in this game. I can't be more proud of our kids, especially Dorn. In the three years we had him, tonight was by far the guttiest performance he's ever had for us. Then Bradley comes in to a bases-loaded two-out situation in the bottom of the seventh with the game on the line and delivers as well. He's only a sophomore and will be our next Dorn."