The Eagles Have Landed; Douglas Wins 7A Title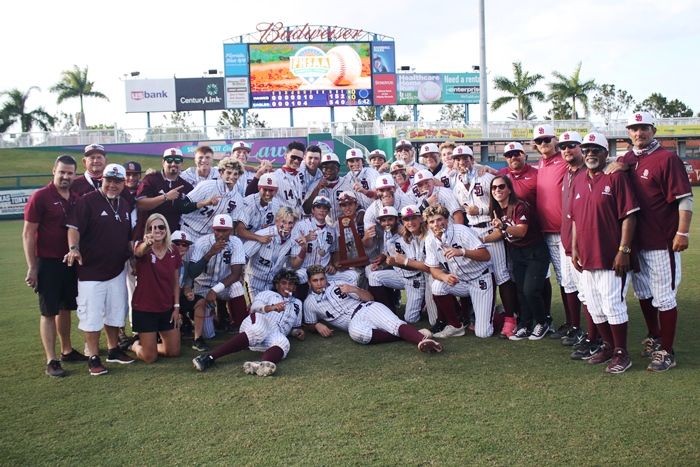 The 2021 Stoneman Douglas Eagles baseball team was special. That is a statement that was heard over and over again during their playoff run. From coaches, to players, to administrators, and fans alike, anyone who was around this group of players had the same analysis. Special.
On Saturday afternoon, the Eagles completed what at times felt like a mystical journey, filled with symbols and moments that only make sense when seen in the movies.
Douglas went another round in the 7A state championship game with a heavyweight in Spruce Creek, and much like in their previous battles with Park Vista, Palm Beach Gardens, and Columbus, the Eagles found magic at the right time.
The end result was a 5-1 win over the Hawks, securing the school's second state title in the past five years.
The win Saturday came exactly five years to the day since Douglas won its first title, but unlike the 2016 version, the 2021 championship team will be known for putting a community on its back at a time when healing was desperately needed.
Or, perhaps it was vice-versa.
"The support we received from everyone in the community and the school was amazing," said Jake Clemente. "All year we just felt like we had a bigger purpose, and we were just a bunch of guys that all had each other's backs. We all had trust in each other, and we knew that no matter who was up at the plate, or who was on the mound, that the job would get done."
The formula that the Eagles used Saturday was similar to the one they followed throughout the playoffs. Strong pitching and defense, and timely hitting designed to make their opponents pay for every mistake.
Co-ace Christian Arroyo took the hill for Douglas in the title game, and he delivered his best performance of the playoffs. Arroyo went 5.2 innings, allowing only one run, while striking out five.
"I saw what C-Rod (Christian Rodriguez) did yesterday, and we just always try to push each other," said Arroyo. "So today, I just wanted to match what he did. I was focused on keeping us in the game and letting the offense get it done."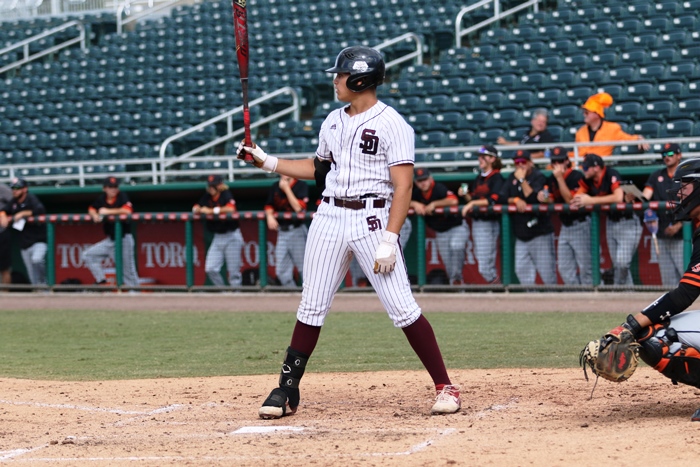 It turns out that Arroyo was also a big part of the offense. With the score tied 1-1 in the bottom of the sixth, Arroyo delivered the game-winning RBI on a two-out single to center-field. The Eagles then tacked on three additional runs in the inning.
"A lot of coaches use the word special when describing their teams and players," said Douglas Manager Todd Fitz-Gerald. "But with this group, the term really applies. They are so selfless, which is something you don't see a lot of these days. They just all played for each other, and when a team does that, these are the type results that happen."
For any team, winning a state title takes skill, discipline, and in most cases, an intervention from outside forces. Some consider those forces luck, but in the case of the 2021 Eagles, those forces were clear.
In the days leading up to their regional final game with PB Gardens, Fitz-Gerald faced a tough personal loss when his good friend Danny Moore passed away in his sleep.
Then, in that game, with Douglas' season seemingly ending on a Gavin Conticello fly ball to left-field, the Gators left-fielder stumbled, allowing the ball to drop, and tying the game for the Eagles. Santiago Ordonez hit a two-run walk-off home run on the next pitch, sending the home crowd into a frenzy.
While it will go down as one of the top moments and games in recent history, Fitz-Gerald knew at the time that bigger forces were at play for this Eagles squad.
"Clearly Danny and those 17 angels were with us in that moment," said Fitz-Gerald at the time.
The 17 angels was a reference to the 17 Eagles that lost their lives in the 2018 tragedy that took place at the school.
On Saturday, Fitz-Gerald again pointed to those influences when speaking about his teams state title.
"We are a very spiritual group," said Fitz-Gerald. "And there were a lot of signs and things that happened not only today, but throughout this year, that showed us that they were all with us. It is humbling to be able to do something to honor the memories of those who meant a lot to all of us."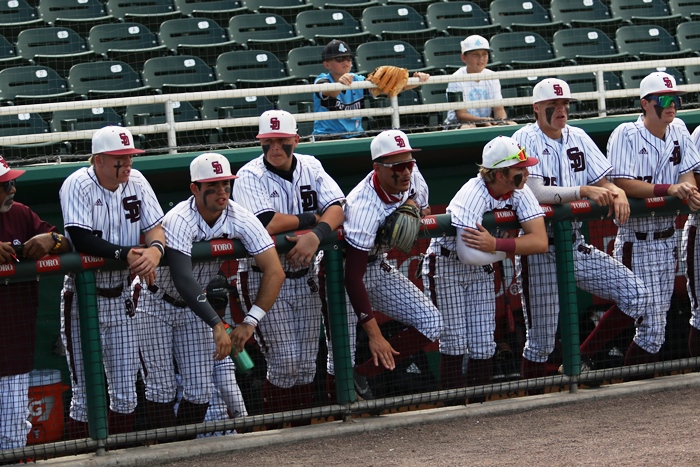 With a majority of the Eagles team returning in 2022, a repeat state title is in sight, but for today, the Douglas team was enjoying what they had just achieved.
"We will start thinking about that down the road," said Fitz-Gerald. "But for now, we are just going to enjoy this one. State championships are not easy, and when you are lucky enough to have a group like we had this year, and they can accomplish their goals, you just want them to appreciate what they have done."
As for what's next for Douglas, Fitz-Gerald believes being named the best team in the country would be a fitting end to the season.
"I know that national championships are mythical, but having said that, I believe these guys deserve consideration. We played some of the top teams in the state and country this year, and our schedule was one of the toughest we have had in years. To come out of that with only two losses, I think we should be in the running."