Westminster Captures First District Title Since 2005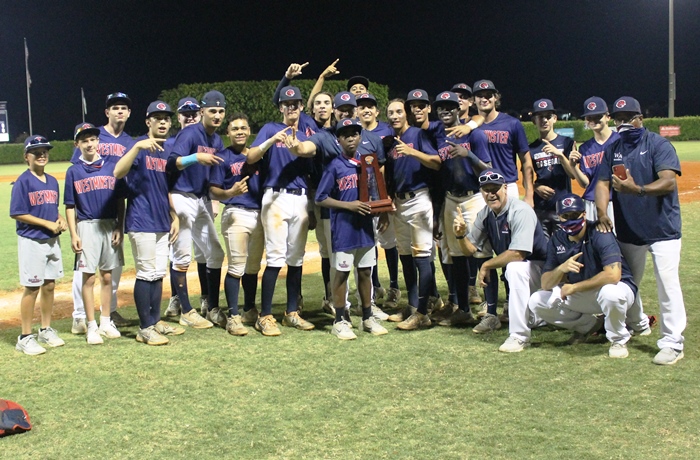 The Westminster Academy baseball program was once one of the top programs in the state of Florida. Back in its glory days, the program was a perennial state title contender under legendary Manager Rich Hofman.
Since 2005, however, the Lions have been a program that has been known to be solid, but also one that has not captured a district title.
That changed on Friday night, as Westminster used a five run fourth inning to defeat Sagemont 5-3 in the 2A-15 championship game. The team captured the district title in Manager Ernie Gonzalez's second year.
"It has been a tough year for us," said Gonzalez. "These kids have gone through a lot, starting with COVID, and then not being able to play at home due to the owl in the outfield. This is a great accomplishment. I told the kids before the game, this game and district title was not only important for them, but it meant a lot for the school, and the community. I am proud of the way they took care of business tonight."
The game started out as a pitchers duel between Westminster's Matthew Manuel and Sagemont's Abel Medina. Neither pitcher allowed a run through the first three innings. In the fourth, the Lions were able to break through, with the help of some timely hitting.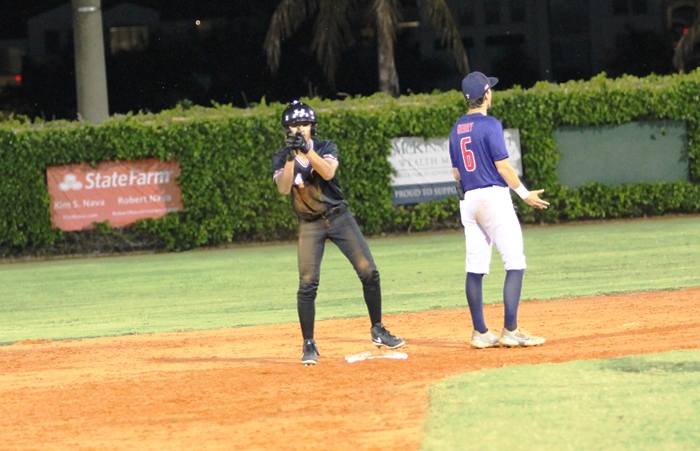 Robert Nedry led off the inning with a walk, and after a groundout, Aris Rivera was hit with a pitch. An infield error loaded the bases, and Luke Dennstedt drove in the first run of the game with a single. Derek Petrisko's RBI single made it 2-0, and a bases loaded walk to Alex Basto put the Lions up 3-0.
A passed ball and a Ben Destin sacrifice fly ended the scoring for Westminster, who had suddenly built a 5-0 lead.
"It was nice when the offense scored those runs," said Manuel. "I was focused on throwing strikes tonight, and letting the defense work. When we scored those runs, I knew we were on our way to winning the district title, and we just had to stay focused for a few more innings."
Everything was going according to play for the Lions until the sixth when Manuel had to come out of the game unexpectedly due to a right hand issue. Vinny Chirafisi was called on to protect the lead, and the senior had to warm up on the fly for the task at hand.
Chirafisi gave up a run in the sixth, but was able to wiggle out of the jam with a 5-1 lead.
In the seventh, Sagemont again threatened, but two defensive gems, one from shortstop Nedry on a ball in the hole, and the final out by right-fielder Basto, ended the comeback attempt, and sent the Lions to their first district title in 16 years.
"It's a great feeling," said Chirafisi. "I have been here since sixth grade. This is my second year with Coach Gonzalez, and it has been great watching us grow this year as a team. We wanted to get the district title tonight, and it was a team effort to get it done."
As for coming in on the fly in the sixth, Chirafisi had a plan.
"They kind of told me to be ready, so when I came in, the plan was to just throw strikes and let my defense work behind me. They made some great plays there at the end."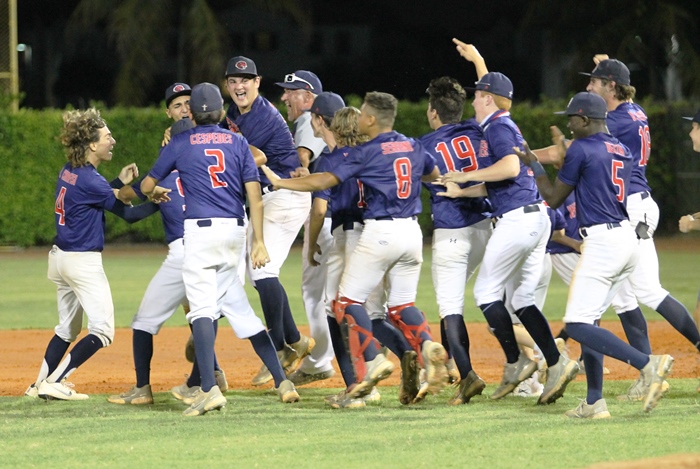 For Sagemont, who was coming off two straight district titles, the loss was bittersweet. Unlike past Lions teams, this year's squad was loaded with underclassmen.
"We are a very young team this year," said acting Manager Ray Ayala. "You have to give them credit tonight, they came out and were aggressive and took the game to us. We beat them earlier in the year, but they are well coached and they played a good game tonight. They derserved the win, and for us, it was a learning experience for our young guys."
Sagemont will get their Manager, Alex Gonzalez back, for their regional playoff game next week on the road against 2A-16 champion Champagnat. Gonzalez had been serving a six game suspension for an ejection a couple weeks ago.
"Getting our leader back will be a big deal for us," said Ayala. "Alex is a big part of everything these kids do, and it will be great for these guys to have him back in the dugout. So we will put this one behind us, and get back to work to start to prepare for next week."