HSBN And Miami Marlins Send Seniors Off In Style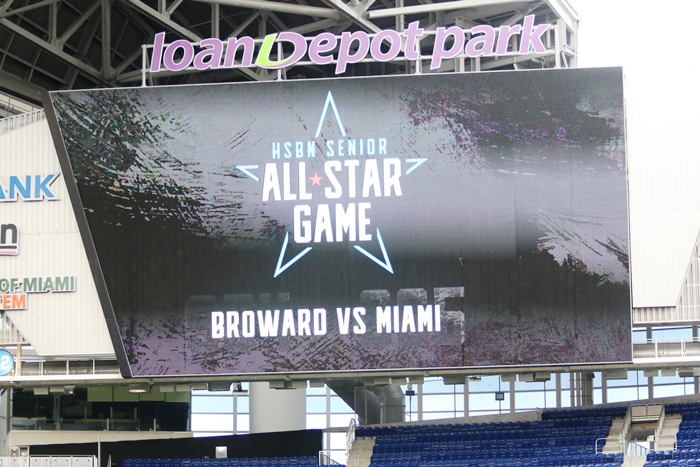 HSBN / Miami Marlins All-Star Games Photo Gallery
For the third time in the last four years (2020 was a washout due to COVID), HSBN and the Miami Marlins hosted the Broward vs. Miami-Dade Private and Public All Star Games and Awards Events.
Who won? Let's just say that everybody – players, coaches and parents alike – were basically winners on Thursday, June 3rd.
Players were treated to a day of good food, camaraderie (most of them all know each other from competing against each other and playing on travel teams together) and the awe of "feeling like a big leaguer" for one day as the HSBN and the Marlins gave them the full red carpet treatment.
Even the number of innings was different as each contest was a standard nine inning game as opposed to the usual seven innings for high school. Of course there was baseball to be played and the competitive nature of each player meant they still wanted to play well and win.
The Broward Private all-stars did just that in the afternoon game as they knocked off the Miami-Dade stars 6-4 with Pine Crest's Jackson Butler leading the way as he was the lone player with multiple hits.
"It is just so exciting for these kids to be here in this park," said St. Thomas Aquinas Manager Joey Wardlow who headed up the Broward Private team. "We met with them before the game and told them that being all-stars, they've done their job already and that today was just about coming out and having some fun today and enjoying themselves and soaking up the atmosphere. So we pitched a little bit, hit a little bit, ran a little bit and the bonus was to then come out of here with a win which was nice as well."
After falling behind 1-0 after the first, the Broward Private squad plated three runs in the top of the second to grab the lead. Thanks to RBI singles from Westminster Christian's Raenire Benitez and Columbus' Kyle Marti, Miami-Dade rallied for two runs in the sixth to tie it before Broward immediately answered with two unearned runs in the top of the seventh to take the lead for good.
"Today was amazing," said Butler. A great group of guys and I just loved the atmosphere, playing in a big stadium like this. As far as at the plate, I was just trying to keep a backside approach, line drives up the middle of the field and it worked out, got a few hits. A great time, a great experience."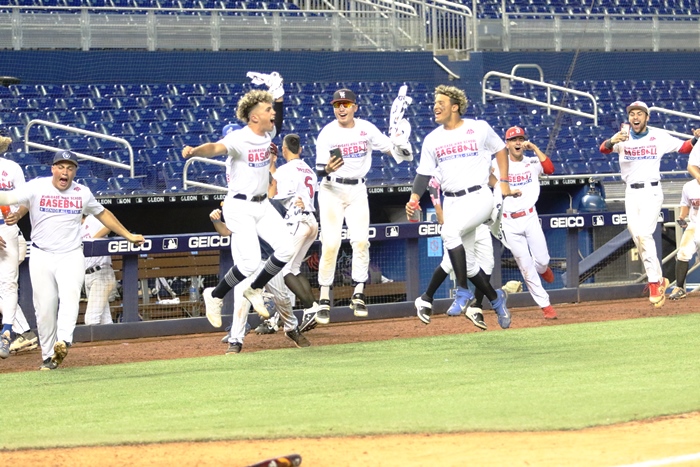 Marti was already used to a big stage as he helped lead Columbus to a state final four appearance in Fort Myers. But he also said there was no comparison to the big stage he was on Thursday.
"I was smiling every time my profile came up on the scoreboard," said Marti who pitched one inning and played second base the rest of the time. "I've never really been on a stage like this other than playing at state but even then, there wasn't this kind of set-up like this playing in a big league park. I always have wanted to play in this park since I was a kid and got my wish today."
The "nailbiter game" came later that evening when the public teams took the field during as that one turned out to be a thriller that came down to the last pitch as Miami-Dade, trailing 3-0, rallied for a run in the last of the eighth and then two in the ninth to forge a final 3-3 tie.
"Better late than never," quipped Braddock Manager Wesley Morejon who headed up the Miami-Dade public squad. "The kids had energy all game long, the atmosphere, the setting, it was just great and the fact that in that last inning we could put something together was fantastic. Hey, it ended with nobody winning and nobody losing so maybe that's the way an all-star game should be because it's all about fun for the kids. An amazing experience for all the kids, you just see it in their eyes, like kids in a candy store trying to soak it all in. Good times."
Unlike the private game, pitching dominated the pubic contest. With a multitude of players, both managers, Morejon and Douglas' Todd Fitz-Gerald who handled Broward duties, used a different pitcher in each inning.
Broward managed to break the scoreless tie in the top of the fifth when Northeast's Connor Batchelder came through with a two-out, bases loaded single to right which brought in two runs. Broward added another run in the eighth on an RBI single by Nova's Dillon Cerrone to build it's 3-0 lead.
"I had bases loaded, two outs and nobody had been hitting the ball much to that point so I  was just looking for a pitch to drive," said Batchelder. "I wound up getting an outside fastball and just drove it opposite field. Unfortunately we didn't wind up getting the win tonight but I had fun. Everyone had fun and that's what tonight was all about. An experience I will always treasure."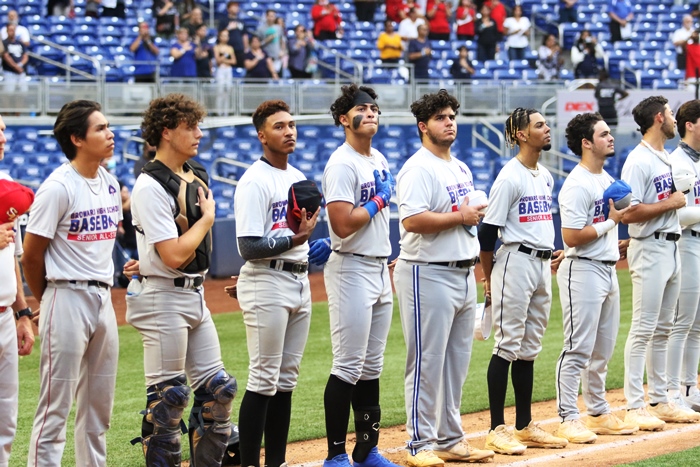 Fitz-Gerald has been busy in recent weeks as he just put the finishing touches on leading his Douglas team to the 7A state title (their second) but, when asked, could not pass up the opportunity to coach the Broward kids.
"I'd be lying if I didn't say it stings a little bit because we had the two run lead going to the last at-bat but sometimes I guess that happens," said Fitz-Gerald. "But the bottom line is nobody won and nobody lost and at the end the day, this is these kids last time playing together and a great opportunity to play at Marlins Park. What a great experience for them, something they'll remember for the rest of their lives. This is for them and that's all that matters."
Standing off to the side and smiling when all the dust had cleared from Thursday night's frantic finish was HSBN Vice-President Anthony Uttariello who launched these all-star games 10 years ago and has watched them grow to the popularity they've become.
"Putting these two games together takes a lot of time and is a great deal of hard work, but when you see the looks on those kids faces today when they walk out on to the field, it makes it all worth it," said Uttariello. "This is all about trying to give them an experience they will always remember and send them out in their final high school game in style. It was a great day for the Miami Marlins, HSBN, and the entire baseball community here in South Florida. It drives right to the root of what HSBN is all about, which is giving these kids memories in high school that they will never forget."