Taravella Drops Rival Douglas 4-3 In First Week Thriller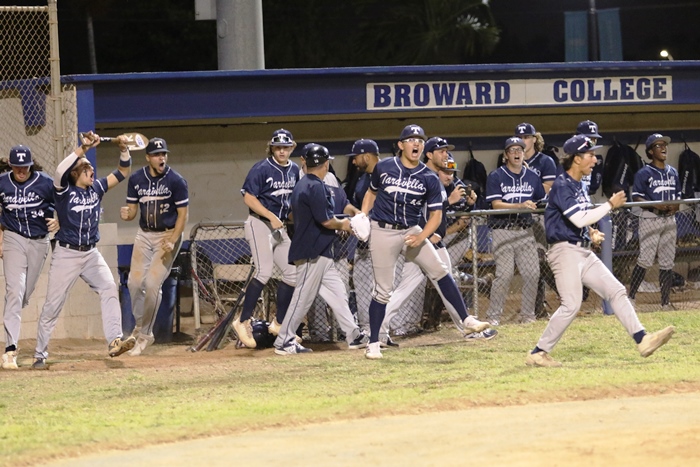 The Taravella Trojans came within a few innings last year of reaching the state final four, and when returning many players from that squad, in most cases would make the Trojans an early season favorite to win their district.
However, their opening night opponent in the HSBN First Pitch Elite Invitational tournament just happened to be the defending state, and national champion Douglas Eagles.
Throw in the fact that the two teams are longtime city, and district rivals, and there is the making for an instant classic to start the season.
That is exactly what took place on Tuesday night, as Taravella and Douglas sent their respective aces, Chris Scinta and Christian Rodriguez to the mound.
Scinta was masterful early, and the Trojans Matthew Rubin came up with a big two-run double in the third to break a scoreless tie, then Taravella held on at the end for a 4-3 opening day win.
"It's just another game in a long line of great games between these two teams," said Trojans Manager Joe Giummule. "Obviously when you are facing the defending national champs, and a nationally ranked team, your guys are going to be jacked up for the challenge. Today, we played a good game, and our pitching made the pitches when they needed to."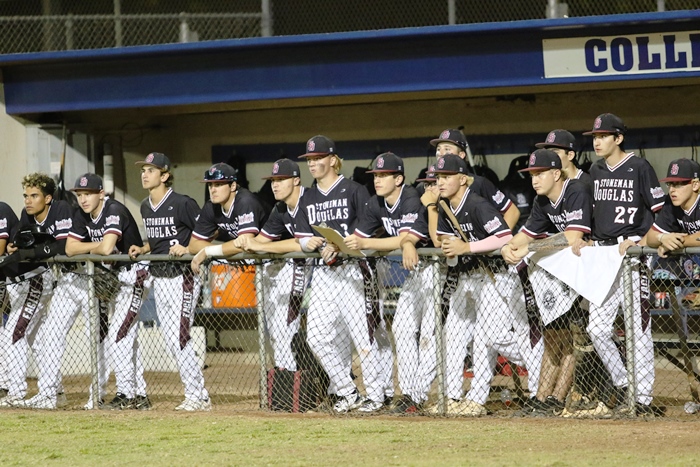 Rubin's two-run double in the top of the third came after two walks. The Eagles staff uncharacteristically walked six Trojans in the game.
"They only had four hits, but six walks is going to get you beat almost every time," said Douglas Manager Todd Fitz-Gerald. "Walks, too many bad at-bats, plays not being made that we normally make. Those are all things that will get you beat. We tip our hat to them tonight, they played better than us and deserved to win the game."
After the Eagles got a run back in their half of the third, Taravella tacked on single runs in the fifth and sixth.
With both starters out of the game, Ryan Meekins handled the middle innings for the Trojans.
In the sixth, Douglas mounted their first major threat. Santiago Ordonez was hit by a pitch leading off the inning, and Jake Clemente reached base. Camron Harris then doubled in Santiago, and the Eagles had the tying runs on second and third with no outs.
Meekins struck out the next two batters, and reliever Brandon Metivier closed out the inning with a strikeout of his own, ending the threat.
"We just wanted to do our jobs there in the middle innings," said Meekins. "Chris started the game strong for us, and we wanted to pick him up and make sure we got the win."
In the seventh, Douglas again flashed their championship mentality when Roman Anthony hit a one-out double. Christian Arroyo followed with a single.
Ordonez then lined a single to left, scoring Anthony. Alex Rodriguez, however, was thrown out at home on the play, taking the Eagles from a possible first and third, one-out situation, to a runner on first and two outs. It was a play in which Fitz-Gerald took responsibility.
"Bad decision over in the third base box," said Fitz-Gerald. Would have been first and third with our four-hole hitter up. I take full responsibility for that. That one is on me."
Metivier was able to get a popup to end the threat, and the game, securing the win for Taravella.
"We knew coming in this was going to be a big game," said Metivier. "Great atmosphere, and a game against one of our rivals. We wanted to show what we are capable of this season, and we did that tonight. It's a good team win."
While the final few outs were emotionally charged, Giummule understands what the win meant in the big picture.
"It's a great win, no doubt," said Giummule. "But it still only counts as one win. We are 1-0 in what is a very long season."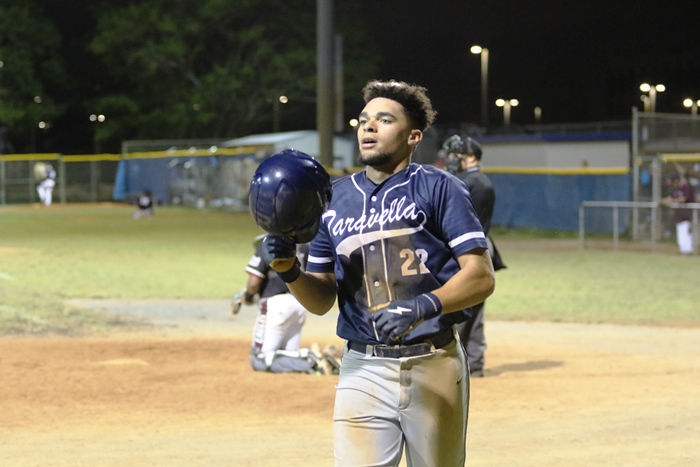 When asked about whether the win, and the emotion showed, would wake up Douglas for possible future math-ups, Giummule was clear.
"That is a nationally ranked team, that knows how to play the game," said Giummule. "Nothing we do will give them any more motivation than they already have. We know we may see them again down the road, and I would imagine it will be a very similar game to tonight, where the team that makes the least mistakes, and the team that executes, will be successful."
In the immediate future, Taravella now sits in third position of the tournament heading into a big Wednesday of games. The Trojans are 1-0 with three runs against. North Broward Prep is 1-0 with zero runs against, and St. Thomas is 1-0, with one run against. Doral has also already won their first two games, and has a runs against of five.
The two top 2-0 teams with the least runs against will square off in the championship Friday night, in what will be the last game ever played at Broward College.