Chaminade Back At .500 Following Victory Over South Broward
The Chaminade Madonna Lions (6-6) never looked back after a five-run second inning gave them the lead over the South Broward Bulldogs (4-8) on Wednesday.
The Lions entered the game coming off consecutive losses against Broward No. 10 Archbishop McCarthy and Palm Beach No. 6 Trinity Christian. In need of a win to prevent the second three-game skid of the season, Chaminade delivered both at the plate and on the mound en route to an 8-2 victory.
"We scattered 10 hits around on the day, and that's what we were looking for coming back off a couple of tough games in a row," Lions manager Dan Scott said. "We played some solid defense all around the field. Daniel (Lipka) gets the win with a nice little start giving up one hit in four innings. He needs to be a little sharper going forward, but all in all, this was a good team win."
Daniel Lipka, a Barry University commit and the Lions' starter against South Broward on Wednesday, is one half of what Scott calls Chaminade's two-headed monster. Depending on the matchup, the Lions have Lipka, a lefty, or righty Jesse Elmowitz to turn to.
Lipka got the nod against the Bulldogs and surrendered just one hit while striking out seven in four innings of scoreless work. The only blemishes on his record were the three walks and one hit batter, and none of those baserunners came around to score. He attributed his success to the offense giving him an early lead and allowing him to relax.
"Whenever I see runs put up early and I'm on the mound, it gives me confidence," Lipka said. "There's a lot less pressure on me and I'm able to just go out there and throw."
Lipka had a one-hitter going when he was pulled but his pitch count was getting up there and the Lions had one of the more trusted arms in the bullpen available in junior Robbie Lee. He struck out three and also allowed just one hit in his two innings of work. Senior Alejandro Reinaldo pitched the final inning of the game in his first outing of the season. The Bulldogs did manage to get two runs around in the seventh, but Chaminade could afford it with an eight-run lead entering the inning.
While errors did contribute to some of the runs being scored, the Lions hit the ball well and were aggressive on the basepaths all afternoon. Following the big second inning, Scott challenged his team to keep their feet on the gas pedal, and they responded with another run in the third.
Marcos Bisono added to the total with a solo shot in the fifth and the Lions added another run in the sixth proving that they could keep the offense up for the entirety of the ball game. With the win secured, Chaminade's focus turns to University School with an impending matchup with against the Sharks at the end of the week.
"It's a win that gets us back to .500 on the year so it's definitely one to build on," Scott said. "Big game Friday at Nova Southeastern against U-School — a nice little 3A matchup. We've got to keep it going against them and then into next week."
On the other side of the diamond, South Broward leaves Chaminade looking to stop a four-game losing streak. Errors have come in plenty over the season, but typically the Bulldogs are able to put up a better fight at the plate. In fact, South Broward fought through half a dozen errors the night before against Everglades in a very competitive ball game that ultimately ended 10-9 in favor of the Gators.
"We've struggled defensively all year long," Bulldogs manager Darin Koch said. "Last night, we put some at-bats together and we put some runs together bunting. Today, Daniel (Lipka) kept us from hitting the ball. He shut us down and we weren't able to put together three or four hitters in a row that were able to get quality at-bats and get on base. Their pitchers obviously did enough to shut us down today and we have to give them credit for that."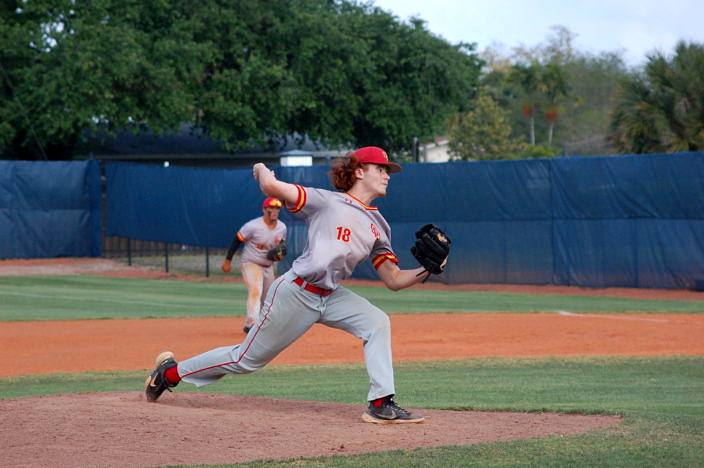 There's little time to recover from this loss for South Broward as the Bulldogs have their third game in as many days on Thursday. Fortunately, it comes against a Stranahan (0-2) team that has yet to secure a win in 2022.
Koch spoke with his team at length after the game. Individual players even stayed after the team meeting to focus on what they could do as seniors to help right the ship. The Bulldogs know that they are often a defensive miscue or two away from winning a game, but the effort in practice just hasn't translated to in-game situations yet.
"Our problem isn't effort and it's not energy," he said. "The kids, for the most part, are playing hard and working hard. We just are not making the plays right now that we are capable of playing defensively. If you look at HSBN on any given day, three is the number of errors. There are rarely baseball teams that win with three errors and we're averaging six. Whether we can turn that around or not remains to be seen, but it's not an effort thing."
A win over the Mighty Dragons on Thursday could go a long way in the next week of practice before the Bulldogs face a trio of top-10 teams in the county.