Douglas Wins Trilogy Match With Taravella To Advance To Finals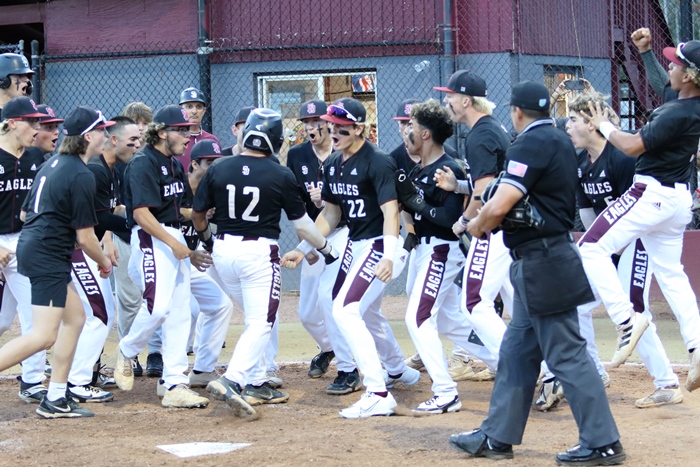 There is a lot of debate these days as to what is more important, travel or high school baseball. Just head to any online baseball chat room, and there will be hundreds of people debating this question.
For anyone that compares travel baseball to high school ball, all they need to do is watch the Douglas, Taravella game played Friday night on a loop.
The Eagles and Trojans treated the hundreds in attendance to an epic instant classic, filled with gamesmanship, strategy, pitching, defense, timely hitting, and emotion. Enough emotion in fact, that the end of the game brought tears on both sides, regardless of whether they were on the winning or losing side.
In the end, the #1 ranked Eagles held on to a 3-2 victory over their crosstown rivals.
"It was just a great game to be involved with," said Douglas manager Todd Fitz-Gerald. "They are well-coached, played with heart, and gave us about all we could handle tonight. I'm proud of the way our guys fought, even when they were behind. In the end, it was just a great high school baseball game."
The difference between high school ball and travel ball could be found in almost every facet of Friday's game. First and foremost, what you get in a regional semifinal game between schools from neighboring towns, is a ton of history. That history spanned over five decades out in the crowd.
Before the game, people who have been associated with the Douglas, Taravella, rivalry were telling stories of their days in these games. Legends of games past between the two programs lined both the left and right field lines, waiting for a new hero in folk lore to emerge from this game.
One of those heroes rose up in the fourth inning. Wait, before we get to that, let us recap what happened in the bottom of the third, a play that will be remembered for decades to come.
With Taravella leading 1-0, Trojans catcher Matt Rubin etched his name into the rivalry memory bank by hitting a two-out RBI single up the middle that seemingly put the Trojans up 2-0.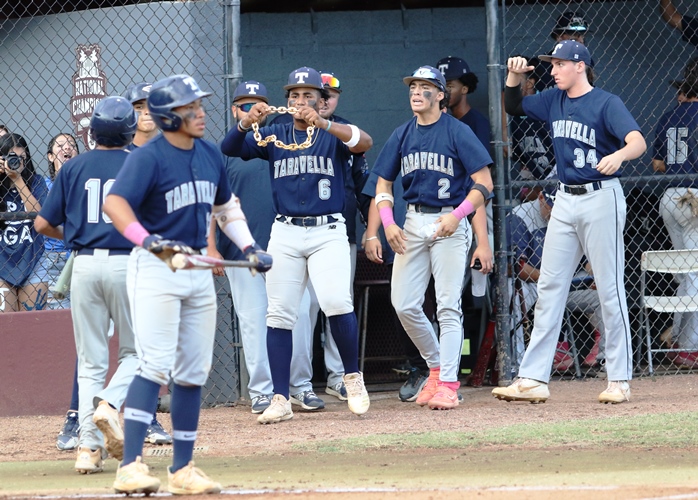 With the Trojans fans going wild, Douglas manager Todd Fitz-Gerald went to the umpires, who soon after ruled that Rubin's bat was illegal, due to it having no knob at the bottom. Rubin was ruled out, and the run was taken off the board, setting up a strong show of emotion from the Trojan faithful.
"That was a really, really tough call," said Trojans Manager Joe Giummule. "It may have been the right call, but there is no doubt that call changed the momentum and direction of the game."
Fitz-Gerald agreed.
"The bat play obviously was huge for us. It would have been a different game, different strategy at 2-0."
Now getting back to one of those heroes. With one out in the top of the fourth, Douglas catcher Santiago Ordonez stepped to the plate and promptly launched a fastball over the left field fence. Suddenly the game was tied at one, and Santiago, for the second straight year in regionals, hit a pivotal home run.
"I don't know how it keeps happening," said Santiago. "We prepare for these type situations, and each one of us in the lineup thinks we can deliver. Today it was my turn. I got a fastball I could handle, and was able to hit it out."
Trojans starting pitcher Chris Scinta was then able to retire work out of the inning.
After one out in the top of the fifth, the lightning detector went off at Douglas, causing players to exit the field, and play to be suspended. It was as if a greater force had decided that everyone in attendance, including players and coaches, needed an emotional break.
When play resumed, Christian Arroyo closed out the top of the fifth.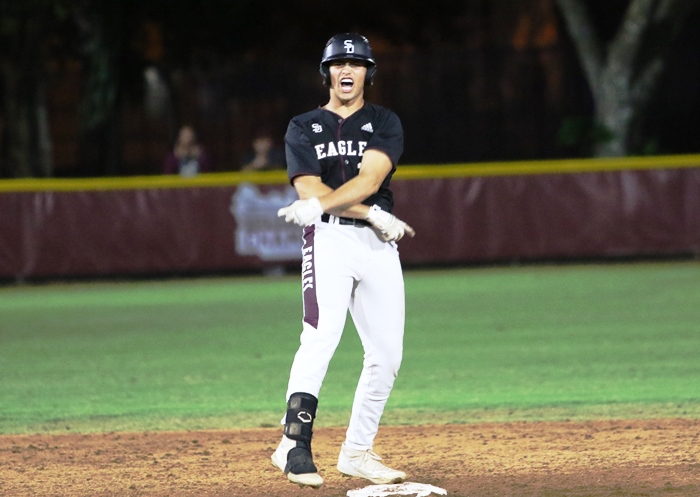 Staring at a 1-1 game, Arroyo stepped to the plate in the bottom of the fifth with two runners on, and worked the count to 2-2 before delivering a two-run double over the first base bag and down the line in right field.
"I fouled off a fastball earlier in the at-bat, and when I fouled off a curve ball I just knew he was coming back with a fastball. I looked for a fastball, got one in, and was able to hit it hard down the line," said Arroyo.
With a 3-1 lead, and a stable of arms ready to go, it felt as if the wind had been taken out of the Trojans sails.
In the sixth though, Taravella showed what they have all season long, tremendous heart and fight. They began the inning with two singles, putting runners on first and third. After two strikeouts, it looked like Arroyo would work out of the jam, but a wild pitch cut the lead to 3-2.
Arroyo did manage to finish the inning with a strikeout, preserving the lead.
In the seventh, Taravella once again had the tying run on base when Vincent Samuel beat out an infield hit. With one out, it appeared to many that Arroyo may have hit the next batter on a pitch that went to the backstop.
Ordonez, however, caught the ball off the backstop and threw a strike down to second, catching Samuel trying to advance. When it was ruled the pitch did not hit the batter, Taravella was suddenly down to their final out.
Edgar Marquez then flew out to center, ending what will go down as one of the more epic games in the history of this storied rivalry.
"I don't even know how to describe the emotion," said Santiago. "It's always great games every time we play them, and all of the focus and concentration it takes in one of these games, along with seeing all these people in the stands, it is just an amazing experience to be a part of."
Fitz-Gerald, who has been around for his share of these games, also understood the significance.
"People in Parkland and Coral Springs are passionate about baseball, and especially these two teams," said Fitz-Gerald. "It's a special game to be a part of, and its the reason we all do this, for games like this."
The Eagles will now host Columbus in a 7A regional final on Tuesday.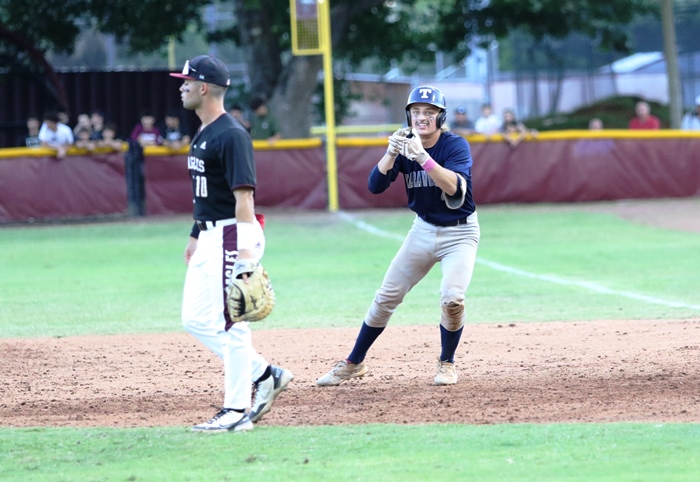 As for Taravella, the loss caps one of the greatest seasons in school history, and will be one that people will be thinking about for a long time.
"I felt like we outplayed them," said Giummule. "I give them a bunch of credit. They know how to find ways to win games like this. I told our guys after the game, that while the scoreboard says we lost, I felt like we won the game, or at least played well enough to win the game. These kids gave it everything they had, and left it all on the field. I couldn't ask for anything more as a coach."
Travel baseball will kick off soon, but it will have to wait a few more weeks.
In the meantime, many of its players will take the field a final few times this spring, making memories that will last a lifetime, not only for themselves, but for the schools and communities they represent.