St. Thomas Loses Heart-Breaker To Dwyer In 6A Regional Semis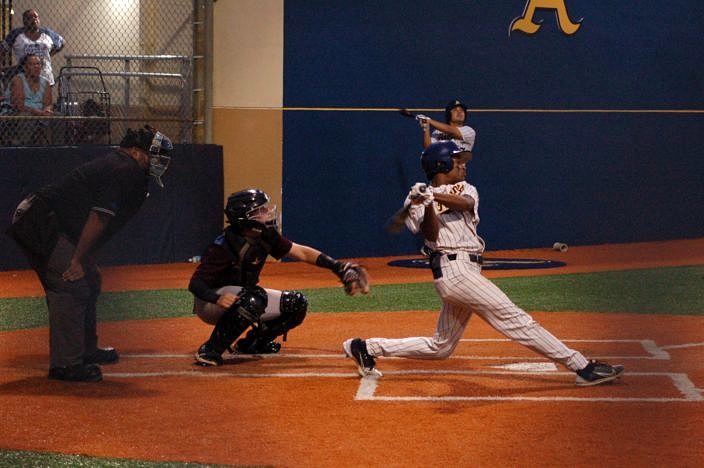 Usually, it's the seniors that get it done in the postseason, but Dwyer relied on a pair of underclassmen to guide them through Friday night's 6A regional semifinal game against St. Thomas Aquinas.
Sophomores Bryce Jackson and Dawson Thrush held one of Broward's best offenses at bay in a game that was tense for all seven innings. Jackson got the start and gave up just one run in four innings. The Raiders got to him for seven hits on the evening, but he'd work out of it. The interesting thing is that Jackson doesn't need a ton of strikeouts to be effective. He's comfortable pitching to contact, which is rare for a player of his age. Thrush managed four strikeouts in his three innings of work and held St. Thomas to just three hits and two runs, only one of which was earned.
"(Jackson) and Dawson have been pitching the bulk of our playoff games and they've both been awesome," Panthers manager Alex Morales said. "They're only sophomores, so I tell these guys — a lot of times they like to say we're only sophomores, we still have got a couple more years to do it — I tell them let's get it done now. These guys are good enough to do it right now. We're on a roll and let's see what happens on Tuesday."
Of course, good pitching can only take a team so far. Timely offense is the other key factor that's often found in championship ballclubs, and Dwyer certainly has a clutch hitter in the lineup. Batting exactly where you would expect the team's best hitter to at No. 3, Matt Davis made a quick adjustment after striking out in his first at-bat and delivered two clutch hits for his team.
The first big moment came just after the Panthers scored the first run of the ball game on an error that was a tough out to make in the first place. Davis squared a ball up and sent it over the left-field wall giving Dwyer a 4-0 lead.
"After my first at-bat, I told myself just trust yourself, let it get it to you and good things will happen," Davis said. "There was a little bit of jitter. We were all excited to be here; we've been talking about it all week. I'd say it was mostly about calming down and realizing that you were capable of this."
That home run was the only major mistake made by St. Thomas starter and Notre Dame commit Noah Greenseid, who went four innings and struck out five while surrendering four unearned runs.
"Noah did a great job and he's going to be phenomenal next year," Raiders manager Joey Wardlow said. "Unfortunately, a very tough play in the hole followed by a guy that can hit the ball came. He can hit and he squared the ball up pretty good. When you pitch and throw hard like Noah does, sometimes balls get hit hard. Other than that, he was great."
Alexander Llinas came in to start the fifth and St. Thomas began to chip away at the lead, creating a tension in the ballpark that can only be described as playoff baseball. The Raiders picked up a run in both the fourth and fifth innings cutting the lead to just two runs going into the sixth. That's when the first pause in the game came after Llinas threw a ball a little too high and inside for the home plate umpires liking. A warning was issued and Llinas plunked Brady Jackson on the very next pitch.
That brought in Wyatt Iben to pitch, who managed to rack up three strikeouts in four batters to get out of the inning unscathed. St. Thomas added another run in the bottom of the sixth and extra innings suddenly felt well within reach. That's when the second pause in the game came after Jack Savery hit what was initially ruled a home run to center field. After much deliberation, Savery was sent back to second base as the play was ruled a ground-rule double due to the ball getting caught between the two fences that make up the outfield wall.
"I can't see that far, so when the umpire called it over the fence, I thought it was over the fence," Morales said. "They showed me a ball stuck in the fence, so I guess it got stuck in the fence. But with nobody out, I wanted to keep the guys focused. Alright, it's not a home run. We've got a guy on and the best part of our lineup coming up, so I felt pretty good about our chances of scoring him."
Somebody may want to check Morales for special powers because Davis came through again just as predicted with a double of his own to score Savery. Kris Blanks homered on the next at-bat to put the Panthers back up by a four-spot, and the regional finals were only three outs away. Davis took pride in delivering after the delay of game and only had one thing to say: "Ball don't lie, baby."
Morales was without Davis for much of the regular season, but he's come up big in the games that matter most so far. He's batting .500 in the playoffs with two dingers and eight RBIs.
"If there's a big spot, with guys on base, (Davis) is the guy I want up," he said. "They went after him and when he got his pitch to hit that's the type of stuff that he does. He's been terrific all year. He's coming back from an injury and was hot before the injury. He came back after missing 16 games and he's hotter than ever, so it's good for us."
Thrush closed things out in the seventh 1-2-3, but it took a brilliant defensive play to turn two to get there. Roger Vergara struck out to end the Raiders' season, and the Panthers advanced to the 6A regional finals against Doral Academy on Tuesday.
"We played them last year and had one of the best games in Dwyer pitching history," Morales said. "A senior, Drew Jaloski, pitched a complete-game shutout. He's gone, but we've got guys that can get the job done so we'll get together and figure out the game plan."
It's a heartbreaking end to St. Thomas' season, especially for a team laden with seniors. Plenty will continue their playing careers at the next level, but this will be a tough loss to swallow nonetheless.
"It was emotional," he said. "We started this year with 20 seniors and every one of them worked with heart the way we started to come back into that game today. Five out of seven innings (Dwyer) didn't score. They scored in the two innings that hurt, we didn't get them back. This is not how we wanted it to end, but the emotion tonight was the emotion they've had all year. These guys are fantastic."