Tejeda's Walk-off Delivers 3A-13 Title To North Broward Prep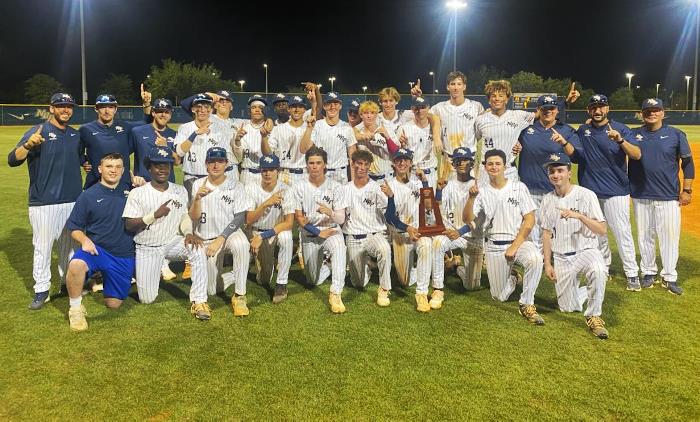 Everyone was already going to be talking about Yoel Tejeda even before his last at bat on Thursday night. But with one final swing in a tie ball game in the bottom of the eleventh inning, the senior iced it all off with a walk-off, championship victory. Tejeda connected for a solo home run to left field to lift the host North Broward Prep Eagles to a 9-8 win over the Coral Springs Charter Panthers in the District 3A-13 title game.
Tejeda was 5-for-6 with a triple, two home runs and seven RBI to lead all hitters.
"Yoel Tejeda was amazing at the plate," North Broward Prep Manager Brian Campbell said. "Five hits, seven RBI, two home runs, with one being the walk-off – that is amazing."
The Eagles (18-9) needed every bit of that offense, after Coral Springs Charter jumped out of the gates with a 7-0 lead through the first four innings. The Panthers (15-9) also had the bats going to connect for 10 hits on the night, with Ross Lazar, Gavin Gargiulo, Anthony Fiore, Anthony Giglio and Brady Gentile all collecting multiple hits. Gargulio drove in a pair of runs with a double, and Lazar and Jeovanni Hernandez both scored twice.
"Respect to a good Coral Springs Charter team that brought the fight to us right away. Their pitching staff was really good tonight," Campbell said. "Our team just has a knack of not feeling as they're out of a game. They just keep grinding and working and when the door is left open just a bit, they just find a way to win. Jensen Seculer and Jonathan Xuereb were awesome in relief tonight."
North Broward also had 10 hits total, and two big innings helped launch the comeback. After getting on the board with four runs in the fifth, the Eagles tied it up with three runs in the bottom of the seventh. Mauricio Bejarano was 2-for-4 with an RBI, Clancy Marsh was 2-for-5 with two runs and Gian De Castro added an RBI single.
Now the defending state champions have secured their spot in the regional playoffs, with a home date set for the opening round next week.
"We are focused on the next game, which is Wednesday," Campbell said. "We are going to keep working one game at a time, because we know how hard it is."