6A-15 Playoff Preview: Cooper City, Nova On Top
Cooper City and Nova have been at the top of 6A-15 all season long and are expected to clash in the district championship, but McArthur and South Broward are more than capable of playing spoiler if they advance to the semifinals.
There's a decent amount of parity in this district and several good storylines heading into the tournament.
Let's take a look at each team's prospects.
6A-15 District Playoff Schedule
Location: McArthur
Quarterfinals – Monday (5/1)
No. 3 South Broward vs. No. 6 Everglades @ 3:45 p.m.
No. 4  McArthur vs. No. 5 Dr. Krop @ 7:00 p.m.
Semifinals – Tuesday (5/2)
No. 1 Cooper City vs. Winner (McArthur-Dr. Krop) @ 6:30 p.m.
No. 2 Nova vs. Winner (South Broward-Everglades) @ 4:00 p.m.
Finals – Thursday (5/4)
Winner (Semifinal 1) vs. Winner (Semifinal 2) @ 6:30 p.m.

Cooper City – Team Page
The Cowboys finished the regular season winning six of their last seven and lay claim to the No. 1 seed in 6A-15 heading into the district tournament.
Seniors Bryan Borrego and Chase Bart have to continue stepping up on the mound for Cooper City to win the district. Bart is also one of the team's best bats along with John Bishop, who has over 20 hits this year. Getting left-hander Bradley Stewart back could also be a major boost.
Cooper City finished the regular season with a 5-0 record against the district and outscored opponents 28-2. Dr. Krop is the only team the Cowboys didn't play, and McArthur only lost 2-1. Either semifinal opponent could prove challenging for Cooper City, but they are still the team to beat.


Dr. Krop – Team Page
The Lightning could be the wildcard of the district. Winning five of the last seven games of the season brought the record up to .500, and Paul Barrios' club might be playing its best baseball of the season.
Douglas Katz and Josh Kruthik have combined for 64 strikeouts through 62.1 innings and keep the game close, but the defense has struggled with errors at times this year. If the Lightning can make the routine plays, the offense has heated up enough to win a game or two.

Everglades – Team Page
The Gators might be at the bottom of the district, but a one-run regular season game against South Broward has Everglades thinking it can make some noise in the district playoffs.
Anthony Lugo has been the team's top arm and pitched most of that game against the Bulldogs earlier this year. Another strong performance will be needed to pull off the upset. Lugo is one of three Gators with double-digit hits, but keep in mind that the team high for at-bats is just 35.
It's a rebuilding season for manager David Monge, who only has two seniors on his roster. Any playoff experience is welcome for a very young ball club.

McArthur – Team Page
The Mustangs had a really bad second half of March, but April has brought a few more wins and some confidence heading into the playoffs.
Matthew Zamore and Tyler Smith have each pitched 21.2 innings for McArthur, but it's Devin Grazzal that has the most strikeouts with 35. Smith leads the team offensively with two homers and also sports a .311 batting average.
Many of the key pieces on this team are still young, which could mean contending for a district championship is another year away. But, the Mustangs are more than capable of taking down any team in this district.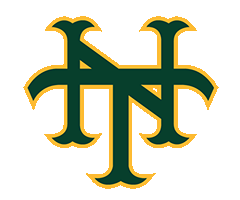 Nova – Team Page
The Titans have been at the top of the district all season long with the Cowboys, but some late-season losses have the Titans as the No. 2 seed.
Dropping a recent game to South Broward is mildly concerning, but this is the best Nova has looked since manager Brian Luebkert took over for the legendary Pat McQuaid in 2021. Gavin McClure's arm has been a big part of that success. The senior right-hander has struck out 50 over 41 innings and boasts a 1.88 ERA. McClure is also second on the team with 16 hits, behind only Nick Evans, who has also smashed two homers this season.
Avenging regular-season losses to South Broward and Cooper City would make for a great story, but Nova could still make the regional tournament as the district runner-up.

South Broward – Team Page
The Bulldogs only have three seniors on the roster but will still finish above .500 for the first time since 2017. Manager Darin Koch has a young and talented core that has only improved as the season continued.
Junior Johnny Luechauer (1.74 ERA, 44.1 IP) has emerged as a true ace with two shutouts and three complete games under his belt. Quinn Kustin has been fantastic as well with a 2.76 ERA through 25.1 innings. Offensively Alex Lopez leads the team with 26 hits and 19 RBIs.
If South Broward can get past Everglades without exhausting its top arms, there's already proof that the Bulldogs can take down the Titans. A repeat win over Nova would bring them to a district championship.