Another Explosive Inning Carries Douglas To States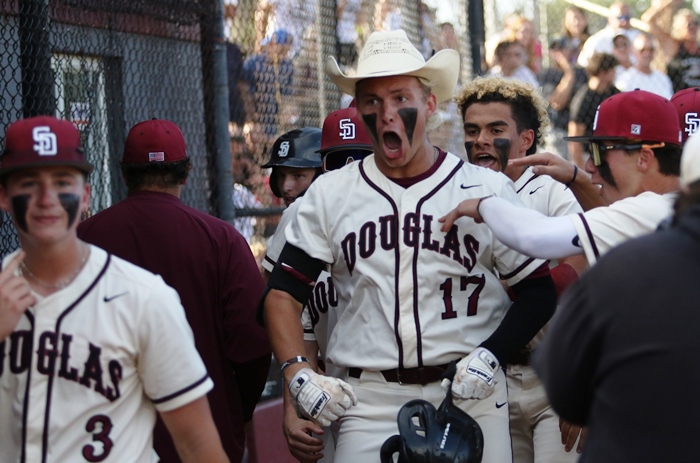 For the Douglas Eagles, there have not been too many times where they have been challenged this season. many people thought that HSBN Miami's #1 team, Columbus, with their ace, Gabe Cruz, on the mound for a 7A regional final Tuesday night, would be the best chance for a team to upset the Eagles.
The Douglas bats put that idea on ice in the second inning, when they brought 14 batters to the plate, hit three home runs, and scored nine runs. The Eagles then put it in cruise control, and sailed to a 10-1 win, and their third straight state final four appearance.
"I can't say enough about our offensive approaches tonight," said Douglas Manager Todd Fitz-Gerald. "We were locked in and stuck to the plan."
The plan, it turns out, was similar to their regional semifinal game against Taravella, when the Eagles put up 10 runs in the first two innings. Douglas has now outscored their five playoff opponents by a combined 57-9.
Having a nine run lead in the second inning is insurmountable no matter when it happens. But when facing the most dominant pitcher of the past three seasons, Douglas' ace Christian Rodriguez, the task becomes even more daunting.
Rodriguez threw six innings, limiting the Explorers hitters to just three hits and one run. He struck out four on the evening, before he gave way to Gavin Gargiulo, who closed out the regional final win with two strikeouts in the seventh.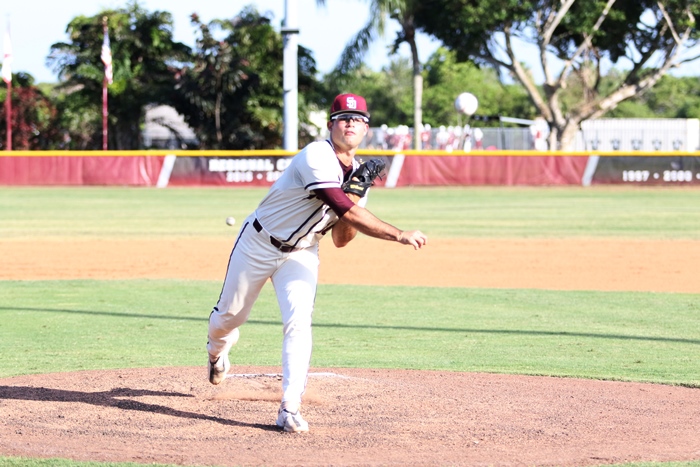 The game served as the last one ever at home for Rodriguez, who has compiled a 12-0 record in 2023. Overall, Rodriguez is 30-1 in his high school career, with a 1.30 career ERA, to go along with 304 strikeouts in 183.2 innings.
"I couldn't be happier for C-Rod, going out like he did in his final home game," said Fitz-Gerald. "He has been such a special person in my life since he was seven years old. I'm like his second dad, and I love him immensely."
With Rodriguez locking it down on the mound, the Eagles offensive explosion in the second came courtesy of some familiar names. Matt Ossenfort hit a double, and a home run in the inning. The homer was the third in two games for the senior first baseman. Ossenfort's blast was followed by a Nico Benestad home run. Later in the inning, Alex Rodriguez connected for the third homer of the inning.
With the win, Douglas moves on to the 7A semifinals. Awaiting them will be Spruce Creek, with manager Matt Cleveland, a former longtime Broward County manager. The other semifinal will feature Plant, out of Tampa, and Park Vista, a team Douglas beat 8-2 earlier this season.
Douglas will be chasing history, with no public school team in Broward County history ever having an undefeated season. The Eagles sit at 27-0.
"I'm so happy for the boys and the coaches," said Fitz-Gerald. "I want this for them, and couldn't be more excited for this opportunity."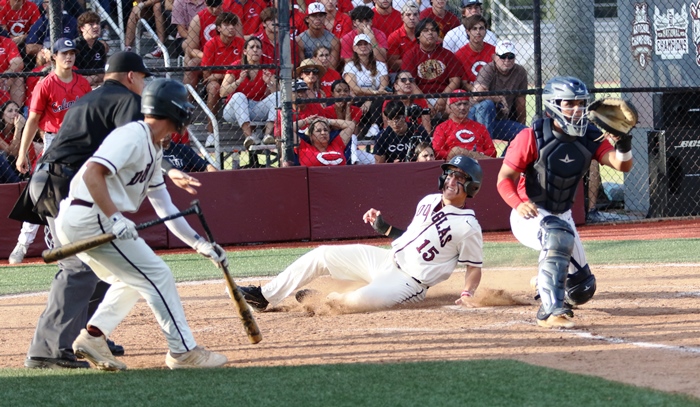 To exemplify just how good Douglas has been this season, consider that they have only trailed for a total of five innings the entire season, and all five innings, they only trailed 1-0.
Furthermore, the Eagles have faced a whopping 16 teams that are ranked in the Top 10 of their sites HSBN Power Rankings. The total score combined in those 16 wins is 120-21. Two of those teams are defending state champions, and are heading back to states this year (Doral, North Broward Prep). To see just how unprecedented that is, here is a breakdown of the ranked teams they have beat, with the scores.
Miami #1 Columbus (Twice) 8-6; 10-1
Miami #2 Doral 3-0
Broward #2 North Broward Prep 4-2
Palm Beach #2 Park Vista 8-2
Broward #3 Archbishop McCarthy 2-1
Southwest Florida #3 Naples 2-0
Southwest Florida #5 Bishop Verot 4-0
Miami #5 Key West 13-2
Palm Beach #5 American Heritage-Delray 9-0
Broward #6 West Broward 10-0
Palm Beach #6 Jupiter 5-1
Broward #7 (Twice) 11-1; 13-3
Miami #8 Miami Springs 7-2
Broward #9 Coral Springs Charter 7-0