West Broward Falls In Regional Semis To Red-Hot Columbus
The Columbus Explorers haven't lost a baseball game since March and are now proud owners of a 16-game winning streak after taking down the West Broward Bobcats, 7-2, in the Class 7A Region 4 semifinals Saturday evening.
Explorers manager Joe Weber has had his team firing on all cylinders lately, and they've even kicked it up a notch in the postseason, outscoring opponents 29-9 over four playoff games. That kind of dominant play is by design, though. Weber looks at the regular season as a preseason of sorts, and Columbus had 24 games to get ready for this run.
"We've always talked here that the preseason is your 22 (regular season) games, and everything your gearing at is to be playing your best baseball at the end of the year," Weber said. "And that's kind of what we've always focused on here. Hey, the preseason is the preseason, and that's what I call it. Of course, you want to play well for 22-25 games, but in the playoffs is where you want to be at the top."
Plenty of players came up big throughout the night, but right-handed sophomore Jason Vazquez shine the most with six innings of two-hit work on the mound for Columbus. Vazquez, or "Smiley" as the team calls him, got through the lineup without allowing a baserunner the first time around and quickly induced a double play after giving up his first hit of the day in the fourth.
He struck out five and walked zero en route to a six-inning, two-hit outing that only saw one unearned run cross the plate. In other words, Smiley was elite. It's the first time he's thrown more than 4 2/3 innings this season and the pitch count was the only thing that really forced him out of the game. Vazquez would have had seven pitches to get through the seventh.
"It felt great," Vazques said. "My team didn't make an error today. They had a lot of chances to make errors, but they didn't. My fastball was great. My team scored seven runs to give us the lead. It was great."
Columbus scored all seven of its runs by the fourth inning. Four came in the first. Frank Francisco singled in a run, Jose Correa doubled in another and Lester Martinez drove in the final two but was caught trying to leg out a double. Getting out of the first stopped the bleeding temporarily, but the Explorers got back to scoring in the third.
Martinez got a ball by the shortstop to score another, and Jovan Swasey walked with the bases loaded to make it 6-0. Santi Carriles added one extra insurance run in the fourth with a line drive single to left, and Columbus had the lead it needed to close out the game. Julian Gonzalez started the seventh, but Matthew Rios had to close it out after a run scored.
"It started bad, but I was really happy that our guys competed in the seventh inning," Bobcats manager Howard Stein said. "It was rough early. We didn't have much momentum going, but we competed in the end. I'll miss the seniors, but I'm looking forward to next year."
It's hard to look back on West Broward's 2023 season as anything but a massive success. This was the Bobcats' first regional semifinal appearance since 2016 and a new high point under Stein. The season also featured the second district championship for the program in the past three years.
West Broward is returning just four seniors next year, but the young core of this team is still intact and ready to take a step forward as they mature. Those graduating from the program are Nicholas Barcelo, Andres Cruz, who started the game, Mason Elrod (.343 AVG, 6 HR), Carlos Garcia, Andrew Rodriguez, Michael Rodriguez and Brandon Vargas (.389).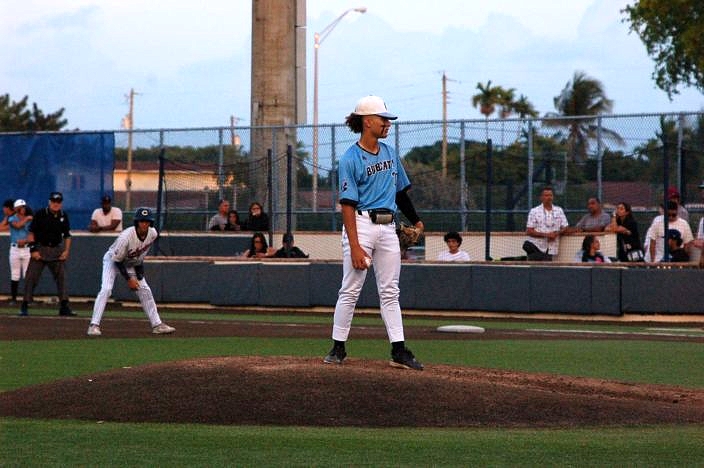 Stein says he'll remember this team most for how much they fought for wins. There were only one or two games throughout the season that felt like blowouts, and West Broward pulled off comebacks as late as the regional quarterfinals against South Dade.
Although the Bobcats couldn't pull off one last comeback, next year's returners now enter the season with the experience of a deep postseason run. The goal is to come back and compete for another district title in 2024 and then make an even deeper regional run.
For Columbus, the undefeated Stoneman Douglas Eagles are up next, and that's the last club that handed the Explorers a loss. It also happens to be one of the closest games Douglas has played all year, which means it's must-see baseball for anyone in South Florida.
"You're playing the No. 1 team in the country," Weber said. "They've ended our season three years in a row: in a state championship when they were out of our region, last year in a regional final. We know they're great, and we know we have to play good baseball to be able to hang with them."