Douglas Flexes As They Move Three Games From Perfection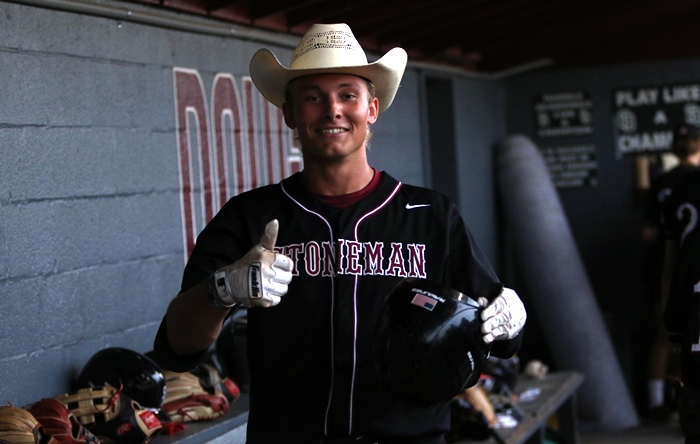 Talk to Manager Todd Fitz-Gerald, or any of his Douglas players, and to a man, they will downplay the significance of a perfect season. But there is little doubt that the team knows the history they are chasing.
There has never been an undefeated high school baseball team in Broward history, and on Saturday night, the Eagles again showed why they are the perfect candidate to take their spot among the best team to ever play in the county.
Douglas scored eight runs in the first inning, before the crowd had even finished filing in for the game Saturday night, six of which came before the offense even recorded an out. They then cruised to a 13-3 win over crosstown rival Taravella in their 7A regional semifinal match up.
"I've been telling people all year, this is such an easy and fun team to coach," said Fitz-Gerald. "They never look ahead, and only are ever focused on the next game on the schedule. They come to work at practice without the coaches ever having to motivate them. It's just a special group, and it shows every time they take the field."
With their record now sitting at 26-0, the Eagles have depth in their lineup, and each game it seems that another hitter carries the offense. That hitter on Saturday was Matt Ossenfort. The senior hit two monstrous home runs, the first a grand slam in the first inning, and the other a two-run shot.
"Hitting is contagious on our team," said Ossenfort. "I've been working on my pitch selection, and going after balls I can hit on a line. Tonight, I was able to swing the bat well, and got some pitches I could handle. But it wasn't just me, the whole lineup swung the bat well today."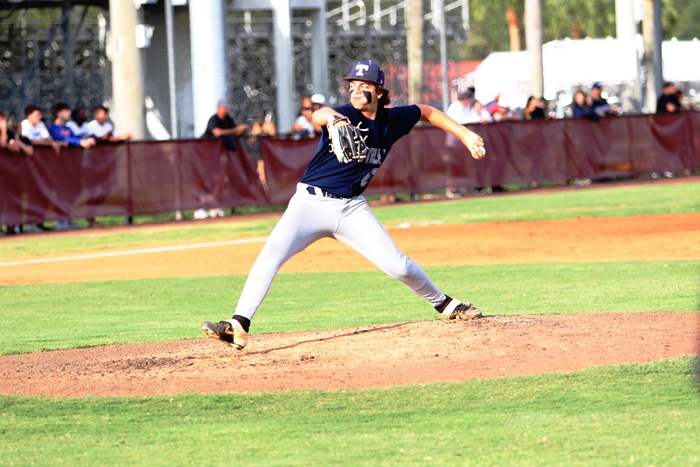 The recipe for Douglas all year has been to send their two-headed monster, Christian Rodriguez, and Jayden Dubanewicz to the mound, and watch them dazzle. In the semifinal game it was Dubanewicz' turn to take the ball, The junior had a one-two-three first inning, and then had an eight run lead when he took the mound in the second inning.
"Obviously when your team puts up eight runs early, it makes the game easier to navigate on the mound," said Dubanwicz. "At that point, it is just about trying to throw strikes and execute my pitches. My defense was behind me as they have been all year, and I was able to do my job."
The pair of Douglas aces have only given up 13 earned runs in 103.1 innings coming into the game. Probably the biggest thing that came out of Dubanewicz' outing was the Eagles being able to get him out of the game with less than 60 pitches, ensuring that both he and Rodriguez will be available in the regional final game on Tuesday.
Douglas will face a familiar foe in that game, when the top team in HSBN's Miami Power Rankings, Columbus, comes to town. The Explorers will bring a 16 game winning streak into that match up. Ironically, the moss before that streak started, was an 8-6 loss to Douglas.
Last year, Columbus held a late lead against Douglas in the regional final, before losing 7-4. Tuesday, they will bring a more experienced team back to Parkland, one with a similar blueprint as the Eagles. Strong pitching, and an explosive offense.
"It has developed into a rivalry, I guess, having played them a bunch the past few years," said Fitz-Gerald. "We have tremendous respect for them. Coach Weber has been around a long time, and always has his teams ready to play. Win or lose, we know it's going to be a great atmosphere, and no matter which team ends up in Fort Myers, the South region is going to be represented well at states."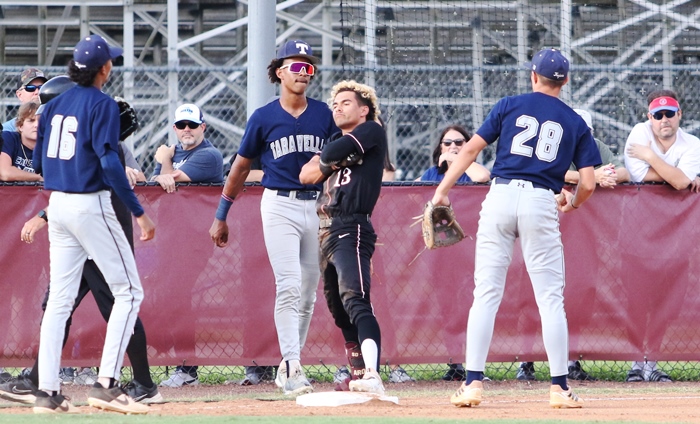 As for the Trojans, a few early mistakes took them out of the game, and they finish the season knowing the bar they need to get to in order to get out of the region in future years.
"They (Douglas) are the standard," said Trojans Manager Joe Giummule. "We didn't play our best game tonight. You know you have to play a nearly perfect game to have a shot at knocking them off, and we didn't do that today. We have to get back to work in the offseason. We have to get bigger, and stronger, and we have to work on creating our own standard so we don't have this feeling again. We had a young team this year, and we will be back next year and hopefully learn from the mistakes we made today."