Eagles Fly Into 3A Title Game With Improbable Comeback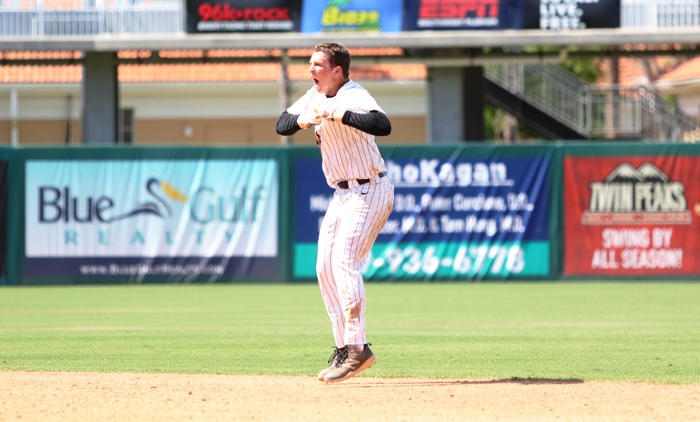 For 6.1 innings on Friday afternoon, the question everyone was ready to ask was, what was North Broward Prep going to say after losing their first playoff game in three years, and how did Gulliver Prep advance to the state finals after all their ups and downs this year.
The narrative changed, however, in the final inning. Brixton Lofgren had the Eagles off balance all afternoon, throwing a no-hitter for 6.1 innings, before seven straight NBP batters reached base, and the two-time defending champions stunned the Raiders and everyone in attendance with a come-from-behind, 5-4 victory.
"I've been doing this a long time," said Eagles Manager Brian Campbell. "And I have never seen anything like that. Words can't even describe what just happened out there."
Gulliver did everything that needs to be done to take out a champion. They scored early, and got a brilliant pitching performance from Lofgren, as the Raiders built a 4-0 lead.
"I didn't do anything different in the last inning," said Lofgren. "They just hit a few line drives, and had some base hits that found their way down."
It all started with the human sparkplug for the Eagles, Riley Luft, who broke up the no-hitter with one out in the seventh on a triple to the right-center field gap. TK Gramesty then singled in the first run with what seemed at the time like a harmless single to left.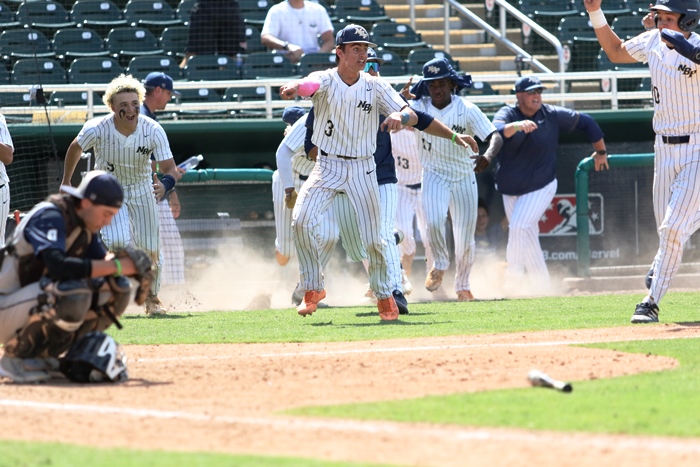 Nik Koorse then doubled, putting runners on second and third, and AJ Cutler drove in Gramesty, and put the tying run on base.
"For us, hitting is contagious," said Campbell. "I don't know what happened there in the seventh, but I guess none of the guys wanted to be the final out."
Branden Hoch was then hit by a pitch, and Mauricio Bejarano singled in Koorse, setting the stage for Mateo Gray's heroics.
On the first pitch that he saw, Gray doubled to center, scoring Cutler and Hoch, and setting the Eagles off into a wild celebration.
"We did this previously this year against him, where we sat on his curve ball. If a fastball came we were just letting it go, and waiting for the curveball," said Gray.
This was the third time the two teams played, and having split the first two games, this game served as the tiebreaker. It is common for teams at this stage of the playoffs to be facing teams from other areas, that they know little about. But that was not the case for the eagles and Raiders, who had strong scouting reports on each other's tendencies.
"It's always easier when you know your opponent," said Campbell. "And today, they played real well. There was nothing we could do offensively for six innings, so we tip our hat to the way they played, and the way Brixton pitched. I know its baseball and someone has to win and someone has to lose, but they really deserved to win that game as much as we did today."
Interim Manager Isaac Tijerino had a hard time putting into words the appreciation he had for his team.
"For them to do what they did this year, especially with everything that went on, it just shows they are a special group," said Tijerino. "They left it all on the field today, and we just couldn't get those final two outs. But I am proud of the way they played and represented themselves and the school."
For the Eagles, Luft not only started the big seventh inning, but he took over on the mound in the fourth inning, and threw four perfect innings, with four strikeouts.
"Riley coming in and shutting down their offense and holding them down until our offense could get going was huge," said Campbell.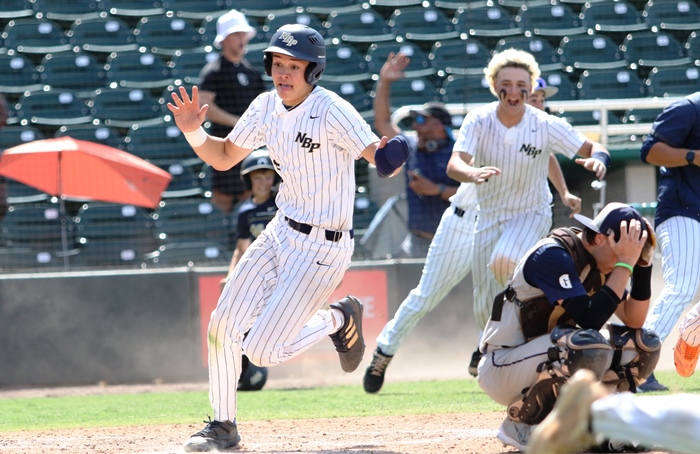 The junior attributed the win to the culture of the team.
"We always feel we can win, but we just needed to start with a hit. My last at-bat, I just wanted to get on base and get things started, and the guys behind me all came through after that hit. It's a great feeling."
The Eagles now will go after their third straight state title, but will have a formidable opponent in Calvary Christian, who defeated Providence 5-4 in nine innings earlier in the day.
Calvary Christian has a championship pedigree of their own, having won state titles in 2017 and 2019. They come in 27-4, while North Broward Prep comes in at 26-4.