Eagles Soar To New Heights; Complete Perfect Season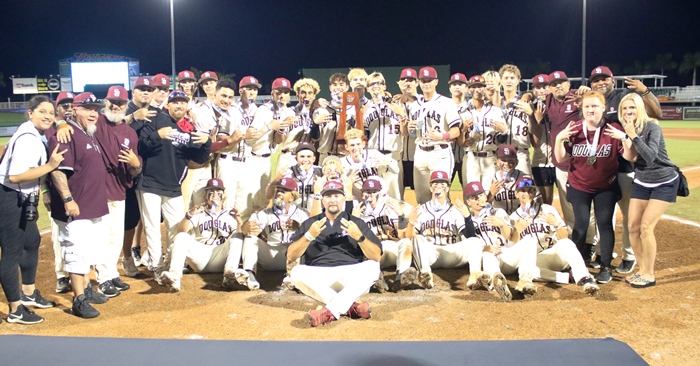 The bottom of the fifth inning of the 7A state championship Wednesday night exemplified the 2023 Douglas Eagles in a nutshell. Yes, their starters took care of business earlier in the game, staking the Eagles to an 8-0 lead through four.
But in the fifth, Douglas showed a flex of their depth, while also putting the finishing touches on what will become the new standard for public school programs in the state of Florida, a perfect season, 29-0. The first time perfection has ever been done by a public school team.
Senior Cayden Freels, who had 12 at-bats on the season, led off the fifth with a pinch hit single. After a strikeout, senior Jacob Herzberg, with 11 season at-bats, walked. Gavin Gargiulo loaded the bases with a walk, and Reese Burton stepped to the plate. The junior with four at-bats on the year, proceeded to single in the ninth and tenth runs, closing out the 10-0 win over Plant, a state (and likely National) title, and an undefeated season.
Oh, and it also set off a party the likes of which the state tournament hasn't seen in a long time.
"The coaches told me to go up there swinging it if I got something good," said Burton. "I was looking to be aggressive, and it's just an amazing feeling to work hard all year, like this entire team has, and then to be able to get that single and end the game."
The game itself was almost secondary to the surrounding storylines. It was about as competitive as most Douglas games this year, which is not much. The Eagles outscored their opponents at states 15-2. On the season, they outscored opponents 248-33.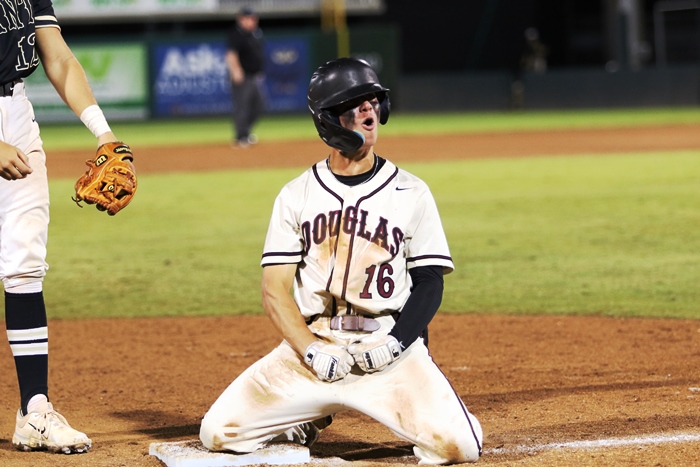 Then there was the undefeated season. All year long, not one Eagles player or coach would talk about the possibility. They deferred at every interview to the next game on the schedule, and insisted the next one was their only focus.
"We didn't put a lot of emphasis on the perfect season, but I think after Spring Break, when we beat St. Thomas, Gibbons, and Columbus, all on the road, we started to realize that we had the chance to do something really special. And from then on, it was just laser focus on making sure we took one game at a time, and dominated every game," said one of the Eagles senior leaders, Matt Ossenfort.
Another storyline was that of Christian Rodriguez. The ace of the staff for the past three years, all Rodriguez did Thursday when Plant played the shift on him, was make the adjustments and line two singles the other way. It was another example of the selflessness of this team, and it cemented what many will consider to be the best high school career of any player in the history of Broward County.
"I can't even explain the pride I feel to be a Douglas Eagle," said Rodriguez. "It is amazing that people are talking about that, and I am honored, and there will be time to reflect on that. But really, this has been just a team effort all year, and I love these guys like brothers. I will always be an Eagle, and I couldn't have asked for a better four years of high school. It's amazing."
His coach, Eagles Manager Todd Fitz-Gerald, took Rodriguez' impact a step further.
"I've been around a long time, and have seen a lot of great players come through this county, but Christian surely moves to the top of that list," said Fitz-Gerald. "The thing about him is not only is he a tremendous player, but who he is as a person is special. I've known him since he was seven, and I can tell you, if you have a daughter, that kid right there is the type person you want to walk her down the aisle. He has been a tremendous leader for us for several years."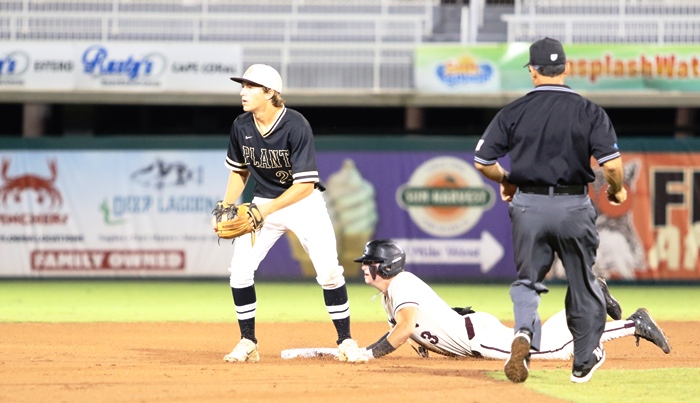 Another season-long contributor was starting pitcher Jayden Dubanewicz. The junior took the mound, and made quick work of the Panthers lineup all night, throwing all five innings, and allowing only two hits
In addition to Ossenfort and Rodriguez, who each had two hits, Rylan Lujo had two hits, while Devin Fitz-Gerald, and Bennett Gary had a hit each. Lugo also had two stellar defensive plays at third base early in the game.
"There are not enough superlatives for this team," said Fitz-Gerald. "Everyone is focused all the time. Everyone has come through throughout the year. They worked hard. They did everything we asked, and even some things we didn't ask. These type teams and players don't come along often, sometimes only once in a lifetime. And these kids will always be able to look back and say they had the best season in public school history. Nobody can ever take that away from them."
There have only been three other undefeated teams in state history, Westminster Christian, Calvary Christian, and Pensacola Catholic, all private schools.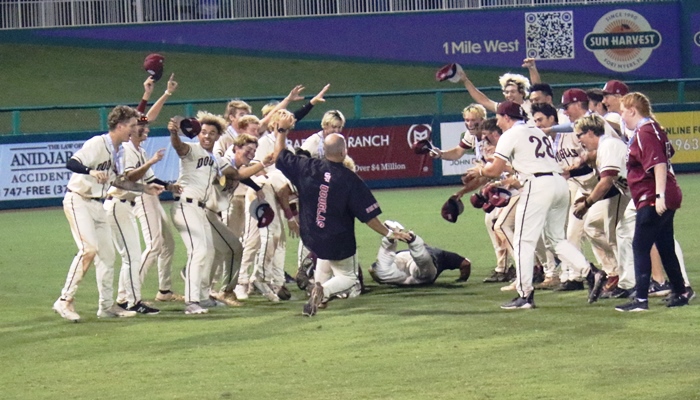 The Eagles have now won three straight titles and four in the past seven. With a strong core of returning players, Douglas will look to continue their unprecedented run in 2024.
Here is a compilation of some of the stats that have stood out in this record-setting season:
– Outscored opponents 248-33
– Trailed a total of five innings all year, and was 1-0 each time.
– Had 943 total plate appearances offensively, and trailed in only 16 of those plate appearances.
– Team batting average of .342, with an on-base percentage of .482
– Hit more home runs (35), than they had runs allowed (33)
– Team ERA of 0.87, and WHIP of 0.72
– Faced 18 teams ranked in the Top 10 in their sites HSBN Power Rankings, and outscored them 135-23.
– Never trailed in a game past the third inning
– Gave up zero or one run in 20 of their 29 games