State Of The Game, Part III: BCAA's 20-Game Limit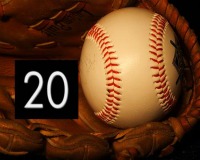 This is the third part of our week-long series "The State of the Game."
Twenty.
It's the number of games Broward County Athletic Association baseball teams can play in the regular season and the subject that has caused frustration over the past two seasons for those teams.
But with the financial picture still in dire straits for the Broward County School District, don't expect this cutback to go away soon — if ever. In fact, Damian Huttenhoff, the county's director of athletics and student services, said the budget crisis is going to get even worse and the school board will be "cutting significantly more" for the coming school year.
"Funding is not on the plus side," he said.
The school board is saving nearly $350,000 a year by cutting more than 600 games from not only baseball but all varsity sports excluding football and competitive cheerleading.
The reduced schedules are affecting baseball teams in four main areas: player development, competition disadvantage, recruiting and players placing more importance on summer ball and less emphasis on their school teams.
PLAYER DEVELOPMENT
"The biggest disadvantage [of playing just 20 games] to me is it hurts development more than anything else," said Sergio Ambros, who has coached in the county for a long time and was named head coach at West Broward this summer.
"Absolutely it is affecting player development," Douglas coach Todd Fitz-Gerald agreed. "Here is the issue: If you are only playing two games a week and you have a pitching staff with six guys, there is no way that three of those kids are going to get any significant time on the mound. Period."
Ambros said that back end of the pitching staff is basically rendered "useless or a practice squad."
There used to be a time when all six of those pitchers were needed as teams played three, sometimes four games a week when the Florida High School Athletic Association allowed teams to play a maximum of 28 games. That limit was instituted by the FHSAA in 1995, replacing a 20-plus-2 rule that allowed teams to play 20 regular-season games plus up to eight tournament games. The state curtailed the maximum to 25 in 2003, and the BCAA chopped the limit to 20 in the 2009-2010 school year. Broward is the only school district in the state that has cut that many games. Miami-Dade and Pinellas counties have reduced their schedules to 22 games.
New Pompano Beach coach Ryan Combs has an interesting way of looking at just how much player development time is lost to the cutback.
"Think about it over a four-year high school career, and they are losing out on an entire season's worth of playing," Combs said.
COMPETITION DISADVANTAGE
Fitz-Gerald said "the 20-game schedule is absolutely ridiculous. As a coach, you don't even hit your stride until about the 18th or 19th game. It is a huge disadvantage with other schools getting the extra five games. That's five more games of intense competition, adversity and true game situations that you just can't simulate in a practice or intrasquad. You have to factor in teams you play, the environment you play in and the quality of the opponent you are playing."
Fitz-Gerald, who became the coach at Douglas this summer after spending a decade at American Heritage (where they play 25 games), has a simple proposition for the school board: "Instead of a 20-game schedule, give us 20 dates. On those dates, you can play doubleheaders. At least you can get 40 games in. Maybe that will keep our kids closer to home. Second, it will generate more money for your program. Charge a gate, have concessions. There are all kinds of things that can be done. Florida is the No. 1 high school baseball state in the country and you have other states like Alabama, Georgia, Tennessee, New York even, that play 40 to 50 games a spring season. Come on, are you serious? We need to do the same here. Someone needs to fight for us or high school baseball in Florida will diminish very soon."
Other coaches, such as Ambros and Flanagan's Ray Evans like Fitz-Gerald's doubleheaders idea, but they don't believe doubleheaders are practical on all 20 of those dates.
"We all discussed that a while ago, and we love it," Evans said. "You can get as many as 40 games. Probably wouldn't do that because every game shouldn't be a doubleheader though. I think 35 would be a good number of games for us to play if they let us do that. I just don't see the school board letting it happen though, which is a shame. When cities up north get to play more games than we do in the Sunshine State, it is embarrassing. When we speak to these coaches at the national conventions and they hear how many games we play, they laugh at us."
Huttenhoff said he "would be willing to look at" a plan that would not add any additional costs for the schools. He said such a plan to play more games is possible, but a majority of athletic directors would have to approve it by August for it to be a reality in 2013.
The competition disadvantage stems from a combination of being limited to 20 games and having to spend a good amount of those games playing district opponents twice, another BCAA mandate. BCAA teams believe they're less prepared for the playoffs than maybe a team in a neighboring county whom they'd have to play in the postseason. And those concerns seem to be starting to have merit if one looks at the playoff results last spring. BCAA teams lost to a Palm Beach opponent in each of five regional matchups between them. Deerfield Beach, Coral Springs, Flanagan, Nova and St. Thomas ended their seasons against a Palm Beach team. Flanagan played other BCAA teams in the first two rounds and made it to the regional final, but all of the others were bounced in the quarterfinals.
Despite the lackluster performance by Broward teams in last season's playoffs, Huttenhoff said he believes the county is still competing well with the rest of the state.
Not only are there competition disadvantages in the playoffs, some BCAA teams also will be experiencing disadvantages within their district as well with realignments coming this spring. District 15-6A includes BCAA schools Fort Lauderdale, Stranahan, Hollywood Hills and Pembroke Pines Charter in addition to Archbishop McCarthy, which will be playing 25 games. District 16-5A also will have just one non-BCAA school: American Heritage. It will be playing 25 games while Pompano Beach, Dillard and Hallandale will play 20. Cardinal Gibbons might have it the roughest. The Chiefs will be the only team playing 20 games in a loaded District 13-4A that also includes Chaminade-Madonna, Coral Springs Charter, Pine Crest, North Broward Prep, Somerset and University School.
"By the end of the season, not only will you have played [district opponents] twice, but as the two top teams advance, you could possibly have played four times," Fitz-Gerald said. "I would much rather play one district game and be able to schedule all others as to play the best possible people to get ready for the postseason. It is critical. That is where the private schools have an advantage. They can do their own schedule and play who they want, not to mention you can actually play 26 games if you go down to Key West to play. That is 25 percent more games you get to get ready for postseason play. Period."
Combs said when you factor in the district changes coming this year, rivalries with teams from the former district may suffer.
""Between district games and tournaments, the 20 games limits you from having the ability to play those old district teams," he said.
RECRUITING AND SCHOOL SPIRIT
Another key casualty amid the cutbacks is less exposure for players during the high school season. Coaches say the 20-game limit is causing good players to flock to private schools where they can be seen more and to view summer competition as more important in the grand scheme of things.
Players who are being recruited "don't have the same advantages as the kids at private schools," Ambros said.
"They say it's budget costs, I say that's an excuse," Fitz-Gerald said. "First of all, this is why the summer baseball is killing us. These kids are using us to prepare for the summer where they get to play 60 or 70 games. Winning or competing for a state title used to be what all kids wanted, the ring. Now it's not as important for them to play for a state title because in their summer tourneys, they play for rings, too. The sense of school pride and playing for your school and community is going out the window."
Ambros has coached in the South Florida Elite organization the past five years. "I know the value of playing that many extra games," he said.
Ambros and some other coaches across the county are trying to make players more fired up about playing for their school.
"At West Broward, we're trying to get school spirit back into it and reinstate the pride of winning for your school," he said.
Getting players to take pride in the community also is on the to-do list of Taravella coach Ryan Stuart, who was promoted to the head position this summer.
He recently told BrowardHighSchoolBaseball.com that "when I was named head coach in July, one of the things I really wanted to do was get our name out in the community that we are here to make a difference."
COMING TOMORROW
Our series continues with a look at the struggles of some of the less-fortunate programs in the county.
One Response to "State Of The Game, Part III: BCAA's 20-Game Limit"