Sunday Morning Chat: Coconut Creek Head Coach Roger Davidson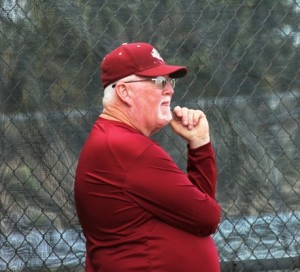 Coconut Creek head coach Roger Davidson has been in the Broward coaching fraternity for more than 20 years. Coach Davidson has racked up nearly 400 wins in his career and has coached Cincinnati Reds pitcher Mat Latos along the way. BHSB Editor Anthony Uttariello sat down and spoke with Davidson about his time coaching Latos, the ever-changing demographics in Broward and the coach's love of the game. Enjoy!
Anthony: You've been around Broward County high school baseball for a long time. What are the biggest changes you've seen from when you've started until now?
Coach Davidson: Good lord, the biggest changes. Oh, I think since I've been here in 1988 the quality of players has improved every year that I've seen. With the people we've got in the major leagues right now from Broward County, they are being very successful. From year to year, different teams will get better, and I know schools out west who are very strong in baseball with all these communities expanding out there since I've come here to Creek. Demographics have changed so, it's changed where the more powerful teams are located.
Anthony: Many coaches go their entire careers without coaching a future Major League baseball player. You coached current Cincinnati Reds pitcher Mat Latos. How gratifying is it to you to know that you helped develop a major league player?
Coach Davidson: Oh, it's a great feeling, there's no question about that. You don't get too many of those kinds of players in your career. And when you do, you better enjoy them while you have them cause those don't come around very often. I've enjoyed coaching, this will be my 40th year at it. I enjoy every kid I have, whether they are a major league prospect or not. Coaching is about developing people. I love winning just like everyone else does, but in the same respect, making them young men, responsible citizens and parents means a lot to me. See, I'm very happy where Mat's at. I'm very proud of Mat. From the time Mat was a freshman, he started for us as a freshman in high school, opening day. That talent wasn't hard to assess, it wasn't real hard to see. I'm real proud of where he's at and the kind of person he's become.
Anthony: If I said to you, "You could have one state championship ring, a bond that is shared by a group of players for a lifetime, but it would mean that you never coached Mat." Which would you choose?
Coach Davidson: Coaching Mat. You don't want to think, "Ah, if I never win a state championship." When I was in Mississippi, we played for it, lost the championship game. You know, its people, not just coaching Mat but all the kids I've had. I've had some good kids, I've had a couple of major leaguers before I came here when I was in Alabama. So, like you've said, they are pretty few and far between. I've been coaching 40 years. If you multiply 25, 30 kids on the average, for 40 years, that's how many people I've dealt with. The relationships, kids contacting you years down the road and stuff. Sure I'd like to have a state championship, who wouldn't? But if I don't, I don't. I don't feel that I haven't been successful about what I've done.
Anthony: One of the advantages of being around the county for a long time is that you have gotten to see some of the great talent that comes up through the county. Outside of Mat, who are some of the best players you've ever seen play in Broward.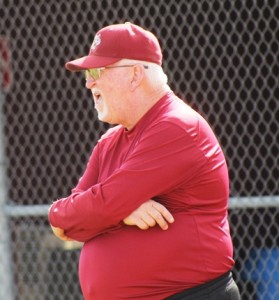 Coach Davidson: [laughing] Gee whiz. Anthony Swarzak from Nova, he's with the Minnesota Twins now. Mike Napoli, there's no question about that. The kid from Nova that's with the Nats now in Washington.
Anthony: Morse?
Coach Davidson: Mike Morse, yeah. Those were pretty A-on, good high school players, outstanding players. And their talent had showed, so that's why they made it where they're at.
Anthony: You have over 300 wins in your career. Does it bother you that you may not get the same attention and credit for your career that some other coaches have enjoyed around this county?
Coach Davidson: I don't coach for the attention, I coach to help kids. I've won a lot of games. I've won a lot of big games, but I didn't win them, my kids did. That's what's important to me. I'm enjoying myself. People tell me I'm nine short of 400 right now. If I get 400, that's great. If I don't, that's fine, as long as I get to coach kids and keep working with them. People that know the game, know what kind of coach you are. Some people are fortunate and blessed to be in a position where they get a lot of talent every year, and that's great. It doesn't bother me that we're not loaded right now, but I enjoy coming out with these kids everyday. They get better everyday, that's what matters to me. If I get an opportunity before I end my coaching career to coach a team that's loaded, I'll enjoy the heck out of that, too.
Anthony: Along those lines, you've got a pretty good resume, and every summer, there's a bunch of schools that have open coaching jobs. What is it that keeps you at Creek?
Coach Davidson: I'm not a person that jumps from school to school just because you don't have a lot of talent. I've never done that. People here at Creek have been good to me. You know, we've been to state playoffs. Right now, we're not that kind of ball club. If someone ever wants to talk to me, my door is open, but I don't go hunting jobs. I would love to have more players then what I've got where I'm at right now, but I haven't been looking to leave here. I want to get this back to where it used to be as far as a state contender. Anybody can coach when you're loaded. Who wouldn't want to hang around and stay somewhere and not challenge yourself and see if you can get it back where you want it?
Anthony: Creek was at one time in the '90s one of the best baseball programs in the state. What do you think has happened in the last decade that has transformed the program from that perennial state contender to a team and a program that's struggling to find even enough players to field a team?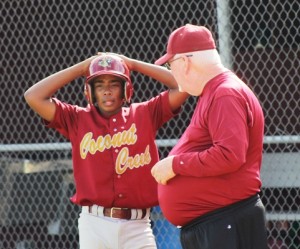 Coach Davidson: The demographics. The boundaries have changed. The boundaries of the kids we used to have are at other schools now. I mean, that's a fact. I'm not complaining about it. If I didn't like it, I could have gone somewhere else. But I'm going to deal with what we have here. We're going to do the best we can with it. I don't complain about it. I see what I have and see what I gotta do, and we're doing the best we can with what we've got.
Anthony: Do you see the talent level changing at all over the next four or five years?
Coach Davidson: Here at Creek?
Anthony: Yes
Coach Davidson: You don't know who's gonna come in with the freshman class every year. I don't know. I hope it does. I would love for it to, but how do I get any control over that? I know they're getting ready to change the boundaries around again, the school board is, so, who knows who will be here, how we will change before we start school next fall.
Anthony: Do you think it's more gratifying to take kids that maybe don't have the top physical tools, and get them to a certain level, or coaching a guy like Mat, that has the skill to go to the next level?
Coach Davidson: Coaching is coaching. You're dealing with people first. Sure, I love coaching kids with a lot of talent. Who doesn't? I'm not going to sit here and tell you I don't. It's gratifying taking the good ones and making them better. It's gratifying taking the ones that are not so good and making them better. I mean, that's my job as a coach. Mat Latos, and other kids I've had that have made it to the show, I didn't give them their talent, they were born with that. Making them better, making better players, teaching them how to play the game. Things like that is my job. You know, teaching 'em how to play the game right, how to handle success and how to bounce back when things don't go well. 'Cause they are not always going to go well, and that's what makes it a great game. In baseball, your memory has to be about a second long, cause it's not what has happened in the past, it's what's gonna happen in the future. You can't control what's behind you, you gotta control what's in front of you. We work on the things we can control. So, it's gratifying coaching everyday. I love what I do. People are asking when I'll retire. I'll retire when they bury me. I can't without it. I love the competition everyday. I love being around these players everyday. A bad day on the baseball field is better than a good day in a lot of places. As long as I'm out here, it's great, this is where I'm happy.
Anthony: Which coaches around the county to you respect the most, and why?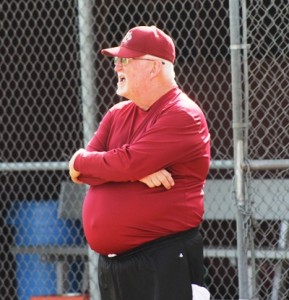 Coach Davidson: [laughing] Oh jeez, I respect all of them! I mean all of us are in the same business here. Some of them are more blessed with what they have talent-wise and everything. I mean, there are so many good coaches in this county. I don't know any coaches that I don't respect. I respect every one of them. We all have the same thing in mind, or I hope we do. It's to develop young men, and we all want to win. This is a competitive county. A lot of talented players on a lot of teams. Pat McQuaid down at Nova, with the success he's had. Frank Bumbales down at Coral Springs. He's had, he won his 300 over here a year or two ago. The coach down at Flanagan (Ray Evans), there's a lot of good coaches in the county.
Anthony: If you could change one thing relating to high school baseball down here in Broward, what would it be?
Coach Davidson: That kids would remain in the schools where they belong. That the kids, they live in a community, and they play in it, and that's truly fair. And that's not the way it is down here. I'm not going to get into that subject, but if I could change anything, that's one thing I would want to change. A kid lives in a zone, make him stay there. Now, kids are allowed to go to a lot better schools, you know because of different reasons and that's the way it is, so hey, I gotta live with it and all the other coaches do too.
Anthony: Tell me something about your current group of Creek players that people around the county would be shocked to know.
Coach Davidson: They won't quit. We've been down several times this year already. We were down 15-0 against Northeast in the sixth innings, we scored four runs. We were down at Miramar in the last inning again, and we scored three runs. They won't quit. You know we've had some tough times, but these kids that I've got, they're winners because they don't quit. The scoreboard may not say that, but when they give it all they've got, they give me all they've got, and they're giving their teammates all they've got, that's all I can ask.
Anthony: OK, I'm going to finish with this. If you could accomplish one goal between now and when you call it a career, what would that one goal be?
Coach Davidson: Wow, these are tough questions. (Laughing) Oh my heavens sakes. (Pause) Get back to winning a championships here. I mean, for these kids, for the school, that's what's important to me. To get this back where it was.
2 Responses to "Sunday Morning Chat: Coconut Creek Head Coach Roger Davidson"