5A-16 As Competitive As Ever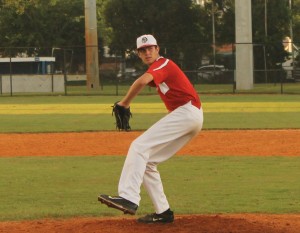 Cardinal Gibbons Manager Jason Hamilton hopes everyone keeps talking about American Heritage and Archbishop McCarthy. The Chiefs don't think there is a definite front-runner like there was last year, and they like their chances. Everybody is excited knowing that there might not be that one definite champion.
"We just kind of slipped in there and knocked Heritage off twice and we played McCarthy pretty tough," Hamilton said. "Pompano Beach has a nice program and they return a lot of guys too. They're going to be ready to compete as well. I am sure everybody else will be just as hungry as we are. We liked our chances last year and we've always been in great districts at Gibbons. We always like our chances."
The two big dogs both return with a lot of new faces, but still a world of talent. No one is ready to overlook the Patriots or Mavericks, and for good reason.
Pompano Beach is now led by Manager Joe Giummule, who is no stranger to a tough district. All the places this veteran skipper has been, they always played in some competitive districts. His guys usually fly under the radar and thrive on an underdog role, although Pompano may not be able to get away with that this year with the team it has.
"There will be good baseball played in the district," Giummule said. "So we've got to play good baseball to win those games, and I think we'll compete and we'll be prepared. If we play well, it is baseball and we will see what happens."
Coconut Creek is making strides this season, and even better than a victory this season would be a district win for the Cougars.
For the newcomer to the group, Hallandale is happy to be in a district regardless if it's the toughest one in Broward County. The program played as an independent last season, and now it has returned to a tough welcome.
"I'm happy that we are playing for something, and that it means something," Hallandale Manager Greg Conde said. "It gives us something to work for other than just playing games. It's only going to make us better as a program; it will showcase our kids and give them an opportunity to play against the best kids in Broward County. It doesn't get better than that."

American Heritage
2014 Record: 13-8
Manager: Bruce Aven
Coaching Staff: Mike Macey, Evan Thomas, Will Block
Key Returners: David Villar, Donovan Futrell, Patrick Mitchell, Richard Cruz
Newcomers: Justin Lemazares
Team strengths: Pitching
The American Heritage Patriots will open the 2015 spring season with a few unknowns. While they have a few returning starters who have proven they can play at this level, they have some younger talent coming up…[Keep Reading]

Archbishop McCarthy
2014 Record: 27-3
Manager: Rich Bielski
Coaching Staff: Ric Butner, Alex Fernandez, Cookie Abay, Nelson Santovenia, Mike Moberg, Stu Cohen, Brayan Valencia
Key Returners: Dylan Bautista, Alex Toral, Brian Van Belle, Jake Anchia, Freddie Matos, Austin Haworth, Daniel Federman
Newcomers: Christian Demby, Alex Carballo, Kobe Lopez, Andrew Fernandez, Alejandro Macario
Team strengths: Defense
This is a year like no other for the Archbishop McCarthy baseball team. This national powerhouse typically reloads every season, but this is the closest the program has come to a rebuilding year for quite some time. The team graduated a large senior class that was so instrumental to setting the tone for what the program is all about, and it returns a group that is quite inexperienced by comparisons…[Keep Reading]

Cardinal Gibbons
2014 Record: 16-11
Manager: Jason Hamilton
Coaching Staff: Marty Durkin, Sterling Pell, Dave Montiel, Mike Nieto, Jon Sandola
Key Returners: Nate Pawelczyk, Karl Hirsch, Justin Lara
Newcomers: Josh Schrouder
Team strengths: Defense
Cardinal Gibbons Manager Jason Hamilton will only make one certain guarantee this season, and that is a promise that they're going to be better offensively. After leaning heavily on a dominant pitching staff led by now-departed seniors Mark Nowatnick and Chris Williams, the Chiefs made a run to the regional semifinals… [Keep Reading]

Coconut Creek
2014 Record: 0-20
Manager: Pete Perez
Coaching Staff: Carl McKinney
Key Returners: Dalton Kazmarik, Winston Nunez, Jared Miller
Newcomers: Antonio Martinez, Abraham Santis-Cruz, Michael Thurman
Team strengths: Offense
When veteran Manager Pete Perez came out of retirement and accepted the job at Coconut Creek High late in the off-season last year, time did not allot him to do a lot of things before the first pitch of the season. With a lot of holes to fill, his only option was to recruit from inside the walls of Coconut Creek High…[Keep Reading]

Hallandale
2014 Record: 9-11
Manager: Greg Conde
Coaching Staff: Joe Pagan, Francisco Lopez, Richie Opitz, Junior Ibarra, Porifino Oden, Kenny Razor
Key Returners: Amary Archbold, Anthony Moron, Pablo Oden, Jonathan Ortiz, Jonathan Grullon, Rafael Santos, Giovanni Bolanos, Darwin Jean, Jalin LeAndre, Josh Martinez, Sebastian Fasanelli
Newcomers: Chris Lugo, Evan Lopez, Oniiel Mejia, Maurice Wilson
Team strengths: Pitching, Defense
Hallandale has never had a baseball team like this before. The Chargers have a different group this year, a squad full of guys who have been working hard and playing a lot of baseball together. This is a team that will show up and compete for seven full innings and 21 full outs…[Keep Reading]

Pompano Beach
2014 Record: 8-15
Manager: Joe Giummule
Coaching Staff: Jay Feinburg, Kenny Harrell, Kevin Carney
Key Returners: Phil Kniskern, Bryce Keller, AJ Marcantonio, Thomas Fengler, Garrett Hiott, Kelsey Lunde, Hunter Stept, Justin Proano, Frankie Moschette, Zach Audet, Vince Costello, Jeremy Davis, Nick Marcantonio
Team strengths: Defense
New Pompano Beach Manager Joe Giummule rested a sore arm as he met with HSBN at spring practice this week. The Tornadoes new skipper was one of the coaches who pitched in the team's 50-inning marathon game this past weekend. It was a great event that helped raise some money for the program, so it was worth it that Giummule could barely hold his arm up on Monday…[Keep Reading]
*Dillard also in district. Report unavailable.