Flanagan Still The Hunted In 8A-13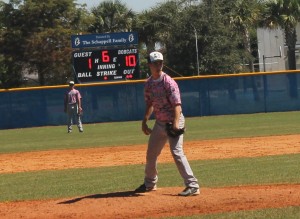 As West Broward Manager Sergio Ambros puts it best, the road to any success will eventually go through Flanagan. Any team hoping to get through this district has to expect to face the Falcons at some point along the line, and then you have to play a perfect game.
"They are well coached and I respect Ray Evans and what he does with his program," Ambros said. "If we don't do things correctly as we've coached our kids, we're going to come up on the short end. But if we do what we're supposed to, I believe that we can be successful. We've proven that in 2012. I don't like to live in the past because we have fallen flat on our face the last two years, but I believe that we can compete. It is going to take a perfect game to beat a very well-coached team that is fundamentally sound."
Evans admits that his team is more vulnerable than in recent years, but everyone knows that doesn't change very much. Gentry Fortuno is into his fourth and final season, other core players solidify the middle, and the Falcons should be as disciplined and well-coached as always.
West Broward is a worthy contender, and no one should sleep on Everglades and Miramar either. It is an interesting season with the Bobcats, Gators and Patriots all very loaded with experienced senior players. Last season offered a glimpse of how competitive the district can be, after Everglades upset West Broward in the district semifinals.
"It's a tough district with West Broward and Flanagan. Both those programs are talented and both those coaches do a tremendous job," new Everglades Manager Matt Cordova said. "But you have to have a little chip on your shoulder, and one thing that is probably being said around town is that we got lucky in that first game of districts last year against West Broward. We are not lucky; this is a talented group."

Everglades
2014 Record: 8-16
Manager: Matthew Cordova
Coaching Staff: Elijiah Walker, Gabriel Sanchez, Anthony Garcilazo, Shane Santiago, Juan Cordova
Key Returners: Yabel Arzano, Nico Doster, Robert Paulino, Cecilio Santos, Francisco Franco, Dominick Desisto, Raul Quesada, David Gamero, Juan Sanchez, Erik Curiel, Justin Carrillo, Vincent Desisto, Justin Baly
Newcomers: Elin Cancel, Javari Alvin, Eduardo Rodriguez, Bryan Ferriera
Team strengths: Pitching, Defense
Coaches preach all the time about coming together and playing your best at the end when it matters most. They talk about how important district games are, and how to take those seriously. Players are reminded that it is not always about winning early on, as long as guys are improving and always working to keep improving…[Keep Reading]

Flanagan
2014 Record: 24-2
Manager: Ray Evans
Coaching Staff: Howard Stein, Noel Figueroa, Pete Greenwood, Johnston Hobbs, Jeffrey Jimenez, Colin Martindale
Key Returners: Gentry Fortuno, Miguel Presno, Eric Rivera, Hunter Platt, Jeremy Cook, Alex Hernandez, Peter Morforis
Newcomers: Mark Vientos, Steve Gonzalez, Ricky Presno, Arrison Perez, Dylan O'Connell
Team strengths: Pitching
Every time Eric Rivera looks out to right field and sees the Flanagan scoreboard, it motivates him to keep working harder and pushing himself further. The Falcons junior center fielder sees the reminder of past state championship teams that have come through the program over the past dozen years, and it makes him want to add this 2015 season to that scoreboard, and to also have the names on this roster hanging in the school gymnasium with the other champs. To do that, Flanagan has to be the last team standing at the end of the year…[Keep Reading]

McArthur
2014 Record: 3-19
Manager: Oddibe McDowell
Key Returners: Brandon Frantz, Daniel Trummert, Brandon Buchanan, Jack Bermudez, Anthony Cruz, Jason Alderette, Jordan Lopez, Jason Alderette, Kory Wilhoit, Jeremy Minaya, Aaron Ward, Karim Eliali

Miramar
2014 Record: 5-14
Manager: Mario Rodriguez
Coaching Staff: Marlon Rodriguez
Key Returners: Alex Rodriguez, Michael Rodriguez, Chris Beech
Team strengths: Experience
If you want to play as a team and succeed as a team, you must first endure the trials and tribulations of struggling as a team. From there, you must be able to pick each other back up, dust yourselves off, and drive each other to improve. That is what forms lasting relationships and the winning tradition. No one understands this better than this year's Miramar Patriots…[Keep Reading]

West Broward
2014 Record: 17-5
Manager: Sergio Ambros
Coaching Staff: Bill Dearman, Jorge Miranda, Alex Gonzalez, Tyler Draughton, Alex Zapata
Key Returners: Michael Schappell, Troy Foreman, Christian Dearman, Nicholas McDonald. Chase Hay-Eldon, Devon Headley, Richie Garcia, Dalton Brockman, Michael Giordano, Justin Martinez, Evan Stocker
Newcomers: Anthony Molina, Ryan Schoonover, Matthew Perez, Michael Perez
Team strengths: Pitching & Defense
The guys on the West Broward roster don't need to be reminded that they must do everything right. They know that they cannot just show up and expect to win. They all know what their job is and they do not need to be told. There is no need for any extra motivation in their clubhouse. The only thing the coaches talk about to remind them is to be together all of the time…[Keep Reading]