It Never Gets Easy In 8A-11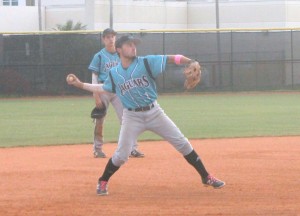 This district never gets easy. These five teams have competed against one another for a very long time, and they know one another inside and out. It typically makes for some great baseball, with a lot of close and exciting finishes.
Douglas and Taravella advanced from this group last season, and both return as strong as ever this season. Coral Glades and Coral Springs have narrowed that gap and figure to make a push for the district championship as well. Deerfield Beach may enter as the biggest longshot, but that doesn't mean that any of the other teams are in a hurry to face them either.
"This district is pretty competitive," said Coral Glades veteran TJ Densmore. "In the end, it is just a matter of how much work you put in. We could be number one for all anybody knows. We just have to push ourselves."

Coral Glades
2014 Record: 10-12
Manager: Mike Goulette
Coaching Staff: Pablo Bermudez, Jeff Silverman, Albert Ayala, Jim Shipley, John Kelly, Mike Donatucci
Key Returners: Alex Lara, TJ Densmore, Zach Bottone, TJ Williams, Mitch Rodriguez, Preston Vegotsky, Michael Gray
Newcomers: Matt Russo
Team strengths: Defense
Mike Goulette was leaning towards retiring from coaching baseball. After spending the past 18 years in the game and serving as the Taravella JV Coach for the previous eight years, he had taken the past year off after his family welcomed a newborn baby into their lives. After years of dedicated coaching from Little League, high school wood-bat leagues and even semi-professional baseball, Goulette was comfortable to hang up his cleats and walk away from the game…[Keep Reading]

Coral Springs
2014 Record: 9-12
Manager: Frank Bumbales
Coaching Staff: Mike Federman, Harry White, Roger Davidson, Jay Judson, Justin Shiver, Novel Shiver
Key Returners: Michael Montalvo, Tonny Curry, John Lombardi, Phil Quinn, Alexsi Pogrebnov, Max Lazar, Sean Baran, Henrique DeOliveira, Logan Turcott, Darrin Brown, Raheem Abdul, Nick LeConte
Newcomers: Austin Smith, Sammy Destin, Jeremy Szozda
Team strengths: Pitching
It's a pretty good balance of youth and experience for Coral Springs this season. As a group, Colts Manager Frank Bumbales admits they are definitely more upbeat and positive then the group they had last year. Last year it was just guys who were real young, and then seniors. There was a big gap and it just didn't go well. It was one of those years where guys just didn't mesh right…[Keep Reading]

Deerfield Beach
2014 Record: 4-17
Manager: Vince Tozzi
Coaching Staff: Robbie Alonso, Mike Dobre
Key Returners: Kyle Miller, Cezzane Omar, Matthew Simons, Chris Thomas, Dalton Williams, Rafael Santos, Alfonso Sosa, Angel Ponce, Conor Kelly, John Barnwell, Trent Youstin, Matthew Snyder
Newcomers: Kyle Galinet, Donny Vlahakis
Team strengths: Pitching
The Deerfield Beach baseball team has plenty of guys on its roster that can play the game at a high level. For the team to compete in the district chase, the club needs the individuals to come together as one unit. With the right mix of leadership and work ethic being set by the veteran players, this fall season has seen them unite as they must and work towards becoming the team they know they can be…[Keep Reading]

Douglas
2014 Record: 18-9
Manager: Todd Fitz-Gerald
Coaching Staff: Rich Hofman, Elliot Bonner, Danny Core, Joe Hoey, Drew Medina, Von Stertzbach, Tony Stravino
Key Returners: Jesus Luzardo, Dominic Dicaprio, Alex Ginn, Devin Conn, Yorvis Torrealba, Kyle Shay, Colton Welker, Matt Chabarik, Alec Duffy, Ivan Nunez
Newcomers: Brandon Auerbach, Pemron Burrows, Ricky Miranda
Team strengths: Pitching, Hitting, Defense
Sometimes all it takes is a little bit of luck to go your way. Douglas Manager Todd Fitz-Gerald laments that his team just wasn't very lucky last season, having come very close to advancing to the state Final Four. From that loss the team is hoping to return as unrelenting as ever, and write a new history for the program… [Keep Reading]

Taravella
2014 Record: 16-11
Manager: Alan Clark
Coaching Staff: Tommy Collaro, Steven Somers, Dale Stouffer, Claude Love, Chris Costanzo, Colby Costanzo
Key Returners: Justin Walker, Nik Sanders, Zach Pernick, Gavin Robinson, Manny Pantaleon, Michael Fitscher
Newcomers: Chad McDaniel, Andrew Labosky, Giovanni Bonilla
Team strengths: Pitching, Defense
Taravella Manager Alan Clark, sat on the tractor he uses to groom the infield at the Trojans' field on the Taravella campus. This is one of his many jobs and apropos to what he is doing with his baseball team. Clark, in his third year as Manager, has a strong team. They return a host of players who performed well last year as well as some strong newcomers… [Keep Reading]