Pines Charter, Boynton Likely To Lock Horns In 6A-14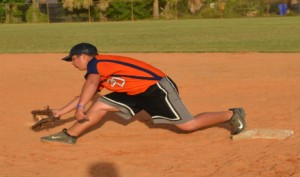 No other district embodies what the playoffs are really like quite the same way as this one does. This is because the whole seeding scenario essentially comes down to one game, between Pembroke Pines Charter and Boynton Beach. The winner of this contest likely earns the top seed in the district, a bye into the district championship and a berth for the regional playoffs. By midseason the top seed can be preparing for the playoffs already.
Stranahan represents the wild card that could disrupt everything with an upset win over either club. However the Dragons are on their third Manager in as many years and were beaten handily in district competition last year. The club has not contended in a district since John Drouet left for a job up north in the state, and this year could be another season of hard knocks for the program.
With both the Jaguars and Tigers equally deep and experienced, with two strong coaching staffs at the helm, their meetings throughout the year should be memorable. Although there is a lot at stake, both sides keep the same mentality to focus on the games one at a time, and not get blinded by looking too far ahead.
"Our approach is just to get better and it doesn't matter anything else," Pines Charter Manager Carlos Iglesias said. "Our approach is going to continue to be the same; we take everybody seriously. If you prepare yourself you are going to have a better chance to be successful. That is the key is how you prepare yourself."

2014 Record: 13-12
Manager: John Drouin
Coaching Staff: Walter Lawrence, Evan Deangelo, Jim Comerford, Greg Dupont
Key Returners: Christian Perez, Derrick Lewandowski, Erik Dietrick
Newcomers: Jonathan Perez, Bryan Ariza, Rutger Spartz, Luke Comeford, Robbie Santiago, David Recio
Team Strength: Pitching
Last season, John Drouin took over as Manager of the Boynton Beach Tigers and made an immediate impact. The team won 13 games, more than they had won in the two previous years combined.
Since then, they've suffered the loss of some of their best performers from that team. Drouin admits that moving on without such players will be tough and acknowledges that the Tigers will be a raw and inexperienced team in 2015. But that is just the way he likes it. It gives him the opportunity to build the system from the ground up and mold what he considers to be a very strong freshman class into future all-stars and, hopefully, state champions.
The team is so young, in fact, that the entire pitching staff will be comprised of underclassmen. Leading the way on the mound will be Luke Comerford, a freshman transfer from Lake Worth Christian who recently pitched three innings of no-hit ball in a preseason game against St. Brendan's.
"Everyone is going to have to help," said Drouin. "We're going to have to have a big effort from everybody. We're going to be very competitive I think, but we're not going to be in a position where we can make a lot of mistakes. We don't have the power yet, you know, the seniority to really pound our way through something. We're going to have to score all the runs we can score and make as little mistakes as possible or else we're just going to shoot ourselves in the foot because we're very young."
Another freshman, Bryan Ariza, will also be relied upon as a pitcher but may do more damage with his bat. At 5'7″, 130 pounds, Drouin is surprised by his ability and power at the plate. For his part, Ariza is unphased by the expectations and pressure of playing varsity ball for the first time.
Comeford and Ariza will be joined by a cast of budding stars like Kaelan Dunn and Jonathan Perez, both of whom Drouin says are on the rise. He is also pleased with the development of sophomore Sean Oullette, who he credits for putting in a lot of hard work over the summer, attending every session of the baseball camp the Manager ran every Monday through Friday.
Christian Perez, Rutger Spartz and David Recio are the relative graybeards on the Tiger's roster. Spartz is a senior transfer from Park Vista that should help the team's offense while Recio, a junior, will contribute on the bump. Perez, a senior, is in his fourth year with the Tiger's and is appreciative of what Drouin has brought to the program.
While the Tiger's may be young, their skipper still believes that they have the ability to be even better than last year's squad. For that to happen though, they will have to come together and play as a unit. More importantly, they are going to have to be disciplined and focused.

Pembroke Pines Charter
2014 Record: 19-5
Manager: Carlos Iglesias
Coaching Staff: Willy Hernandez, Andy Moser, David Monge-Rivera, Maxwell Romero, Mark Ellenbogen, Casey Dart
Key Returners: Brett Ayalon, Daniel Rivero, Anthony Garcia, Amadeo Gonzalez, Trent Herzog, Isaac Valiancy, Daniel Rodriguez-Velez, Alex Monge-Rodriguez, Peter Dourvetakis, Anthony Gomez, Jeremy Prieto, Anthony Nogueiras, Jordan Corona, Adam Isenberg, Matthew Rondo, Scott Thrasher
Newcomers: Michael Tang, Jordan Quijano, Noah Rodriguez, Christopher Nappi
Team strengths: Offense
Carlos Iglesias had a good idea what kind of season his team was going to have last year after a practice the first week of the season. The longtime Pembroke Pines Charter Manager decided to end the team's first Friday practice early to reward the group for such a strong and productive first week. The coaches said they would be happy to stay and work with anyone that wanted to get extra work in, but that guys were all welcome to go. Much to his surprise, the entire team opted to stay and keep working…[Keep Reading]

Stranahan
2014 Record: 5-11-1
Manager: Frank Vargas
Key Returners: Wilfred Santiago, Jay Urbanik, Andy Vargas
Newcomers: Joseph Urbanik, Damon Urbanik
Team strengths: Defense
With award-winning academics including a magnet program in the engineering and medical fields, it's plain to see that Stranahan High School is invested in the future of their students. If you take a look around their playing fields and facilities, it is also evident that Stranahan is extremely invested in the future of their athletes, including those in their baseball program…[Keep Reading]