8A-12 Up For Grabs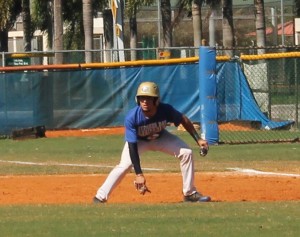 Western Manager Paul Barnes enjoys how wide open the district is. It was like that last season, and after a lot of turnover it is even more like that this year.
"I think I'm now they longest-tenured coach in the district," Barnes said. "There have been a lot of turnover in that this year alone. Hopefully we can make it happen this year. We thought we were better than it showed last year, but if you don't perform when it comes to the district tournament you don't move on."
The five teams in this district are always gunning for one another. There are some friendly rivalries, highlighted by a legendary rivalry between the Wildcats and Cypress Bay. These two teams always have each other circled on the schedule, and the outcome of those two contests typically has massive affect on the entire district bracket.
"You can throw everything out the window when we play Western," said Cypress Bay Manager Paul Liotta. "We can always expect competitive games when we're playing Western."
Regardless of this rivalry, both teams are also careful not to overlook the other clubs in their way. Both Cooper City and Piper are under new Managers, and South Plantation is entering its first full season under Manager Ryan Manuell. But that doesn't mean those squads are not capable of coming together quickly, especially a Cowboys team that won the district last season.
"Cooper City is going to be a talented team, and they have some good arms over there," Liotta said. "Piper and South Plantation are going to be better and it is wide open. We certainly are going to have the mindset of being the top team in the district, but humble and knowing that we cannot just say it but that we also have to go out and do it."

Cooper City
2014 Record: 17-7
Manager: Chris Delgado
Coaching Staff: Jason Behnke, Jimmy Regan, Willie Morales, Mike Krasner, Raul Valencia
Key Returners: Brett Marks, Joey Cutrone, Luis Maldonado, Chris Diaz, Jeremy Brower, Tommy Miller, Tyler Sabine, Steve DiPuglia, Angel Almonte, Ricky Smith, Brandon Torres, David Pole, Cole Perler, Cole Kantor, Jesse Yzer
Newcomers: Ethan Shea, Jack Schmidt, Cameron Stadler
Team strengths: Pitching, Defense
Chris Delgado felt like he was at home the minute he started as the new Manager at Cooper City High. The new Cowboys skipper was raised in the Cooper City area, his son plays nearby at the Optimist, his business is nearby and he now resides not far away in Pembroke Pines. Everything is in a big circle for him, and it is a comfortable feeling…[Keep Reading]

Cypress Bay
2014 Record: 17-7
Manager: Paul Liotti
Coaching Staff: Jorge Julio, Ozzie Durand, Ken Gomez, Luis Hernandez, Howard Steirn, Ryan Gomez
Key Returners: Juan De La Espriella, Luis Sucre, Alex Valladares, Raul Quintero, Juan Rosa, Alex Rodriguez, Nick Orlando, Anthony Figueroa, Greyson Fletcher, Joey Rodriguez, Christian Nehls, Devin Ramirez, Jose Natera
Team strengths: Pitching, Defense
New Cypress Bay Manager Paul Liotti has been asking for accountability from his guys in all that they do. Liotti tells his guys that Cypress Bay is like the Stanford of high school baseball, and that they need to hold themselves to a standard like that. So far the guys have responded to be accountable not only for themselves, but also for their fellow teammates…[Keep Reading]

Piper
2014 Record: 9-13
Manager: Pat Pisani
Coaching Staff: Michael Cuminale, Bryan Rath
Key Returners: Eric Rath, Ryan Taylor, Greg Snyder, Christopher Nunez, Michael Cuminale
Newcomers: Joe Sallustio, Brian Clancy
Team strengths: Offense
There is a new mission starting at Piper High, and new Manager Pat Pisani is leading that mission. Pisani, a formal Bengals ballplayer and returning alum, is setting the bar high for his squad. Pisani was a volunteer coach for the program last year, and because of his enthusiasm and dedication to the team he was asked to take the helm this season…[Keep Reading]

South Plantation
2014 Record: 6-11-1
Manager: Ryan Manuel
Coaching Staff: Carey Holder, Tim Koehler, Miguel Lopez, Alex Corzo, Fernando Aponte
Key Returners: Aaron Sigel, Mike Mele, Steven Seager, Andrew Heugele, Dylan Arnett
Newcomers: Ernie Osteen
Team strengths: Pitching, Defense
The strength of the South Plantation baseball team is its senior leadership, an extremely talented pitching staff and a solid defense. Manager Ryan Manuell smiles when he starts to talk about his Paladins team… [Keep Reading]

Western
2014 Record: 7-16
Manager: Paul Barnes
Coaching Staff: Al Schwach, Keith Williams, Lenny Shettino, John Brown, Steve Triana, Dave Flores
Key Returners: Trent Massaro, Anthony Gutierrez, Brannigan Hart, Richard Medina, Joseph Spano, Andrew Lopez, David Flores, Christian Coleman, Zach Urso, Jean Franco, Tyler Gaffney
Newcomers: George Helbig, Alex Bertot
Team strengths: Pitching
Competition is a good thing. With a roster four deep at some positions, Western let the players push one another this fall to find out who belongs where. Following the graduation of 11 players, there are some starting positions up for grabs. Deciding who those spots will go to will not be an easy decision, based on what the coaches have seen across the boards so far… [Keep Reading]